There are many different factors to consider when running a business in the restaurant industry – you'll need to think of everything from what you plan to serve, where to get your produce and beverage, the type of dishware, glassware, utensils, what your establishment's vibe and ambiance is, and pair it with a design to match, and much, much more. Though we can't give our two cents in any of the mentioned areas, we can certainly give our advice when it comes to prints for your business. From marketing essentials to promotional signage, we've compiled a list of all the printed materials you need for your restaurant, bar, or café business. 
Brochures
Brochures are the go-to print product to make disposable menus that customers can take with them wherever they go. With the disposable approach, simply order menus in large quantities (at affordable prices) and give a new menu to each customer. Brochures are also great for businesses that have take-out or catering options. We have 11 fold options to choose from as well as multiple premium paper stocks, with the most popular being 100 lb. Gloss Book or Cover. 
Business Cards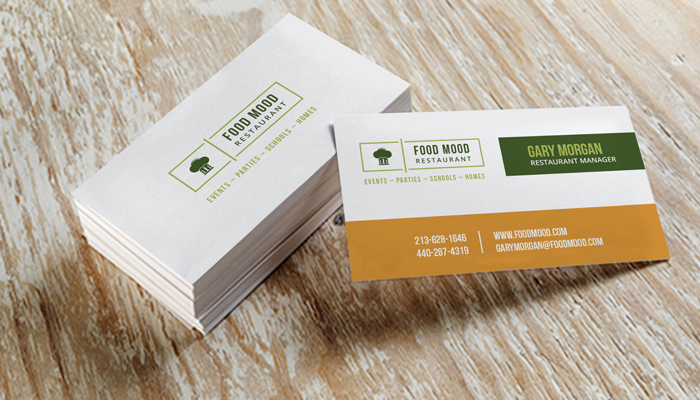 Business Cards are beneficial for professionals in every industry, but they are especially important in the restaurant business. At the host's stand, patrons will often look for a small rack of business cards, typically with the manager's information on them. This can be beneficial for both your patrons and your staff as it's a direct way to contact your business's manager for things like catering, or other special requests if need be. 
Mini Menus
Mini Menus are just that  — a compact version of your menu. These are printed on a small 4" x 10"  brochure that folds into 4″ x 2.5″. This is a convenient way to slip your menu into the bags of take-out and delivery orders without it being too assertive, much like a larger-sized brochure might do.
Flyers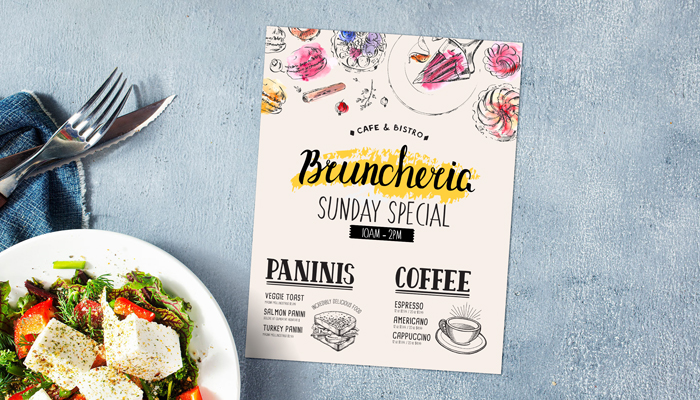 Flyers can be used as single-page menus. By printing your menus on flyers, you have the option of using them either as reusable or disposable menus. If reusable, print your single-page menus at an affordable price point with GotPrint and get them laminated at a local shop for continuous use! If disposable, simply order in large quantities and throw menus away after each use. Many like to have this option, as it's more sanitary, and this way, less time is spent cleaning menus on a regular basis. 
Large Format Posters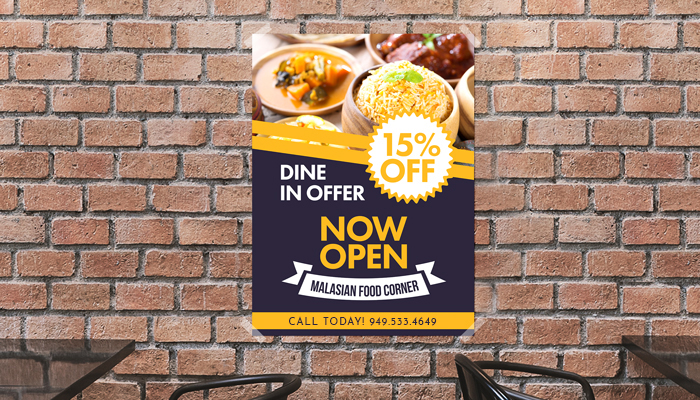 Large Format Posters have photo paper quality, and there are no minimums required when placing an order. Therefore, you can print posters to feature special new food items or promotional deals to put up on your establishment's walls without feeling like you're wasting money on temporary signage. 
Rack Cards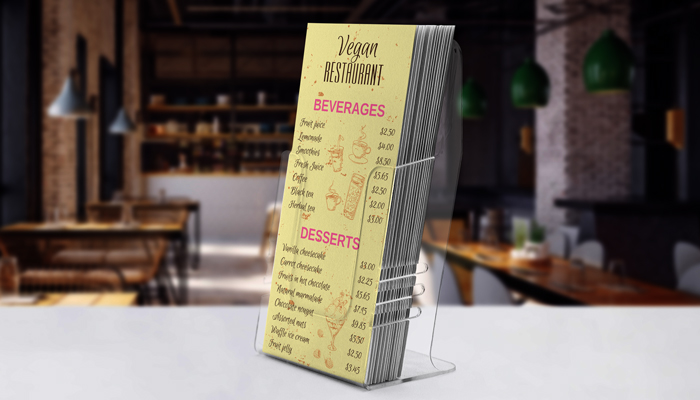 Ideally sized at 4" x 9", these vertical cards are just right for shorter lists such as drink or dessert menus. Plus, we know you probably mysteriously lose your bar menus all the time, so having these rack card menus on hand will no doubt be convenient for your staff on a busy night. 
Roll Labels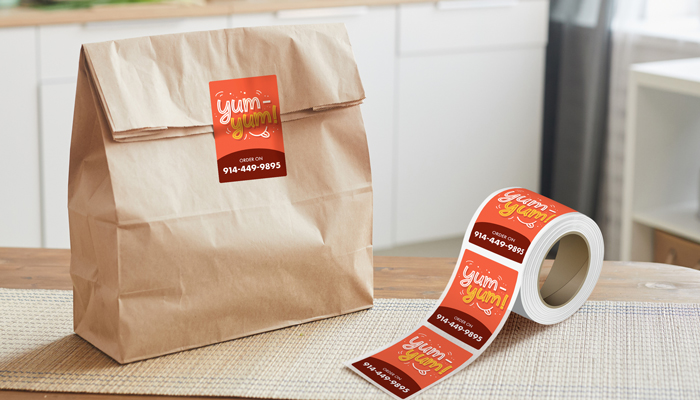 Roll Labels are one of the most practical ways to brand your establishment's packaging without having to splurge on actual branded packaging. Whether you own a coffee shop, a cafe, or a restaurant, creating roll labels with your logo and phone number/website URL and adding them to any to-go packaging – like cups, containers, etc is the most cost-effective yet professional move for you. Plus, if you're using a 3rd party delivery service, you can use roll labels to seal take-out bags as reassurance to your customers, so that they know that their food hasn't been tampered with.
Table Tents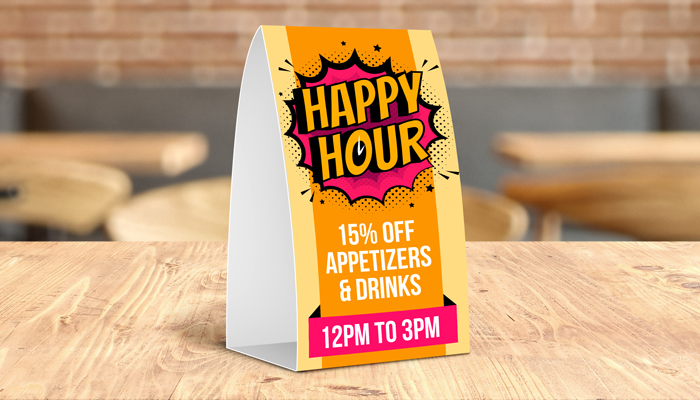 Does your restaurant, cafe, or bar have tabletops? Unless you're some obscure establishment that's into ultra-minimalism, then the answer to our question is likely a yes. If you answered yes, you're going to need some Table Tents. Why? Because a table tent is one of the best ways to get your customers to notice new menu items, happy hour info, chef's specials, or even to display a QR code for customers to access menus directly from their phones. Our table tents stand up nicely on their own when assembled. 
A-Frame Signs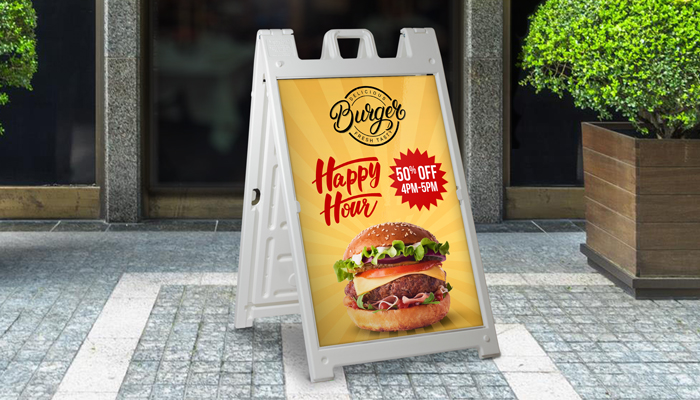 Two words: Sidewalk traffic. Get your establishment noticed and entice patrons to enter with an alluring sign. Promoting happy hour? Put it on an A-Frame Sign. Do you have a live jazz band playing every Thursday night? Put it on an A-Frame Sign. Want to make any sort of statement? An A-Frame Sign is your best friend. The best part is, you can buy your first sign with both the frame and the sign(s), and any time you want to change it, you can simply buy the sign without the frame and swap out promos. If you want to promote two things at once, simply print one advertisement on one side, and another on the other side. 
Window Signage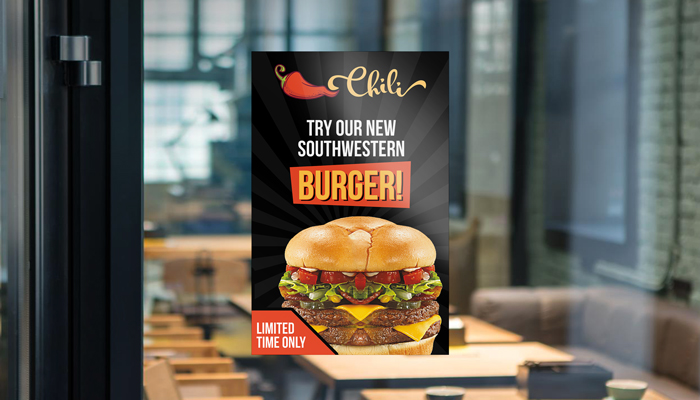 Window Signage is ideal because you can either print temporary or permanent signs. Window Decals are best for more permanent signs, like displaying hours or your company logo on a door, while Window Clings are better for temporary advertisements, such as a promo for an in-store sale. 
Car Magnets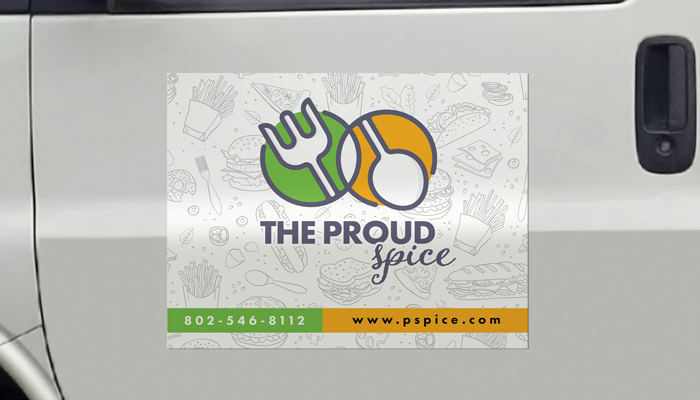 If you own a catering company or run a delivery service, adding a car magnet to your company vehicles is a sure-fire way to get more business while on the road! 
Bonus Prints
Apparel for Your Staff (and maybe even for patrons, too!) – Custom T-Shirts, Hats, and Polo Shirts with your business's logo on it is all you need to make your staff look professional and feel comfortable on the job. If your establishment is popular enough, you can even sell these apparel items as merchandise.
Rigid Signs – Want to display your menu on the wall behind the counter? Any one of our following rigid signs will do the job just fine: Acrylic Boards, Corrugated Boards, Aluminum Boards.
---
On GotPrint.com, you can either upload your print-ready files with the help of our product templates or design your own prints directly on our website using our Online Designer tool. We offer a variety of design templates to choose from for inspiration, or you can design something from scratch using backgrounds, fonts, and elements at your disposal. Upload your own photos and images (like menu items or your logo) for a personalized touch.