Planning a wedding or any sort of special event is no easy task. We can say this from experience, as some members of our marketing team have either recently tied the knot or are even planning a wedding as I type this! Some may think that it's the larger things, like picking the venue and the catering that are the hardest parts of the planning process, but in reality, anyone you ask that has been through the process will tell you that it's actually the small details that deliver the most stress.  Have you thought about a drink menu, your seating chart? The color of your table linens and napkins? There's a lot to consider, especially if you're doing everything without hiring a professional event planner. One thing we know we can help you with is your signage needs.  
As I'm sure you've noticed if you've been to any weddings or special events recently, acrylic signage has taken over the event industry. Almost every wedding I've been to has an acrylic board element somewhere within the details, whether it's the welcome sign, the seating chart, or the place setting at each individual's seat. This particular material is stealing the show. At this point, you might know exactly what I'm talking about, but you also might be curious to know, what exactly are acrylic boards? Acrylic boards are made of transparent high-quality and durable plastic material. It's also sometimes referred to as plexiglass.  
Why are Acrylic Boards so popular? Why acrylic vs other signage products? 
Wedding planners, both the professional and DIY types, tend to gravitate toward acrylic material for their signage needs for a few different reasons:
The material gives off a more luxurious and sleeker feel, compared to a different signage product that typically serves better for a business, such as a Cardboard or an A-Frame.  
They look more expensive than they actually are, which is always a plus, especially when you're planning something elaborate but want to stay within a specific budget.  
If designed right, they always look fabulous and complement their surroundings wherever placed.  
With all of this being said, here are 5 genius ways to use acrylic boards for your wedding or any special event. 
Seating Chart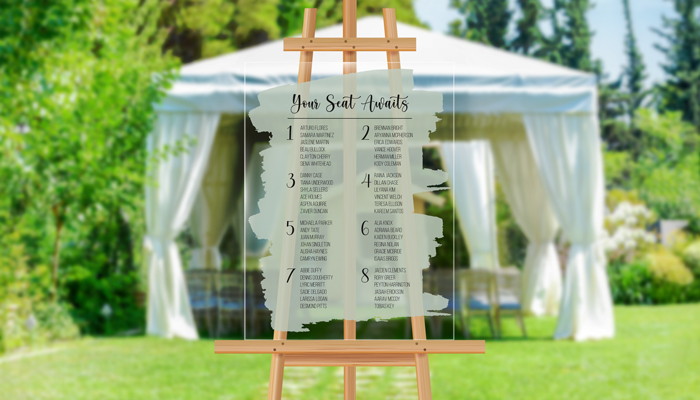 Here's a fact. Your seating chart needs to stand out because your guests need to know where they'll be sitting for the night. A seating chart is an organized way to ensure your guests know where to go. Sure, if your venue has tv monitors in the foyer, you could opt for that and take the easy, simple route. However, if you're someone that likes everything customized to your taste and standards, we'd recommend printing your seating chart on an acrylic board. Why? It's inexpensive, it's beautiful, and it's an incredibly popular choice for seating charts without being cliché.  
Welcome Sign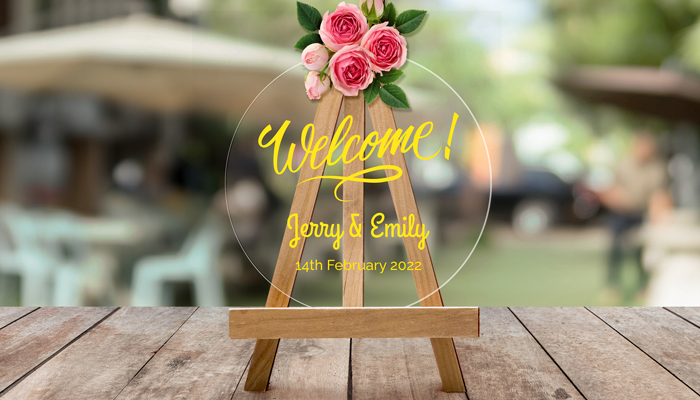 If your venue doesn't support hanging up a vinyl banner, whether it's the ambiance or just the lack of space to do so, we think Acrylic Boards are a go-to material to make your welcome sign. This is also a popular choice among those who choose to have a welcome sign for their reception. 
Guest Signing Board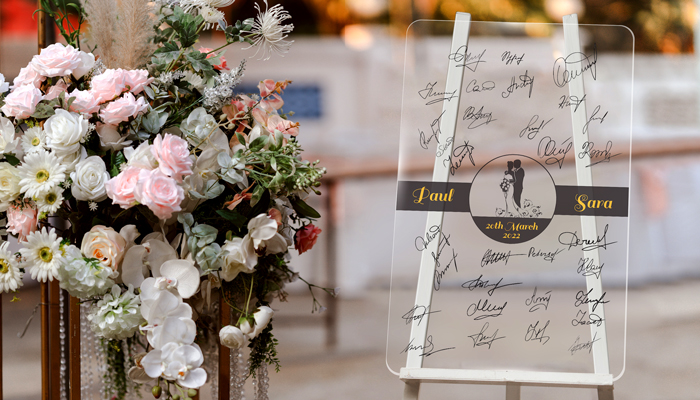 Did you think you'd need to have a guestbook at your reception? You definitely don't, but we think it's something that's quite useful and often overlooked. With a guestbook, you'll have a better idea of who actually attended your special day, especially if you've invited over 200 guests. It can get pretty difficult to follow when you're preoccupied with having fun. If you're not keen on the idea of a guestbook, a more modern version would be to display an almost bare acrylic board and have guests sign it with a sharpie or an acrylic pen. All you need to print on it yourself is minimal details, like your names, and the date, and let your guests do the rest! Later, you can even hang this somewhere in your house as a beautiful memory piece from your special day.  
Drink Menu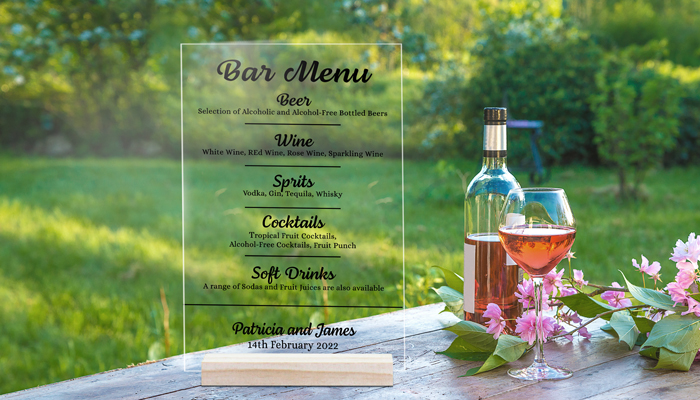 Cocktail hour or a full bar for the entire evening is always great, but when you have a curated list of cocktails displayed for guests to choose from, with all the customization you could possibly put into it, that makes your bar 10 times better. Printing your menu on an Acrylic Board is a cool way to have your cocktail list on display for all your guests to see and pick from. Plus, this will also serve as a fantastic souvenir for you and your partner. 
Guidance Signs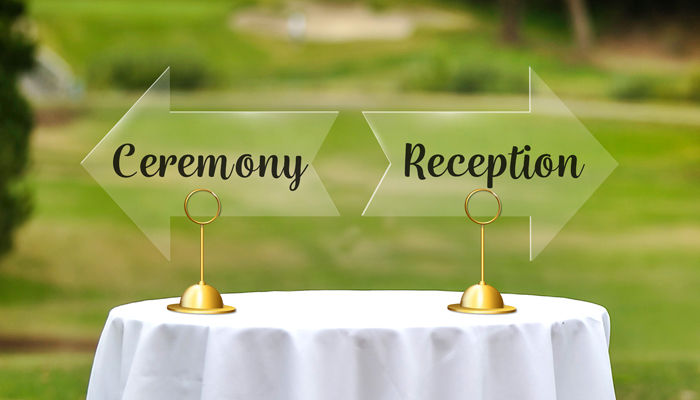 If your ceremony and reception are at the same venue, we know for a fact that your guests may get confused about where they have to go, especially if the venue is large or widespread or if they host multiple parties at once. Printing directional signage specific to your event will not only help your guest find where they're supposed to go, but it'll also add a personal touch that you didn't know you needed.  
---
Which one of these acrylic board ideas have you chosen to print for your special day? We'd love to see your pick! Tag us in your photos on social media for a chance to be featured! @GotPrint