If you're at all familiar with the printing industry, then you may have heard the terms "offset" and "digital" uttered at some point. To know what they mean and what to expect with each type of print method, why both are offered, and which one is the likely contender for your next print project, we've provided explanations of what each printing method entails. There are several factors that differ between Offset and Digital Printing such as cost, quality, and time. We believe it's important to understand the process of each method. Read on to learn more!
What is Offset Printing?
Offset printing is a traditional and common printing method that uses a printing press with printing plates and wet ink. This method produces the highest quality print work while still serving as the cost-efficient choice for large quantity print projects.
The Process
With offset printing, first, the image is placed onto a plate, coated with ink, then the plate is flushed with water to ensure that ink does not apply to the areas of the design that are meant to be blank. The image is then transferred (or "offset") from the plate to a rubber blanket, and finally offset again onto the sheet of paper, producing a clean, crisp image.
Since offset printing uses a 4-color process, CMYK, this process is repeated 4 times, one for each color, until the desired colors are produced. The ink is applied as tiny dots, which when combined in different concentration levels of each, produce the specific hue.
What is Digital Printing?
Digital printing is a method of printing that uses a digital-based image to directly print on a variety of different media from paper stocks to signage materials. The types of printers used for professional digital printing are large-format or high-volume laser or inkjet printers. Typically, digital prints come at a higher cost than those printed with the offset printing method because of the on-demand printing it offers due to shorter production times.
The Process
Digital printing has a much more direct process, as it does not require as much pre-press work. One must keep in mind that digital printing technology can vary with different machines and printers, which will in turn, affect everything from the turnaround, to the quality of the prints. Typically, most digital presses use laser technology to expose the image onto a drum or belt, after which charged toner is attracted to the image, then transferred onto the paper.
At GotPrint, we have advanced digital presses with a plate cylander, blanket cylander, and an impression cylander, which means that the quality of the prints is very high and comparable to that produced by our offset presses. In addition, we use liquid ink, which produces optimal results.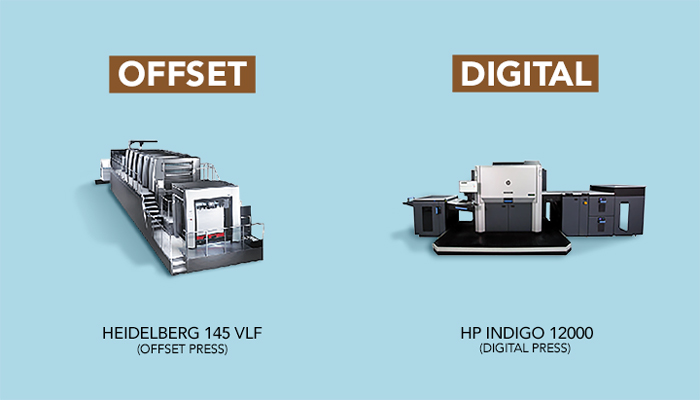 Below, we've provided a list of the pros of each print method.
Advantages of offset printing
Cost-effective for high-volume jobs
Produces higher-quality prints
More flexibility – compatible with different surfaces/finishes
Plates can withstand 1 million impressions
Advantages of digital printing:
Ideal for low-quantity jobs
Shorter turnarounds
Allows variable data printing
Proofs
Comparing Costs
Since the main cost associated with offset printing is due to the setup and plate-making process, it is only more cost-effective than digital printing when orders are gang-run (which they typically are), and when the quantities of the prints are high (in the thousands). Higher quantities of prints and more jobs in a batch mean more of that setup cost is shared, and thus, the cost per order goes down.
With digital printing, the unit cost remains the same throughout the print run, as the costs with plate-making are eliminated. Therefore, digital printing is the economical choice when you only need a small quantity of a particular job.
Comparing Quality & Quantity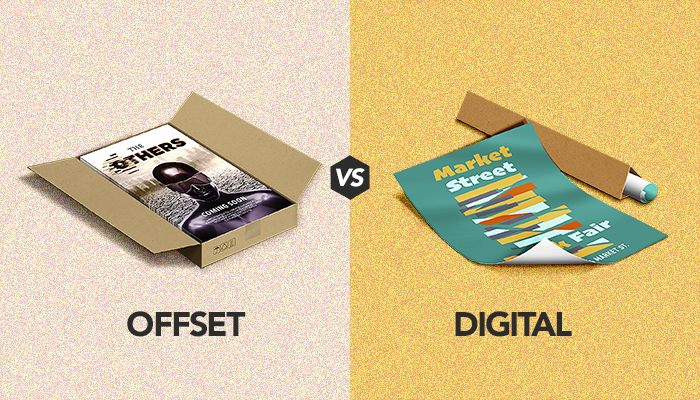 Digital printing has evolved at a very rapid rate in the past decade, making this print method more and more on a par with offset printing in terms of quality. Nevertheless, offset printing produces higher-quality prints, as the rubber blanket conforms to the texture of the printing surface, producing clean and crisp text and images. Moreover, offset printing allows for higher resolution, making it the preferred choice for fine art prints and showcase pieces.
When it comes to quantities, Offset presses are best for large quantity orders, while Digital presses are best for lower quantities — sometimes you only need just one or two prints, which is when digital printing becomes the more logical choice over offset printing. However, printing more quantities on an offset printer often comes out to be more cost-effective, depending on the specific product in question.
Comparing Production Time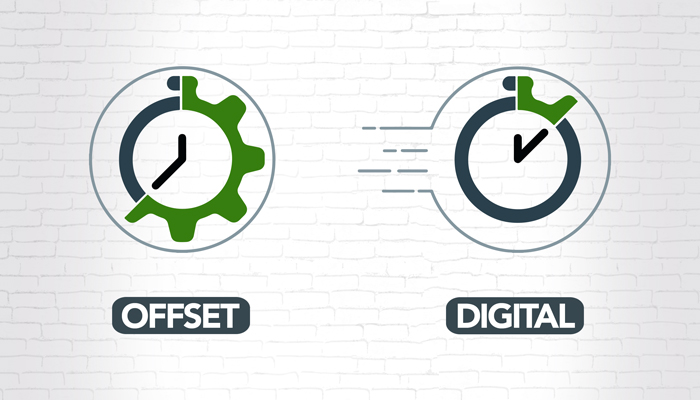 Turnaround time is a very important factor to consider, as most customers (especially brokers) find that they're pressed for time (no pun intended). Although offset presses print at a more rapid speed than do digital presses, additional time is usually required for the pre-press setup, such as the preparation of plates, films, and color proofs. In addition, offset printing requires the job to be dried once printed, as opposed to digital printing, in which the prints can be bound, folded, and delivered to the customer right off the press.
For low-quantity printing, digital is the most time-efficient, as much of that setup process is eliminated, and orders are ready immediately after print. If you're printing in quantities in the thousands, it may not be such a quick process (all of this can vary from printer to printer). A good rule of thumb is if your job is time-sensitive, and you can make do with a smaller quantity to start, digital printing is the way to go.
Customization and Other Advantages
One of the major benefits of digital printing is that it allows for customization of prints for direct mail marketing, such as is done with variable data printing. For example, you may personalize each mailer to have a specific graphic and message catered to that customer's demographic, all of which can have a positive impact on your response rates. Also, with digital presses, you can easily create proofs, which help ensure your final prints are accurate.
Offset printing has a few customization options as well. There's a wider range of materials on which you can print, including plastic, thick card stock, and wood. Furthermore, various finishes can be applied to the printing surface, such as UV, aqueous, and matte.
Both print methods have their advantages and disadvantages, but in the end, deciding on which to go with really comes down to what your priorities are for that specific project. Currently, GotPrint.com runs both offset and digital printing presses, and all of our products are pre-selected for the printing methods best suited for each project based on quantities and capabilities. For example, all signage is printed digitally as there are no minimum quantities to purchase printed signs.