In our opinion, Halloween is one of the more fun holidays that we celebrate here in the U.S., as it gives people of all ages a chance to flaunt their creativity and freedom to express themselves. The haunted holiday is also an excuse to decorate and throw eventfully themed parties, which is when people's DIY skills usually come in handy. If you're a DIY master or just genuinely love Halloween and want to tap into your creative side, we've got a list of spooky print products and ideas to share with you!
Use these ideas for your next party, to decorate your home or business, or just because.
Festive Hang Tags for Sweet Treats
Hang tags are always a cute personal touch to any party favor. If you're hosting some sort of themed Halloween event, whether it's at your business or your home, having party favors for your guests to take home makes for a memorable event. This is also a fun craft activity to do with your kids, and it's something you can pass out to local trick or treaters.
Themed Bottle Labels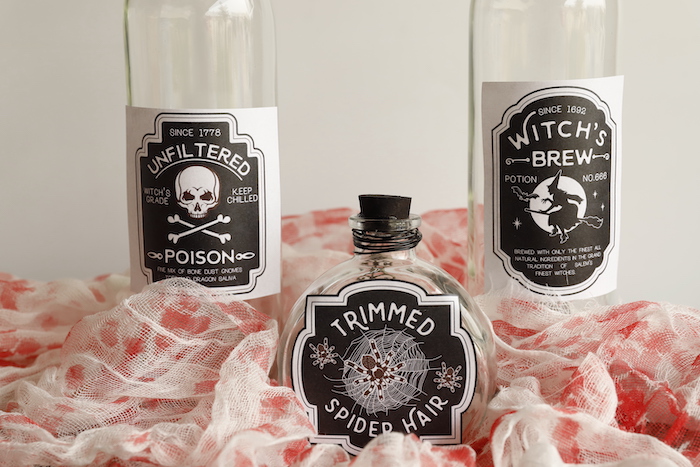 A Halloween party isn't complete without a little potion. Witches' Brew, Spider Venom, Zombie Blood, you name it! Obviously, you won't actually be serving these things, but it's more fun to give something like fruit punch an interesting name for the night. Printing bottle labels on either Roll Labels or Stickers with unique bottle designs will be a hit with all your guests. For a cost-effective method, print them on stickers! If you're looking for a more long-lasting material that stays on the bottle longer, go with the roll label option. Here, we've printed our labels on Uncoated Stickers to match the aesthetic of the bottle design.
Decorative Indoor Signs – (For a Party or Just Because!)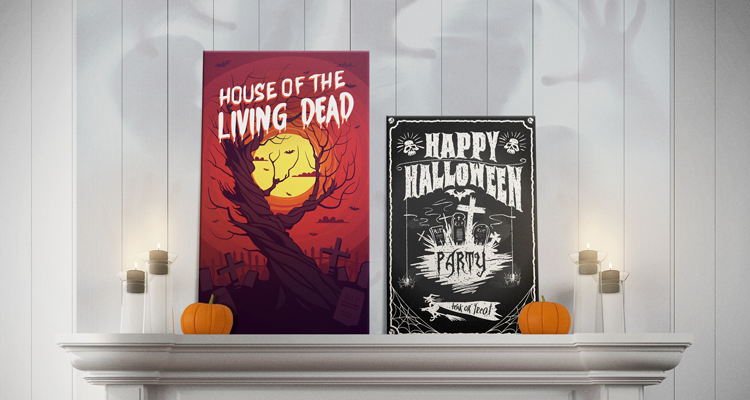 Are you a fan of decorating but don't want to overdo it? Designing your own signs and printing them on a product like Foam Boards is probably the best option for you. Foam Boards are great because they are lightweight, easy to display, and affordable. Whether you're looking for something for one-time use or for something you can potentially use the following year; Foam Boards, if stored properly, can serve either purpose.
Haunted House Yard Signs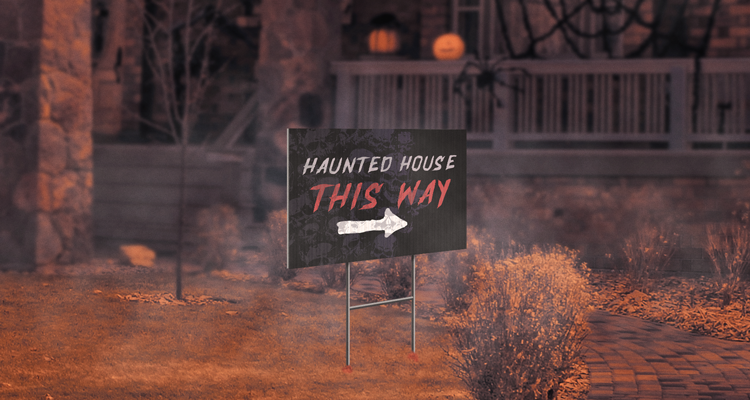 Some people thrive on entertaining during the Halloween season. Are you hosting or helping run a local neighborhood haunted house? Your lawn is already most likely going to be decked out in spooky and scary accessories, so printing a Yard Sign as an indicator of where the haunted house maze begins will be a great guide for your victims– I mean visitors.
"Pumpkin Poop" Party Favor Tag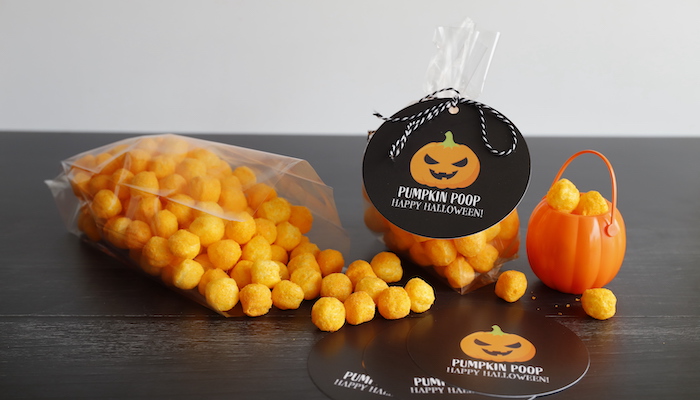 This one is less of a print idea and more of just a cute idea in general. We came across "pumpkin poop" somewhere on Pinterest and let's just say obsessed is an understatement. If you have kids or work with kids, these will be a hit! Similar to a regular hang tag, you can get even more creative using any of our special shape cards. Here, we've gone a bit more DIY with it and actually printed a design on Circle Special Shapes and manually poked a hole on the top to convert it into a hang tag.
Advertising Special Services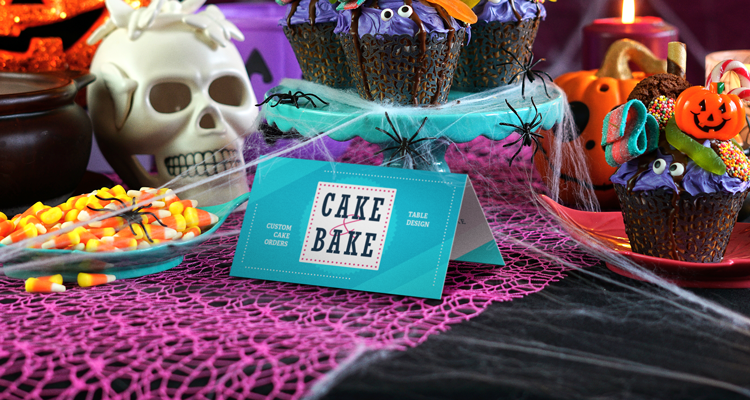 Halloween is undoubtedly a holiday that has the potential to bring in a lot of revenue, especially if your business is one that fits into the event industry. If you own a bakery or a sweet shop, or even an event planning company, we're sure you get a lot of business during this holiday. We recommend adding a small advertisement on your client's display so that people know who's done the awesome work and where they can contact you for their own events. Here we have a beautifully decorated Halloween sweets table with the baker's Folded Business Card blending into the contents of the table.
Event Tickets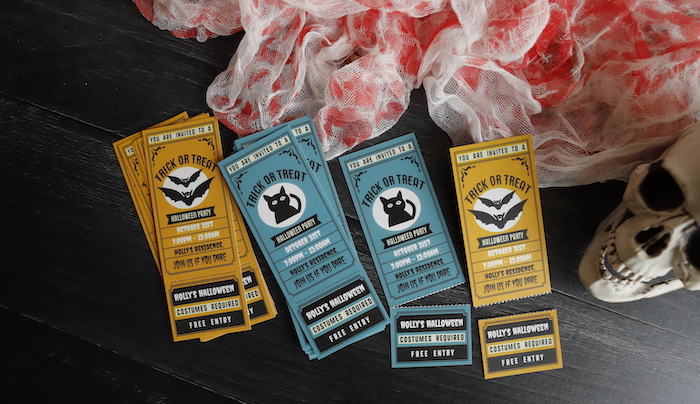 Designing printed Event Tickets may seem dated, but if you're hosting a haunted house, or throwing some sort of local fair or block party, a printed ticket can make all the difference. Here we had our designer come up with her own version of how she would design her tickets if she were to host an event. We think they came out awesome!
---
Which one of these ideas are you thinking of printing for the upcoming Halloween festivities? We're curious to know!
If you do decide to print something similar or even something you've thought up yourself, feel free to tag us in your photos on social media for a chance to be featured. @GotPrint
Happy Halloween!