The thrill of planning a wedding is exhilarating – from dress shopping to venue scouting and coming up with design ideas – it's all fun and exciting until the overwhelming feeling settles in and takes hold. Because you probably have a million and one tasks to handle in preparation for the big day, forgetting a few important prints is bound to happen. Of course, you probably already have your wedding suite prints in order, but there's a lot more to print than just your invitations and RSVP cards. It's almost impossible to avoid the overwhelming feeling entirely, but to help combat it and get ahead of that state of panic, we're sharing our list of often forgotten, yet necessary prints you'll need before, on, or after your wedding day.  
Rehearsal Dinner Invitations
Though you may be opting for the digital route for this particular invitation, you also certainly have the option to print them and mail them out. Rehearsal Dinner invitations often include important details that you want your attendees to be mindful of. After all, this is the practice round for a very important day. With a printed invite, it's more likely that recipients will read every detail you provide, rather than in an evite.
Custom Envelopes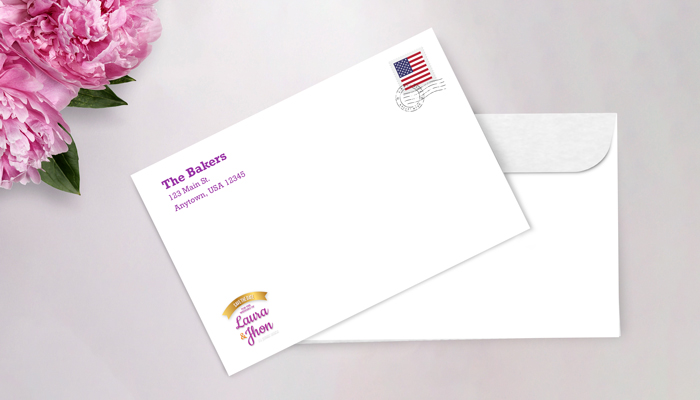 Sure, you can go the easy route and use plain envelopes, but if you have the option to make them custom, why not? This event comes once in a lifetime (in most cases) so why not put a little more effort into creating envelopes that match your stationery? 
Directions Cards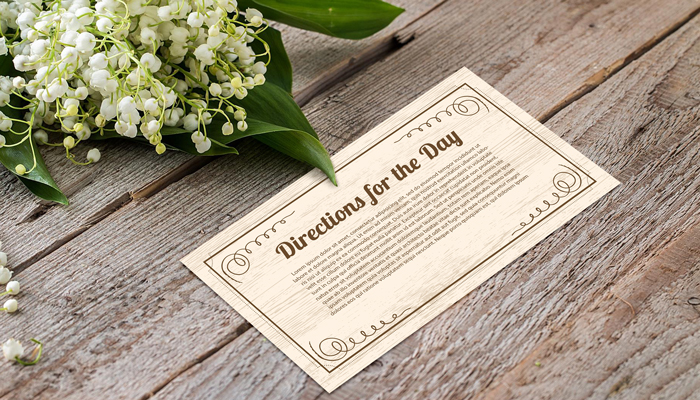 Many venues require directions that google maps cannot provide. When printing your invitations, don't forget to consider this fact and include a separate directions card, so that your guests know exactly where they need to go. On directions cards, you can also include additional information such as rideshare and hotel accommodations. A 3″ x 5″ postcard would be the best product for this.
Coasters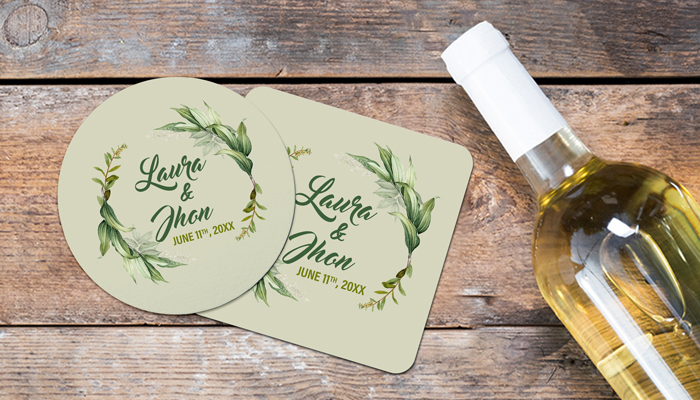 Coasters are particularly nice if you plan on having a cocktail hour between your ceremony and reception. It might be something that you see as additional, and maybe even unnecessary, but if you are the type who likes paying attention to small details, then custom coasters with the couple's initials and the date would be a fun detail that guests will enjoy. Shop our special shape cards and browse premium paper stocks to create custom coasters.
Ceremony Program Cards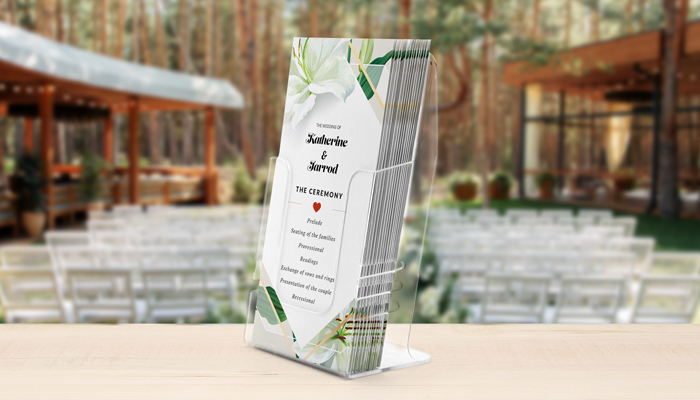 Like commencement ceremony programs, wedding ceremony programs are often considered a sweet keepsake of the day that guests can take home with them. This also lets guests know what to expect throughout your whole ceremony. You can even include a note for guests to put their phones away so that they enjoy the moment in its entirety rather than through their screens.  Shop 4″ x 9″ Rack Cards.
Reception Menus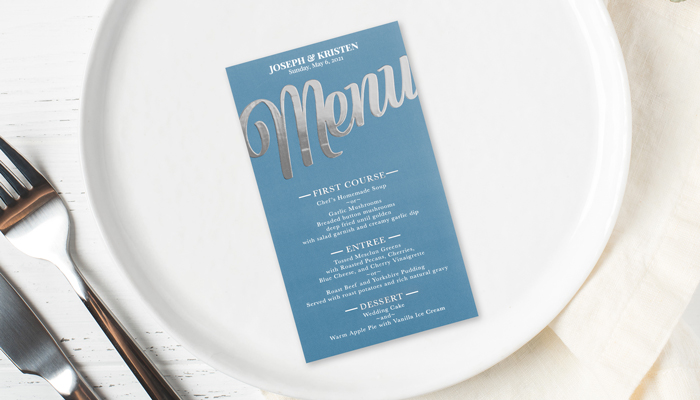 Some might say that reception menus are wasteful prints, but we beg to differ. It's a courteous gesture to print a dinner menu of the night's offerings and place it at each table setting so that guests will feel reassured, especially if they have food allergies and sensitivities.
Wedding Favor Tags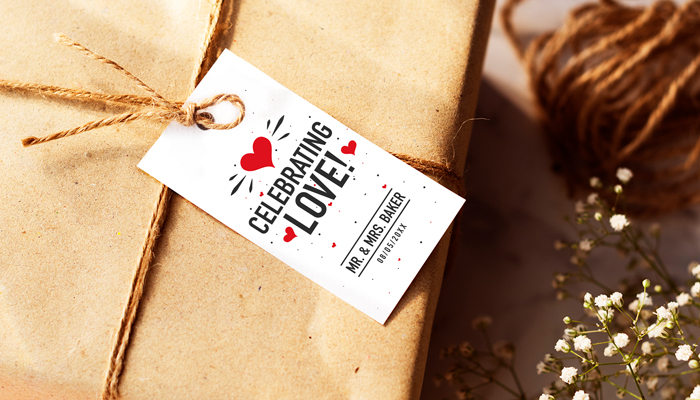 If you are in fact giving out favors to your guests, including a hang tag on your favors allows you to share the details of your special day (date, last names, location) as well as a little note to all your guests.  
Bar Menu Signs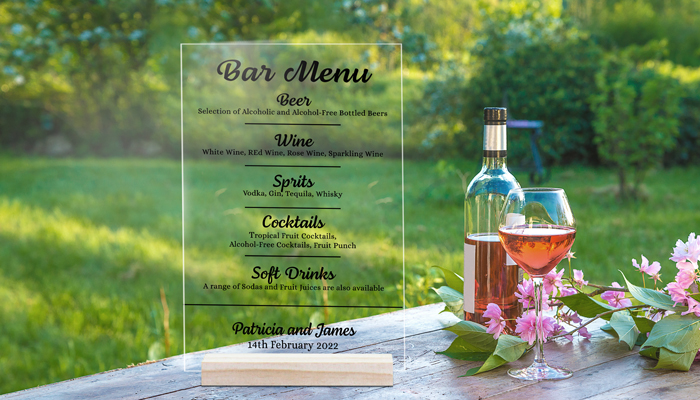 Custom bar menu signs are so easy to make but are often forgotten because they are seen as a waste of a print. We disagree! Not only are our signage options affordable, but we have a number of different rigid sign options to choose from, some of which can even last you a long time if taken care of. At the end of the night, the bar menu you've created for your party becomes a unique keepsake of your wedding day.  This particular menu is printed on an Acrylic Board.
Directional Signs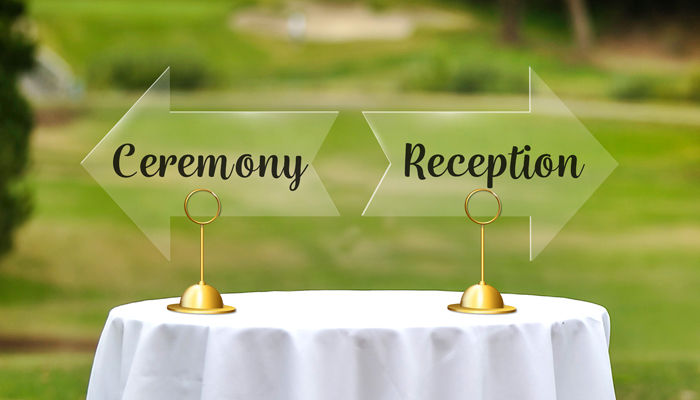 Your wedding venue might already have directional signs for you to display as a guide for your guests, but most of the time they are not aesthetically pleasing. As mentioned previously, our signage products are extremely affordable, meaning you can create your very own directional signs that match your wedding theme seamlessly. We offer unique shapes such as arrows and circles, along with conventional shapes like rectangles and squares, to make your sign designs stand out.  
Escort Cards
With seating charts becoming the most popular method of seating placement, sometimes people forget that they still have the option of using escort cards to direct guests to their assigned table. With an escort card, you don't have to assign a place setting to each guest, but it still gives the guests an indication of where they need to go. You can customize your escort cards as much as you'd like – some guests even like to keep them as a little souvenir of the night's festivities. Escort Cards are typically printed on Folded Business Cards.
Thank You Cards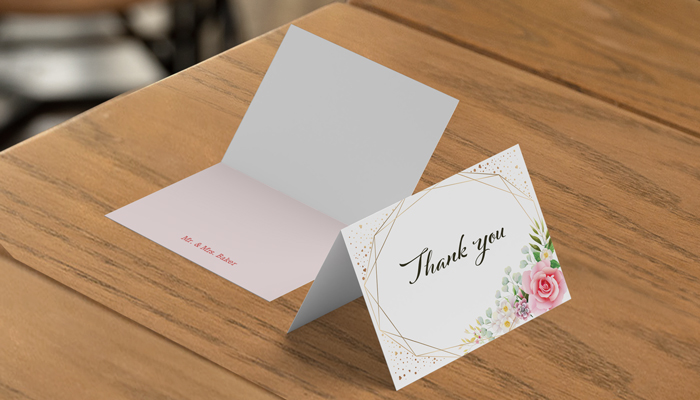 Sending your guests thank you greeting cards after your wedding day is customary, and it's definitely a nice touch, considering all the gifts you'll receive and with some guests even making the trip in from out of town to be there for you on our big day. Making custom thank you cards is a breeze because you can print as low as 25 quantities, customize the design as much as you'd like, and print them on a writable paper stock (14 pt. Uncoated cover) to make personalization simple. Including a general message on all of your cards will also eliminate the extra hassle that you definitely don't want to deal with, especially if your wedding had a higher guest count. Take it from me, handwritten cards are a nice touch, but it's not worth the cramping hand and potential carpal tunnel.  
---
For more wedding inspiration, check out the following blogs:
5 Acrylic Board Ideas for Weddings
Our Guide to Wedding Suite Essentials
15 FREE Fonts to Help You Design the Perfect Wedding Invitation