The season of caps and gowns, commencement ceremonies, and celebrating accomplishments is among us – and what an exciting time it is for all the graduates to be! Whether graduating from kindergarten or receiving an esteemed Ph.D., no accomplishment is too small to celebrate. Students and educational institutions alike work hard to achieve the ultimate academic goal, and it's important to celebrate those accomplishments by carrying out a successful graduation season. The excitement of it all can get overwhelming for both parties.
We're here to help with all the print essentials both institutions and individuals need to successfully commemorate graduation season. Read on to see what common print products are on the list!
Yard Signs
In the age of covid, where two years of graduating classes have had to experience a different graduation season than most, Yards Signs were a trending commodity that appeared on many lawns in support of graduates. It has since been quickly turned into something that can be consistently done as a nice gesture displayed both on private lawns and all over campus communities.
Postcard Invitations and Announcements
Postcards are one of those versatile and affordable print products that can and should be used by all – we know that in a lot of cases, people tend to prefer digital methods of correspondence, especially when it comes to simple invitations or announcements. However, something as memorable and important as graduation deserves something that's tangible and likely won't get lost in a junk mail folder.
A-Frame Signs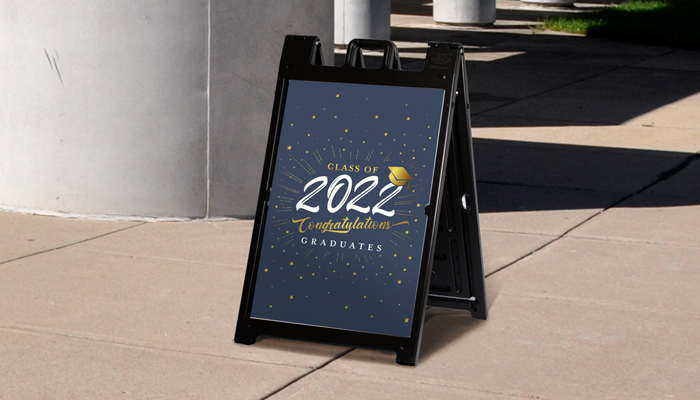 This signage product is incredibly convenient for schools and universities. Display a wide array of information, including signs about cap and gown pick-up locations, commencement ceremony locations, and much more. A-Frame Signs are sturdy and eye-catching, making them the perfect directional signage for graduation activities.
Vinyl Banners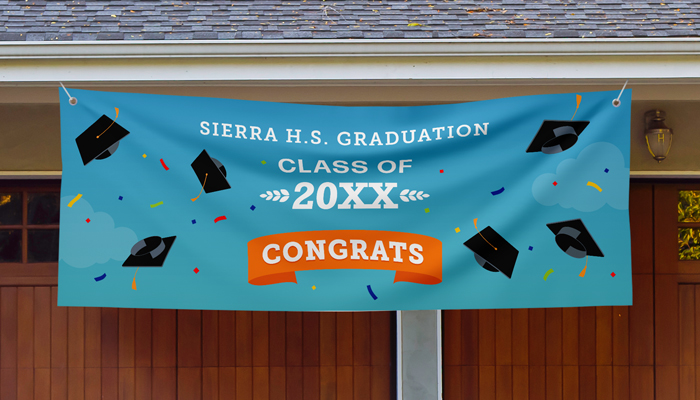 Similar to A-Frame Signs, Vinyl Banners are an ideal and practical sign to use for any type of event. Design one with directional messaging, event indicators, or just words of encouragement and display them anywhere! We offer hemming and grommeting so that you can hang your banners with ease.
Brochures for Programs
Programs are often handed out at commencement ceremonies. These make lovely tangible keepsakes to remember the special day. With an impressive amount of fold options and paper stocks to choose from, all at affordable pricing, our Brochures will make the perfect commencement programs.
Posters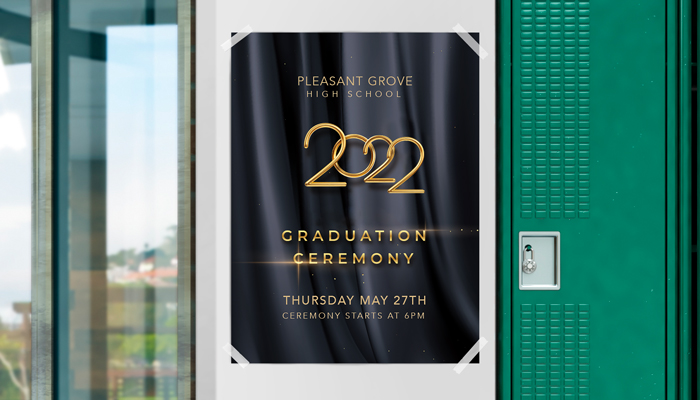 Posters are often displayed around campuses for various reasons. Most students notice posters because they are large and attractive, and often display an important or meaningful message. During grad season, it's especially important that you take advantage of the walls of the campus to display important notices about graduation ceremonies and other various activities surrounding the season.
---
We wish all graduates a heartfelt congratulations! May your accomplishments take you far in life as you advance to the next chapter of your lives.
Check out our older blog posts on career advice for new graduates, as well as all the essentials you need to throw an awesome graduation party.
P.s. when you're ready to print your business cards, we've got you covered!