Running an online shop might be one of the most exciting business ventures, as you can sell anything you wish – from jewelry, clothing, books, candles, skincare, makeup, stationery, candy, artwork, and the list goes on.
Just because you don't own a brick-and-mortar shop, doesn't mean the process of running a business is necessarily easier. We would argue that it's just different. There are a lot of moving parts that need to come together to make either business model work. For example, in the eCommerce retail industry, packaging is everything. Your boxes/envelopes/wrapping/labeling all require a bit more attention to detail than that of a brick-and-mortar shop. Whether you're selling fragile products or just want to develop consistency in your brand, it's essential that you invest in good packaging. With that being said, it's equally important to put attention to what goes into your packaging in order to develop a lasting relationship with customers. After all, there are millions of online shops, plenty of which likely sell similar products to yours. Though your product might be of superior quality, that alone is not enough to entice customers to return. What's the solution? Include a thank you card in every order. You might be wondering why or what kind of message to include on the card itself. Read on to discover why you need these cards and what you'll need to include to use this marketing tool to its fullest potential.
Why should you include thank you cards in every order?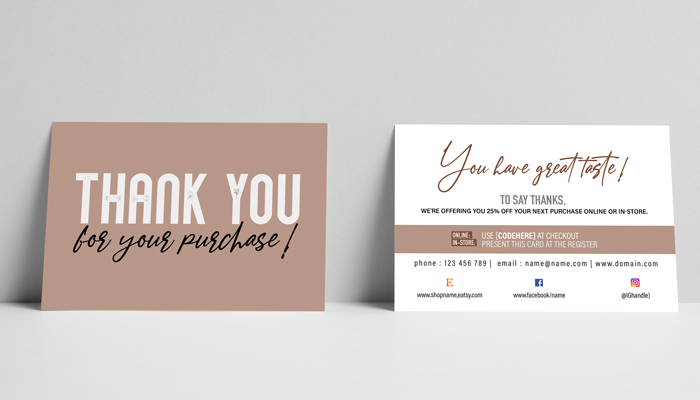 Adding a thank you card to all of your orders signifies that you not only put attention to the product you produce or sell but also to your customers' experience. A simple thank you card will go a long way, especially if you include an incentive to place another order, such as a coupon code, or a refer a friend promotional discount. 
What should you include on a thank you card?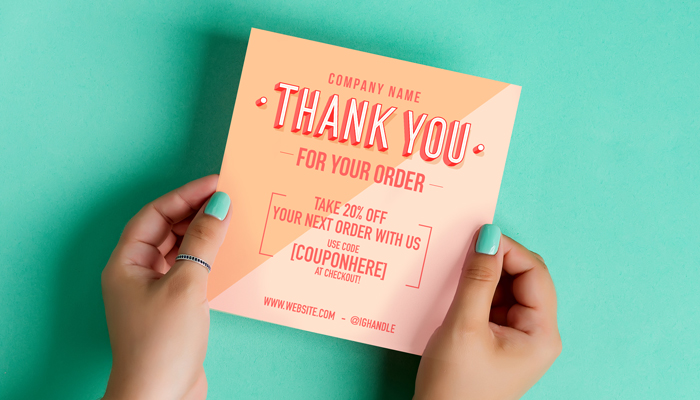 Thank you cards are generally printed on postcards, but you can also choose to print them on business cards, folded business cards, special shape cards, or greeting cards, depending on what you would like to include. 
Here are the following elements you should include on your thank you insert cards:
Your logo
A general thank you message
A coupon code or promotion for returning customers
Your contact information (email, phone number if available, and website url)
Your social media handles
Encouragement to share reviews/feedback on orders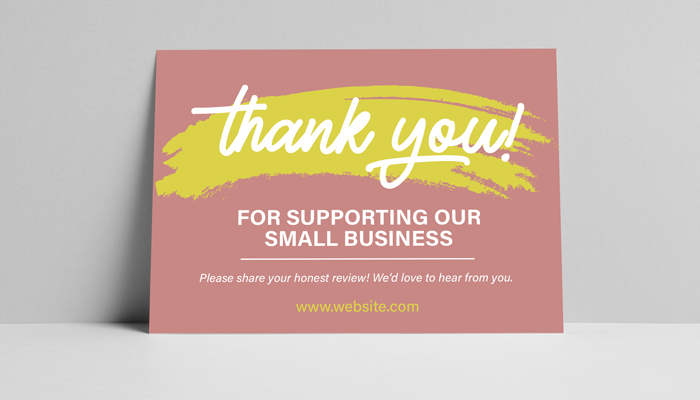 Bonus Additions –
A space for a personalized message. If you have the capacity to do this, more power to you! If not, you can also simply include a space to customize the card by handwriting the customer's name. Just make sure to print on paper that allows you to handwrite freely. (Our best paper stock for this is our 14 pt. Uncoated Cover)
Signing a name to the message (perhaps the founder of the shop or the person packing the order)
A little background on the company. People often do this on a separate printed material, but you can combine the thank you message/promo & your story on one printed piece by using more than one side of the print.
---
Of course, you can always include thank you inserts for in-store customers, too! However, the experience of opening up a new purchase from an online order has been proven to be intriguing. After all, the ever-popular "unboxing" videos we see across multiple social platforms are some of the most frequently viewed videos on the web. As an eCommerce shop, it's important that you set up your packaging in a way that's unique to your brand. From the packaging type to the colors, to the inserts you include, putting attention towards each order ensures happy and returning customers.