While many of us use digital calendars on our phones to schedule meetings, calls, and even casual hangouts with friends, there's just something about having a printed item readily available for checking dates and marking things down. No matter what your personal opinions may be on the matter of printed materials vs digital materials, we can argue that there's still value in printing calendars, especially for promotional use. With the new year right around the corner, it's just the right time to consider printing custom calendars. You can print custom calendars in bulk for promotional purposes, for productivity purposes, or for both intentions. Schools, universities, real estate brokerages, small to large-scale businesses, and even freelance artists can benefit from printing custom calendars.
What are the Benefits of Printing Custom Calendars?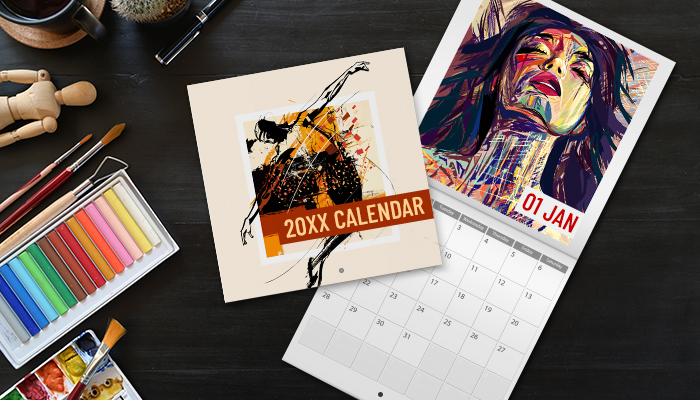 They're great as promotional handouts – a gift for clients and employees or take a few with you to trade shows and conventions. Promotional calendars are the perfect freebie.
They help with brand recognition – especially if you include your logo/branding style through the design, marketing calendars can really come in handy when it comes to exposure and outreach.
They are useful for everyone who gets their hands on one (daily use!) – People are less likely to throw out a calendar or notepad, because they know they can use these products in their daily lives.
They encourage organization and planning, especially in the workplace
They can be used as a medium for sharing and monetizing art
Designing Your Calendars: Ideas & Inspiration 
Here are just a few ideas you can consider when coming up with your calendar designs. These concepts are not specific to just one or two industries – companies in architecture, real estate, construction, politics, public works, design, law offices, automotive, and much more can turn any of these concepts into a solid marketing idea for branded calendars.
Photo Calendars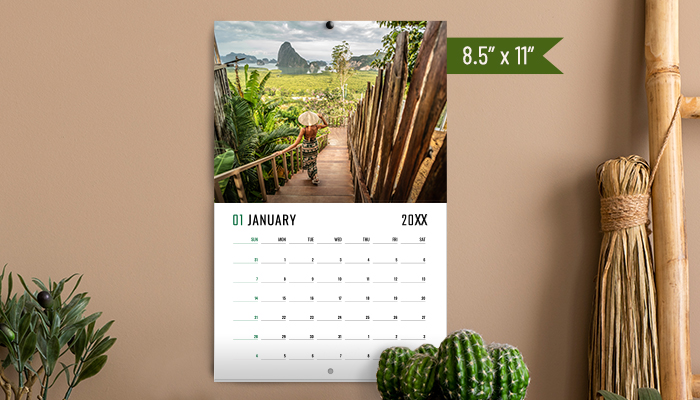 Photos are an ideal focal point for any calendar design. As long as your images are professional quality, and there's a theme to your photo collection, your calendars will be a hit. For example, each month could feature a landscape photo of scenic places. If you're a portrait photographer, your artistic portraits would be perfect for a calendar spread. Interior designers, graphic designers, painters, etc – really any individual in a creative field can take a collection of their best works and turn it into a promotional calendar. Real estate agents could even make a collection of professional photos from your top houses sold and turn them into a calendar spread.
Quote/Inspiration Calendars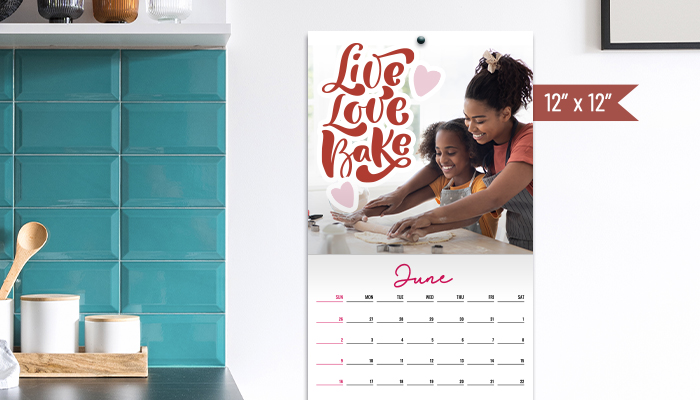 Quote calendars are inspiring because they have the power to encourage or motivate those who look at them on a daily basis. We can argue that it's even become second nature to glance at our calendars multiple times a day. Seeing inspiring words regularly can spark ideas, which can in turn increase productivity and innovation.
Logo/Graphic Design Calendars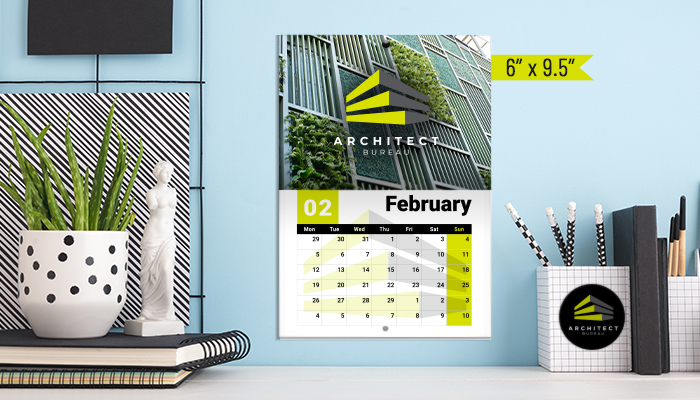 Graphic designers, especially those who have a unique style of work, can absolutely benefit from creating calendars that feature collections of their digital art. This product can quickly become a top seller for you. Additionally, companies can hire graphic designers to create a special calendar spread exclusively for their company, and branding can be sprinkled across the designs for a cohesive and professional look. Companies can use these custom-branded calendars as a year-end promotional gift for clients and employees alike.
Text-Based Calendars  
Sometimes, simple is the way to go. Calendar designs that put more emphasis on text (i.e. focusing on month names with special typography) are easy to create and are versatile because they can be used by anyone. You can't go wrong with this option, and it's much easier to insert your branding into this concept.
—
Calendars can be ordered in 4 convenient sizes: 6" x 9.5",  8.5" x 11", 9.5" x 12", and 12" x 12" and all come with a saddle stitch binding to securely hold pages in place. Your calendars will look great and remain durable all year long. If you have vibrant photos or designs, it would be best to print on any glossy paper, as the finish of these papers resembles that of photo paper. If your design focuses on primarily text or doesn't have much color, you can opt for matte or uncoated paper stocks.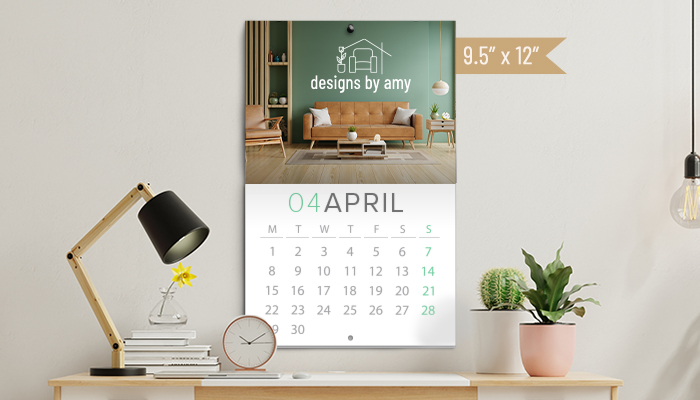 Paper options include: 
100 lb. Gloss Book – a lightweight glossy paper 
70 lb. Opaque Smooth White – an uncoated paper, the same material as letterheads 
80 lb. Gloss Book – a thinner, lightweight glossy paper 
80 lb. Matte Text – a thin, lightweight matte paper 
Cover Paper options include: 
Self Cover – same selection as the inside pages
100 lb. Gloss Cover – similar to a magazine cover, pairs best with 100 lb. or 80 lb. gloss book
100 lb. Matte Cover – modern matte cover option, pairs best with 80 lb. matte text
14 pt. Gloss Cover – (UV Coating All Sides OR UV Coating Front & Back Cover) – thicker cover option, gloss
14 pt. Uncoated Cover – thicker cover option, no coating
8.5″ x 11″ Calendars start at just $217.57* for 100 quantities.
—
Looking for a unique take on calendar printing? Or perhaps you want something more compact. Check out the 7 unconventional print products that can be designed and printed as calendars.  
*Prices are subject to change at any time.