Announcing a pregnancy or the birth of a baby, including adoptions, is a joyous occasion, no matter the time of year. During the holiday season though, you have not one, but two excuses to send out a holiday card! After all, baby announcement cards with a theme are much cuter and more memorable, and what better time to play with a theme than the holiday season. Christmas and New Year are all about celebration, and now you have an additional event to celebrate and share with all your loved ones. Sending out holiday postcards is still a common practice, believe it or not. That being said, you may need help coming up with a design for your holiday baby announcement. If so, you've come to the right place. On GotPrint.com, you won't even need to come up with a design. Browse our templates and simply choose the one you like best (looking at color palettes too, of course), then modify all the details and add photos of your own directly on our easy-to-use online design tool.
You can print any one of these baby announcement holiday-themed templates either horizontally or vertically, just make sure you choose the option preferred before proceeding to customize the template.   
Here are 9 cute holiday and Christmas-themed templates for announcing a baby to all your loved ones.
Birth Announcement Holiday Card Templates
Babies born in the months of November and December automatically get extra attention because their parents are grateful for this joyous gift. Get it? We're totally kidding, we just wanted an excuse to be punny. Announce the birth of your little bundle of joy with a fun Christmas or holiday-themed card!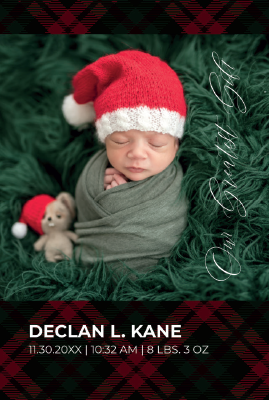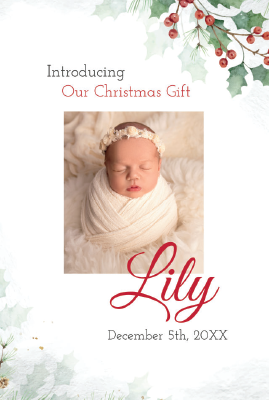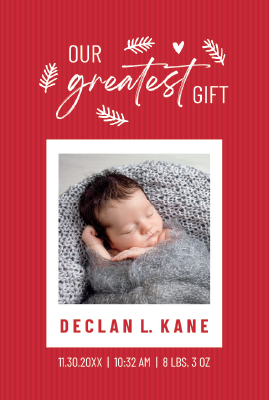 Baby Adoption Holiday Card Templates
Adoption is a noble act and we applaud all the adoptive parents for taking on major roles in a child's life. Adoptive parents and children deserve to be celebrated, especially during the holiday season. Announce the newest addition to your family with these cute, festive cards.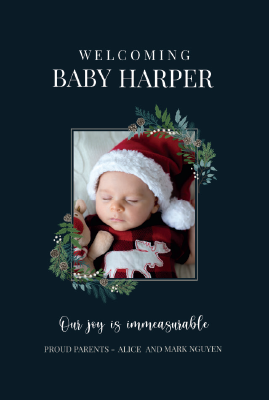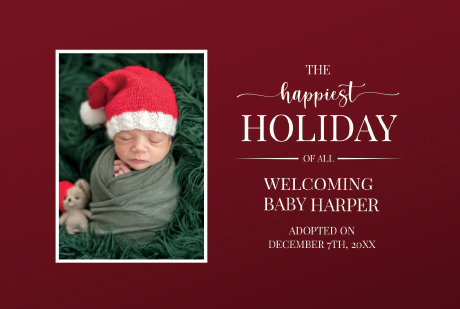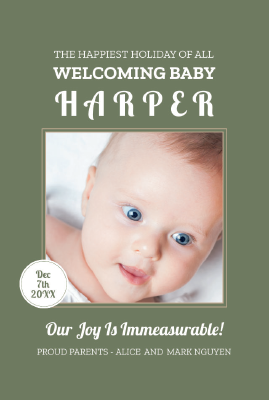 Holiday Season Pregnancy Announcement Card Templates
Announcing a pregnancy during the holidays and into the new year is a fun twist for your annual holiday cards. Friends and family will be overjoyed to receive this news via postal service.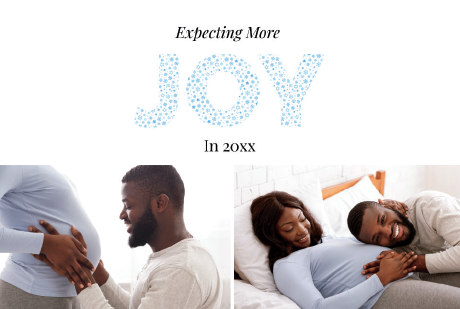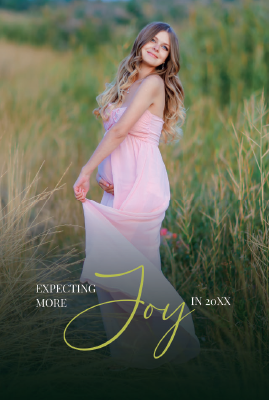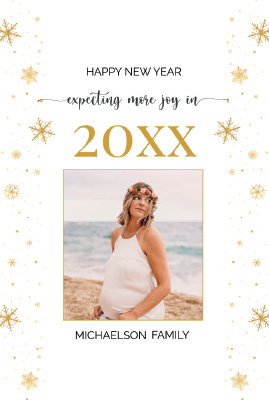 What do I include on baby announcement cards?
Make sure your photos are high-resolution (at least 300 dpi). High-quality smartphone photos may suffice, depending on your settings and phone model, but if you can get a professional photographer to shoot your photos for you, even better!
Make sure all the information you add to the announcement card is accurate and spelled correctly.
For pregnancy announcements, you can include photos of a maternity shoot as well as your general time of year when your baby is due – you don't have to put the exact due date that's projected if you don't want to!
For birth announcements, you can include photos of your new bundle of joy (more than one, because everyone will be dying to see more), their full name, date and time of birth, location, weight, and height
For adoption announcements, you can mimic a birth announcement depending on when you become the legal parents of the child, but if you want to keep it simple, just put their full name, birth date, and adoption date.
---
Looking for more holiday baby announcement templates? Browse all options. Choose from popular postcard sizes 4″ x 6″, 5″ x 7″, 5″ x 5″, and much more!