A newsletter is a marketing tool used to keep your active audience engaged. What we've come to know today, called e-newsletters, actually started out as prints. It is the cousin to a newspaper, but with a newsletter, you have more room for creativity, both in design and content. Depending on the topic of your newsletter, and your audience, you can get as creative as you'd like with the design, color scheme, and even the type of content to include.
You might be questioning whether printed newsletters are still relevant. The short answer? They are. Ask one of the most popular grocery store chains in America, Trader Joe's, and they'll agree! Their Fearless Flyer newsletter comes out monthly in both a digital and printed format. Their newsletters contain product news, including seasonal items, quick, easy recipes related to their products, and much more focused content that customers love to read through every month. They even have fun old-timey comics.
Though this type of content may not be something that your company or clientele can relate to, we know one thing for sure: You can easily create your own printed company newsletters with relevant information.
Should I print my newsletter even if I'm already distributing it digitally?
Consider the fact that although many newsletters have moved over to the digital space via email or a webpage – an email newsletter may get lost in a sea of other promotional emails.
With a printed newsletter, because it's tangible and a decent size, it's more likely that it'll be picked up and read, which means your efforts won't go unnoticed.
Your best course of action would be to create your newsletters to distribute on both mediums. While it might feel like it's a waste of money to do both, we can argue that it's more of an investment, especially if you plan to physically hand out your newsletter at your establishment. You can also include them in shopping bags so customers will have the latest edition of your newsletter – hot off the presses! Not literally, but you get it.
Creating a Newsletter – Tips to Get Started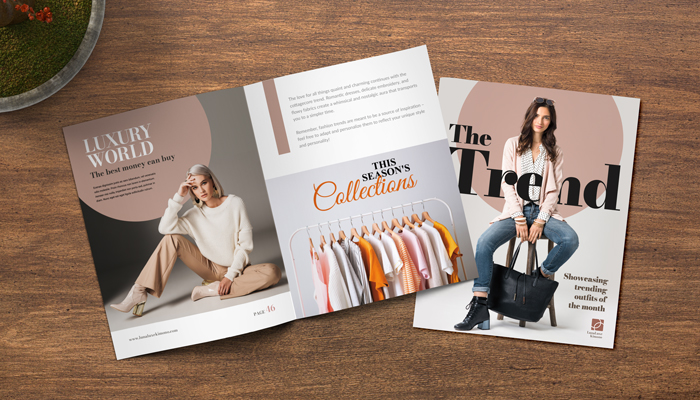 Types of content:
Include written content like exclusive information, new or trending products, relevant articles, customer spotlights, and focused content that will inspire readers.
Company news: This can be anything from new product launches, or launching soon, new features, or general news that your audience would benefit from.
Focused content: What we mean by this is – let's say you're a grocery store – content that would inspire your audience might be an easy recipe featuring a popular ingredient found in your store. If you run a clothing company, inspiring content would be a lookbook of outfits put together by some of your brand ambassadors.
Design ideas:
There is no one way to create a newsletter layout or design. As we mentioned before, newsletters can have a more creative approach, with the level of creativity depending on your industry. If you're unsure about a layout, take a look at some examples and templates with a quick Google search.
Use your style guide – If you already have a branded style guide, you'll have an easier time coming up with the design plan for your newsletter if you follow that flow – fonts, color schemes, and so on. If you don't have your own set-in-stone branding guidelines, now's the time to come up with one. Use your newsletter as an opportunity to finalize the look and feel of your company branding.
Colors, colors, colors! – Color draws attention to the human eye, so it's important that you use a variety of colors throughout your newsletters. Of course, the colors should complement the text and photos within your newsletter, as well as the color scheme of your general branding guidelines.
Keep it concise:
While you want to inform and entertain your readers, you also want to make sure you're not overloading them with content. Realistically, you should keep your printed newsletters to a total of no more than 6 pages, and consider creating more concise versions via email. If you have a website, you can even host your full newsletter there and have users visit the site to read more while keeping your email version condensed with key points.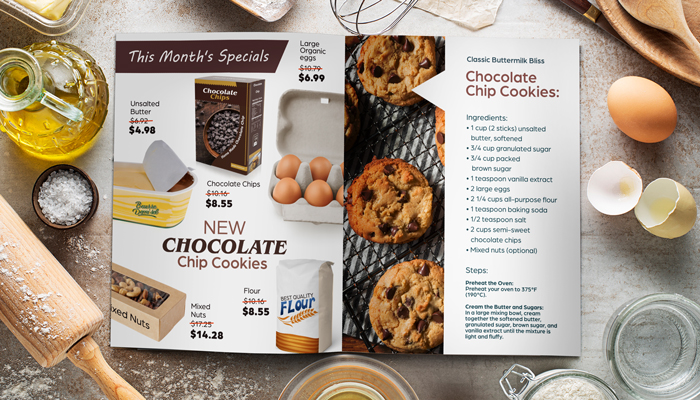 How do I print newsletters?
Newsletters can be printed on Booklets. You can start small at just 100 quantities.
Choose from three convenient sizes, including 5.5" x 8.5", 6" x 9", and standard letter size 8.5" x 11" booklets or catalogs. Print as low as 8 pages, which includes the front and back of each cover, and each side of a page is counted as one as well. So 4 pages for covers, 4 for inside pages.
If you're creating a newsletter, you're more than likely going to end up with saddle stitch binding because of your page count, but if you're making a catalog that has 48 pages or more, you'll also have the option of choosing Perfect Binding.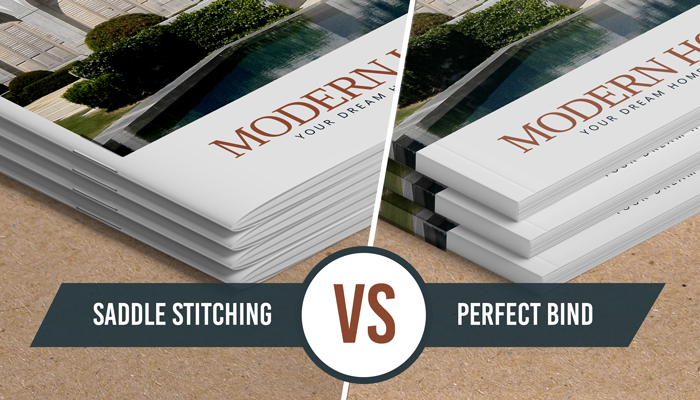 The main difference between the two is that saddle stitch binding is bound with strong staples through the spine, while perfect binding uses glue to hold the spine together. As we said, perfect binding can only be used for thicker publications. You'll often see it on thicker magazines or catalogs.
Realistically, you won't need more than 12 pages (4 cover, 8 inside) at best, for your printed newsletter. In the case that you do go over the page count previously mentioned, it's best to go back to the editing stage to condense your content.
Newsletter Paper Printing Selections
While we don't carry the common newspaper stock, you instead have premium paper options that'll make your newsletter pop.
Paper Options:
100 lb. Gloss Book – smooth, shiny, damage resistant, and has the same properties as a soft cover of a catalog
70 lb. Opaque Smooth White – bright white and uncoated, closest to regular paper but with slightly more durable qualities. Paper is compatible with laser and inkjet printers (for non-professional printing)
80 lb. Gloss Book – lightweight, yet durable, best for vibrant colors
80 lb. Recycled Matte Text – Crisp white, matte, eco-friendly paper stock.

Cover Options:
Self-Cover – meaning, the cover will be the same as the paper you select for your pages.
100 lb. Gloss Cover – Flexible, sturdy, and performs well with vibrant colors
14 pt. Gloss Cover – Classic glossy that you've likely seen as business cards. Added high gloss UV coating for shine and damage protection.
14 pt. Uncoated Cover – Same thickness as our gloss cover, only this one is uncoated. Pairs well with 70 lb. Opaque Smooth White.
100 lb. Recycled Matte Cover – Crisp white, matte, eco-friendly paper stock. Pairs well with 80 lb. Recycled Matte Text

When it comes to preparing your newsletter pages for printing, you'll need to make sure of the following:
Pages are in CMYK mode
Make the layers of your files flattened so that you don't have to worry about elements not showing up on your prints.
Place all the individual pages into one multi-page PDF file with the pages in numerical order. The first page is the front cover, the second page is the inside of the front cover, and so on.
---
Keeping your clientele engaged should be one of your top priorities when it comes to building a marketing model. One of the best ways to do that is by creating focused newsletters that are worth reading. 5.5″ x 8.5″ Booklets start at just under $100 for 100 quantities.
Prices are subject to change without notice.