Business cards and postcards are among the top 5 custom print products, which likely means that you have seen, used, or printed both of these products on a frequent basis. What if we told you there was a way to elevate business cards and postcards without changing much at all? Put a little twist on these popular prints. Instead of printing regular rectangle business cards or postcards, you have the opportunity to unleash your creativity. Cards with unique shapes are just what you need to bring in a fresh new perspective on things, whether it be your marketing materials or invitations for special events. You can even just take your original design and slightly modify it to match the new shape you've selected.
We already know that both standard business cards and postcards are used in more ways than their original intention. For example, business cards are often also seen as appointment cards for doctors' offices, loyalty punch cards at food and beverage establishments, and earring backing cards, just to name a few. Similarly, Postcards aren't just intended to be mailers – they are actually just as common for custom invitation printing, thank you inserts for online stores, RSVP cards, small menus, jewelry backing cards, and much more. Unique-shaped business cards aren't hard to achieve, and neither are unique postcards. With all the ways you can utilize these print products, there's no doubt that you can create a custom print that's truly distinctive, both in its looks and its intentions. Read on to learn more about the special shapes you can print for your next project.
Square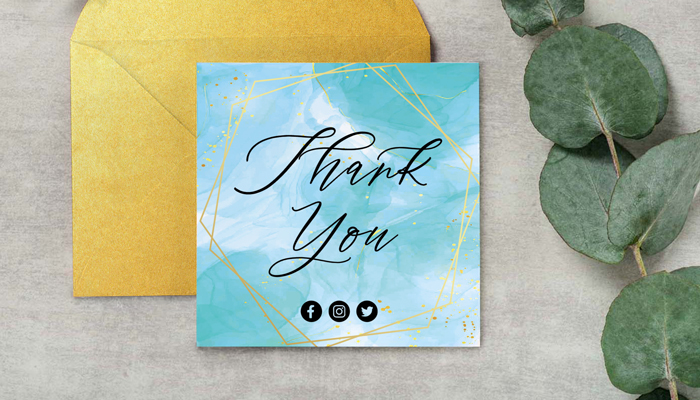 Sizes: 2" x 2" and goes all the way to size 5.5" x 5.5"  
Square cards are versatile and just unique enough that they'll make a different impression than say a regular rectangle card would. With its size range, you can print both business cards and postcards in a square shape. Square postcards are particularly good for e-commerce retail stores that add inserts to each order. Consider printing your thank you inserts on a special shape square card.
Half Circle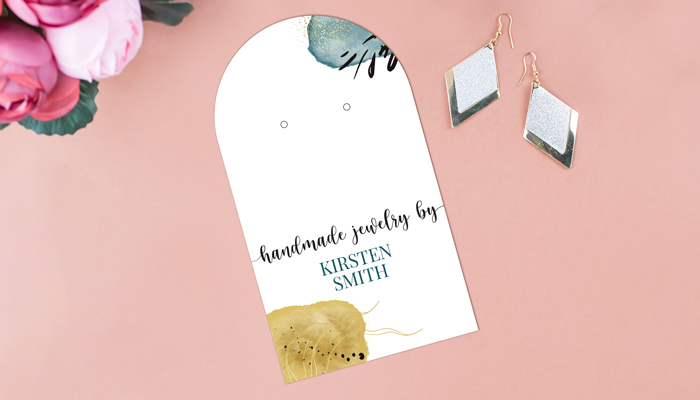 Sizes: 2″ x 3.5" and 4" x 6" 
Half circle cards, or arch cards, have recently been all the rage everywhere you look. From jewelry backing cards to unconventional wedding invitations, this shape is guaranteed to draw attention wherever it may end up.
Circle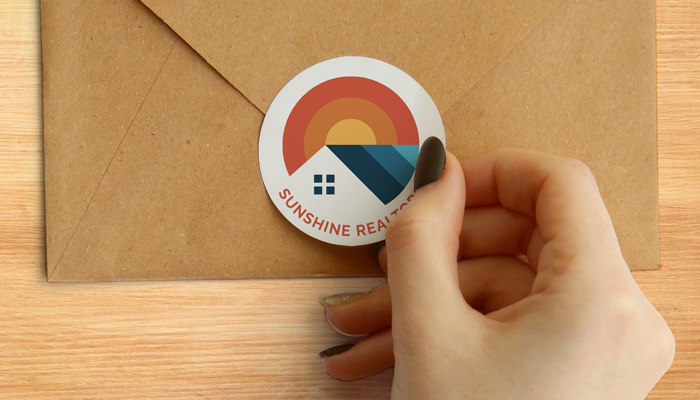 Sizes: 1.5" diameter and goes all the way up to 6" diameter
The circle shape is undoubtedly a popular one among all the other shapes. It has a knack for bringing special attention to any design. Circles are ideal for logo printing, especially if you're trying to make labels on a budget. You can even make disposable coasters if you choose 3″ or larger. Special shapes are also offered in a sticker format, so you can easily use them for envelope seals, package labeling, and much more.
Leaf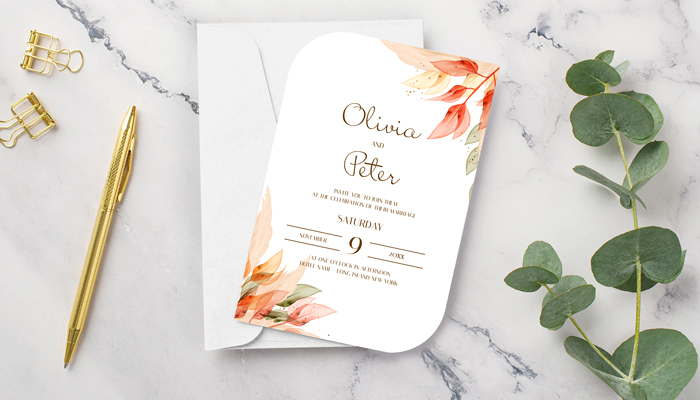 Sizes: 2" x 3.5" and 4" x 6"
Leaf-shaped cards are awesome because they're like rectangle cards, but with a twist! There's just something about these cards that convey elegance, which is why they're perfect for 4″ x 6″ wedding invitations. Pair these with A4 envelopes for show-stopping wedding stationery.
Wink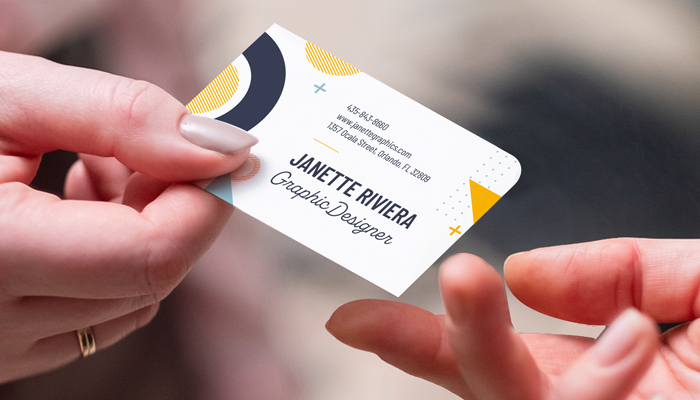 Sizes: 2" x 3.5" 
Wink cards are just edgy enough to turn an average business card into an eye-catching marketing weapon. They contain only one rounded edge and are the same size as standard business cards, so they're perfect if you're in search of something a little extra to elevate your cards, while still keeping true to traditional business card roots.
Oval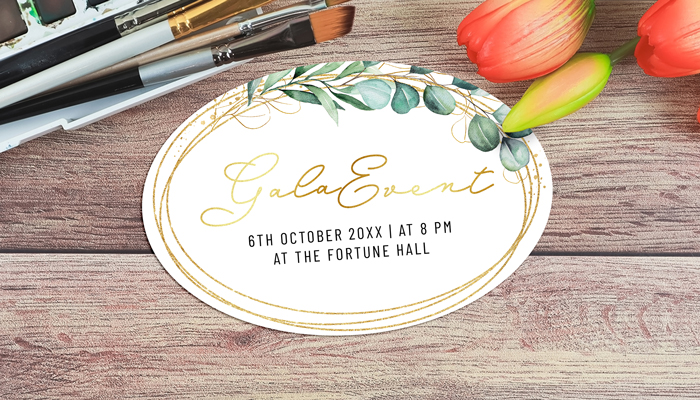 Sizes: 1.5" x 2.5", 2" x 3.5" and 4" x 6"
While an oval shape is completely out of the norm, it's also a shape that'll make any type of print stand out. With three convenient sizes, you can create both business cards and postcards in an oval shape.
Rounded Square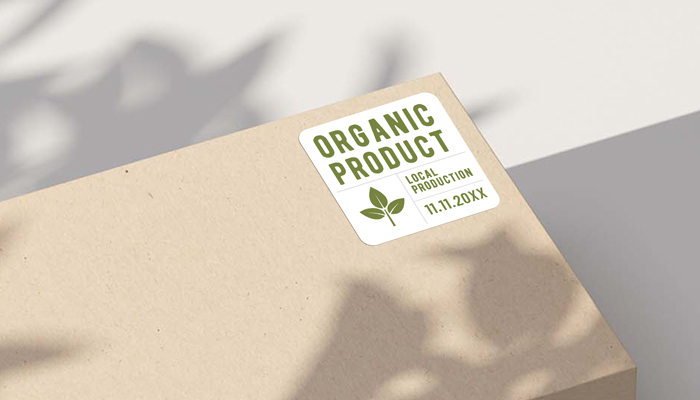 Sizes: 2" x 2" and 3" x 3" 
A rounded square shape, like a circle, is perfect for logo representation. Rounded square cards and stickers can be used for affordable product/package labeling when you don't want to splurge on custom packaging. Size 3″ x 3″ also makes a great unique business card option.
Rounded Rectangle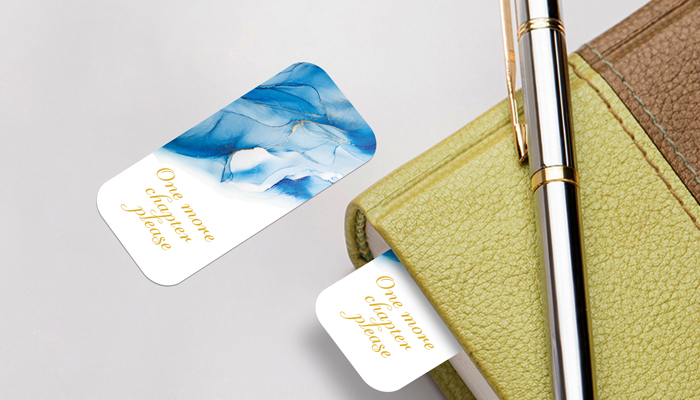 Size: 1.1" x 2.75"  
A rounded rectangle card as small and petite as this one can actually be used in a variety of different ways. One great way to make use of this shape is to create mini bookmarks. They are compact enough to create and pass around as promotional material.
What paper stocks can I print with special shapes?
With 8 paper stock options and even 1 sticker option, you'll find just the paper type needed to make your special shape prints truly shine.
14 pt. Gloss Cover – Classic popular paper with a glossy finish and high gloss UV coating. Best for bulk printing.
14 pt. Uncoated Cover – Same thickness as the previous stock, just without a coating. Contains a writable surface.
16 pt. Premium Matte Cover – Classic popular paper with a matte finish. Best for modern designs.
13 pt. Premium Linen – Paper stock with a subtle woven texture. Perfect for wedding stationery.
18 pt. Premium Kraft – 100% recycled brown paper. Contains a writable surface.
18 pt. Ultra Premium Pearl – Smooth, shimmery, and radiant natural off-white colored stock.
18 pt. Ultra Premium Smooth White – Sleek, matte, bright white stock.
24 pt. Trifecta Green – A velvety white paper stock with a triple-layered green core.
100 lb. Recycled Matte Cover – Crisp white paper that's similar to our premium matte finish.
60 lb. Gloss Label with UV Coating (Sticker) – Glossy finish sticker with an easy crack & peel backing.
Most of our special shapes can be printed horizontally or vertically, with the exception of circle and square, so if you don't have the budget to spend on custom die-cut shapes, our unique special shapes are your best alternative.
---
If you're feeling inspired and decide to order special shape cards with GotPrint, we'd love to see them in action! Share your final prints with us on social media for a chance to be featured! @GotPrint
---
To make sure you format your files correctly, we recommend you download our special shape templates first to prevent any issues in the printing process, and of course to help you out while you're designing your cards. If you decide to use these templates, please remember to remove the layer before uploading the file to the order form.