If you're hosting a bar at an upcoming event, chances are you're going to need signs to either bring people over, or display your drink offerings in a fun, stylish, or elegant way. Whether you're planning a wedding, a birthday bash, a charity gala, or a company party, you'll want the overall mood of the bar area to be lively and your event design to make a lasting impression. We've come up with a list of different design ideas that'll elevate your bar setup instantly, no matter the event!
General Bar Signs
1. A simple sign that says "The Bar" just so people know where it is, don't miss it in passing. This sign is a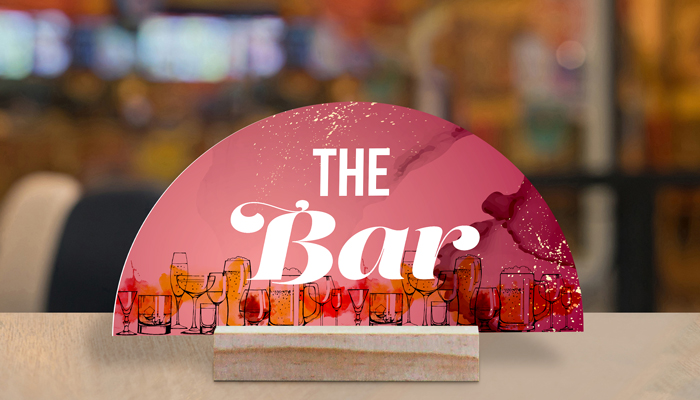 2. A sort of instructional yet friendly sign that's placed right on the bar.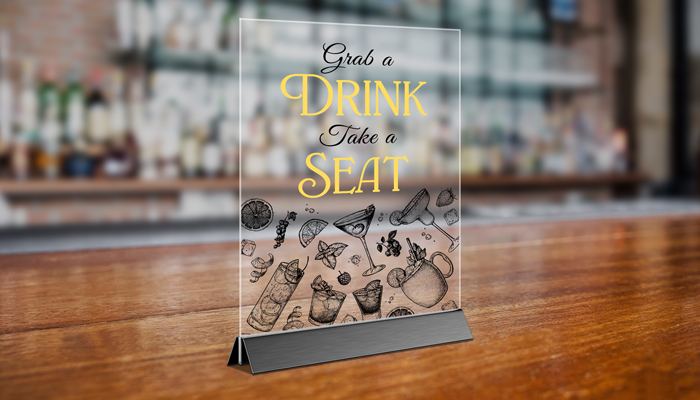 3. A simple sign of encouragement to hydrate (or de-hydrate), whichever way you look at it.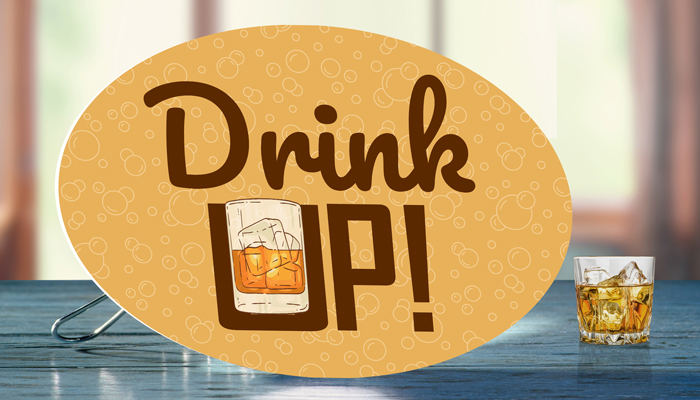 Drink Menus
4. A bar menu that has a simple, clean, modern design is surprisingly popular and will get the attention of anyone who wants to order a drink.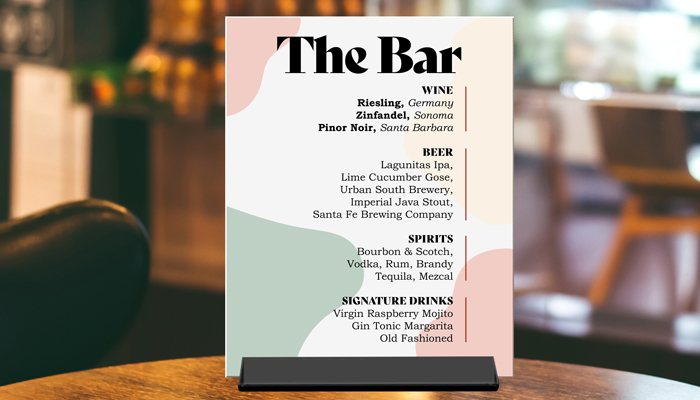 5. Pair your drinks with some fun illustrations that depict what patrons will receive when they order that specific cocktail or mocktail.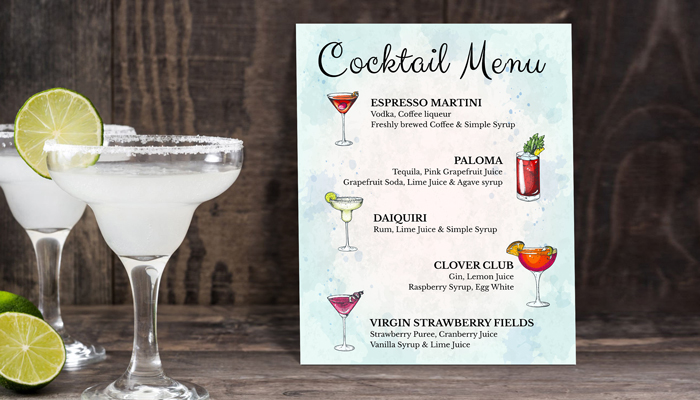 6. A large bar menu is appropriate for corporate/company events that have a large guest list. It's a way for guests to see what they want before they get to the front of the bar, making ordering much faster. You can even add a signature drink option (it's not just for weddings!).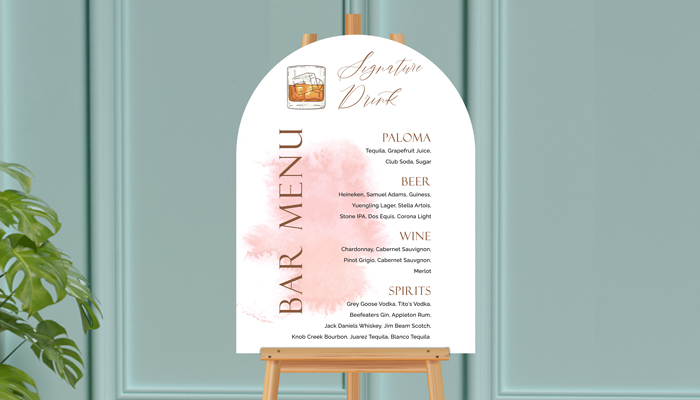 Open Bar Signs
7. Hosting an open bar? Sometimes, that's really all you need to put on a sign to attract guests.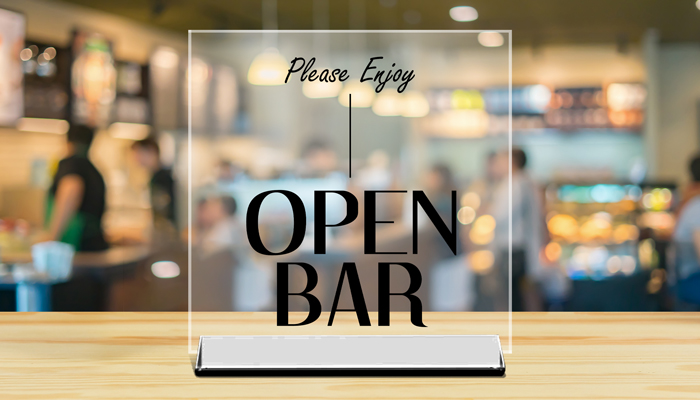 8. Turn your open bar into a nice, personal gesture for all your guests with language like "The drinks are on us!"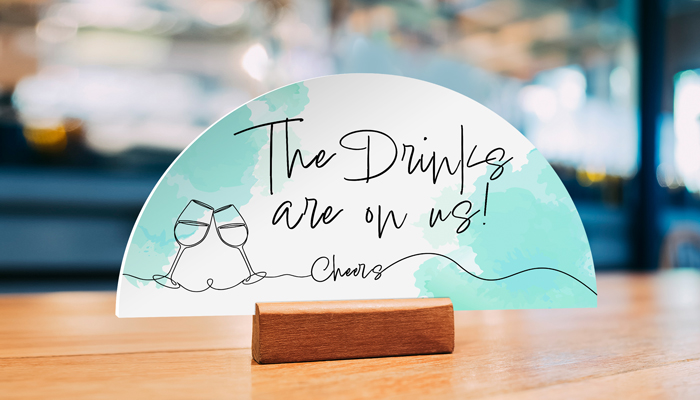 9. A cute way to incorporate your furry friend into your event – especially if most of your guests know all about your pet. Often seen at weddings, couples use their dog or cat's names and create signs that say "The drinks are on me!" with the animal's image or illustration; we've also seen it done with the pet's name as well. It may be a bit goofy, but it's definitely something that will be remembered and talked about by your guests after your wedding has passed. Honestly, we think it's really sweet!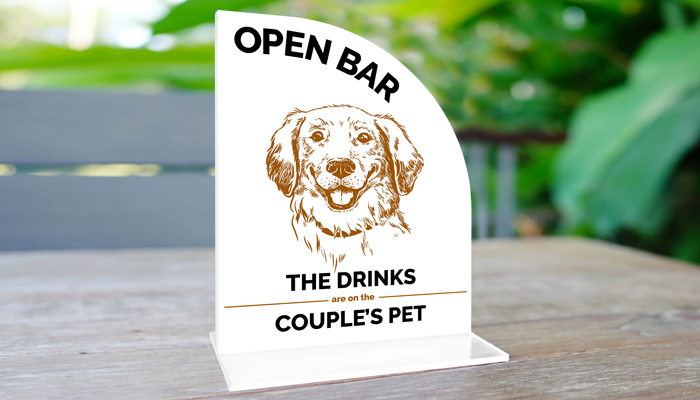 Wedding Bar Signs
10. Every wedding bar sign needs a bit of customization to match the couple and the wedding theme. Add a signature drink for the bride and the groom, the couple's name at the bottom, and maybe even the date, and you're good to go!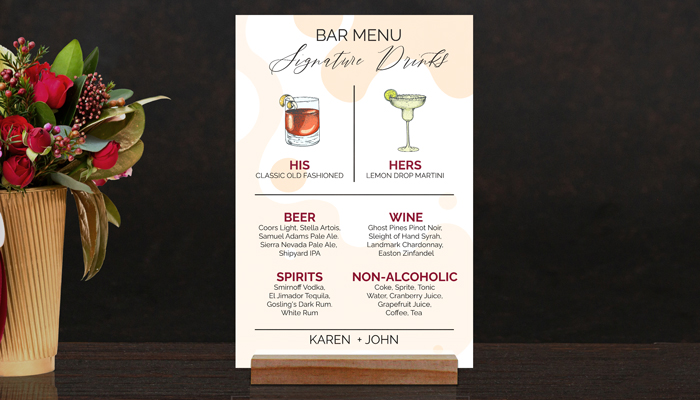 11. Match your bar sign designs with the design of your invitations. The cohesive look throughout your event will give off a nice, noticeable touch.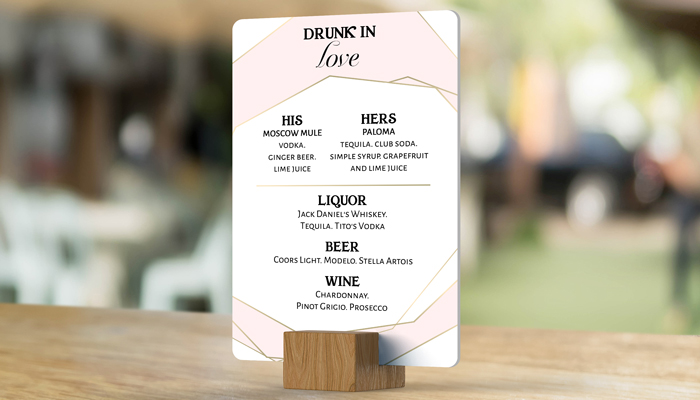 12. Combine a signature cocktail sign with a fun and friendly open bar sign and you've got yourself a bar that'll pop off all night long.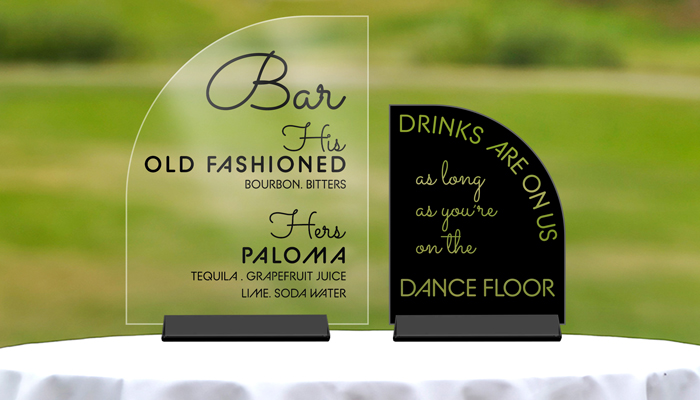 Signature Cocktail Signs
13. Sometimes, it's nice to have the signature cocktails on a separate sign. This way, the drinks tend to stand out more, and guests will likely be more enticed to order them.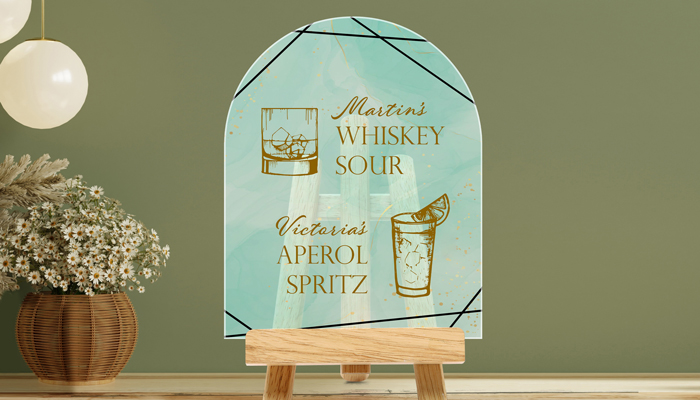 14. On the other end of it, there's nothing wrong with including all the options on one sign, both signature cocktails and the rest of the menu. Guests will appreciate all the different options you're giving them.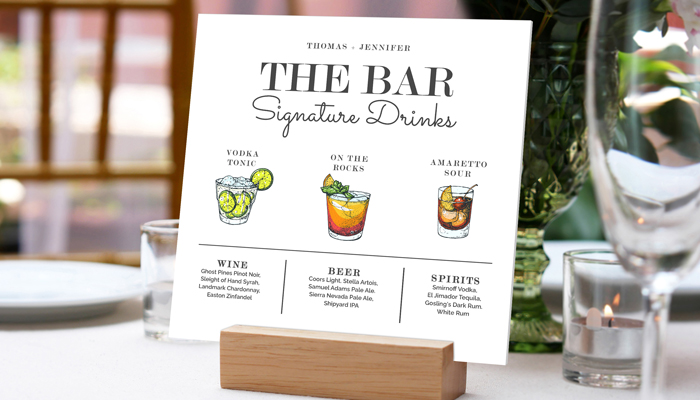 15. Planning a birthday party? Sometimes just one signature drink is all you need to get your guests excited.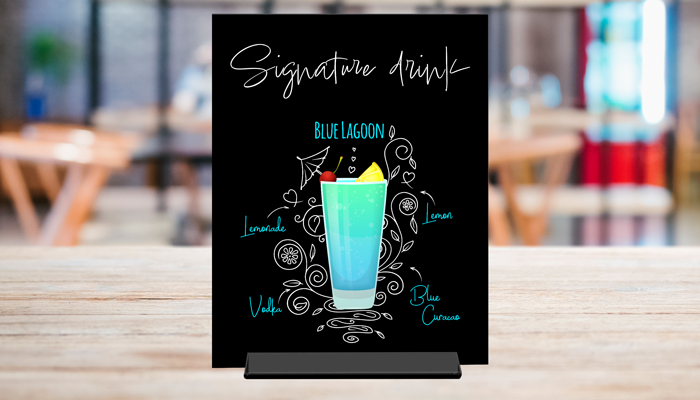 How can I design bar signs myself?
There are so many different ways you can design your signs, especially if you have a knack for designing. You can use platforms and apps like Photoshop or Canva to create your design files, or you can take advantage of GotPrint's built-in Online Designer to create designs from scratch, even with minimal experience.
If designing is just not your forte, then you can also hire a graphic designer to bring your vision to life. Most of the time, all you need to provide them with is some inspiration images and the text you want on the sign. In fact, our own in-house design team offers affordable packages exactly for this sort of thing!  
Where can I print custom bar signs?  
Hey, welcome. You've come to the right place.
GotPrint.com's vast variety of sign materials, shapes, sizes, no minimum quantity requirement, and affordable price tags combined make the perfect mix you need to make show-stopping, eye-catching, and crowd-pleasing bar signs that'll get the crowd going! The line to the bar will never be empty.
The most popular Rigid Sign types that should be your go-to are acrylic boards, foam boards, and PVC boards. While we do have other sign materials, like aluminum boards, corrugated boards, and cardboards, the most popular ones are the ones that can be used short term, are affordable, and sturdy enough to withstand an entire event. I've personally printed my wedding seating chart, welcome sign, and wedding bar signs on GotPrint's foam board material, and it worked out perfectly!  
When it comes to size, there's really no right or wrong answer. However, it's important to consider the following: the size of your setup, so you know how much space you have to work with, and the length of your text – if you're planning on printing a menu, you'll need to make sure you're printing a size that's easy enough to read.  With our vast selection, you'll find exactly what you need.
The trendiest sign shapes we've been seeing at weddings and events recently have been the half circle shape, the circle shape, and the half arch shape, but you can most definitely incorporate any shape that works well with your bar setup and the overall look of your event.  
Browse all sign materials and shapes
---
Printing your bar signs with us? Snap a photo or video of your full setup with your signs as the main attraction, share it on Instagram, Facebook, or TikTok, and tag us @GotPrint for a chance to be featured. We love seeing our customers' designs in action!
Disclaimer: Currently, our Rigid Signs do not come with stands or easels.