While the future of the construction industry is relatively secure, the home improvement and construction fields are heavily saturated with craftsmen of all sorts of skill sets – if you are a professional in the construction industry, it's important that you consider printing business cards. If you already have business cards, it might be time for an upgrade. Like your Phillips-head screwdriver and measuring tape, think of business cards as another tool you need to have in your kit. Your business cards will come in handy wherever you are – you can essentially self-advertise anywhere. People will always seek out professionals who can fix or build homes and buildings.  
You might be asking yourself if your job title is even worth making a business card for. The short answer is yes. As a professional, it's your job to get your foot off the ground and build a client base, and with a business card, you can do just that.
Contractors, construction workers, repairmen, masons, architects, plumbers, electricians, and landscapers alike could use this handy marketing print. It's smaller and lighter than all of your other professional tools and still has the power to advance your business.
Here are 5 tips for creating your own construction business cards
1. Keep the design minimal/simple
A clean-looking business card is not only more appealing, but it can also convey your particular work ethic when it comes to building or remodeling a home. A neat business card can imply neat, clean-cut work, which is always a bonus. Keep the color palette to a minimum of 3-4 colors. Use construction-themed colors if it works well with your logo.
2. Only add the necessary information
With your business card, you'll want to be direct and straight to the point. Because it's such a small card, putting too much information on the card could turn it into a cluttered mess. If you have more information to share, there are alternative methods, for example, adding your website link (of course, make sure your website is up to date before you do this).
3. Choose a paper stock that has a writable surface
This is both for your and your client's convenience – let me give you a scenario: You come across someone who's in need of your services. You've just had a positive discussion and have given advice that will lead you to believe you've just landed a new potential client. You want to write down a snippet of that advice for them, whether it's where to shop for the best tiles, or something else. All you have to do is whip out your business card, jot down some notes, and hand it to them. Now, the person has both the advice you've given them as well as your contact information. We can bet that they'll be giving you a call in the near future.
4. Include a promotion/call to action
There are heaps of contractors/construction workers available for hire. If your goal is to stand out, one of the best things you can do is include some sort of call to action. When you include a promotion on your cards, you're offering another incentive for potential clients to contact you. The promotion can be a free estimate/quote, a percentage off a specific service you offer, etc.
5. Add a QR code
A QR code is a helpful machine-readable code, a digital "fingerprint" if you will, that can be scanned by any smartphone through its camera. You can link things like additional URLs. Adding a QR code to your business cards will serve many benefits for you. Here are just a few: 1) Because QR codes are more commonly used now, and have become increasingly popular, having one on your own card will show that you're up to date with the times, and likely your services/expertise will reflect that as well. 2) you'll be able to share more valuable information, like additional links, without the clutter.  
Ready to start making your own business cards? Keep reading!
You really don't need to hire a graphic designer for this, you can easily create professional cards in minutes on GotPrint.com. If you need a little inspiration or help in designing your construction cards, we've selected our top 10 best design templates, which you can customize for free! Our online designer is so easy to use, you'll find yourself wishing you came across it sooner. 
Construction Worker Templates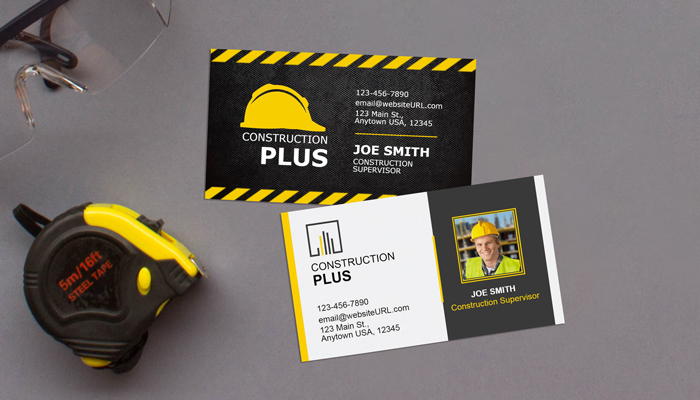 Top Template: Construction Worker Helmet – Bold, construction themed, and straight to the point. An ideal template for any working professional in construction.
Bottom Template: Construction Supervisor – If you like the simplicity of this design, but aren't a supervisor, you can still use this template by modifying your job title and adding your own photo.
Browse all construction worker business card templates
Home Repair Professional/Contractor Templates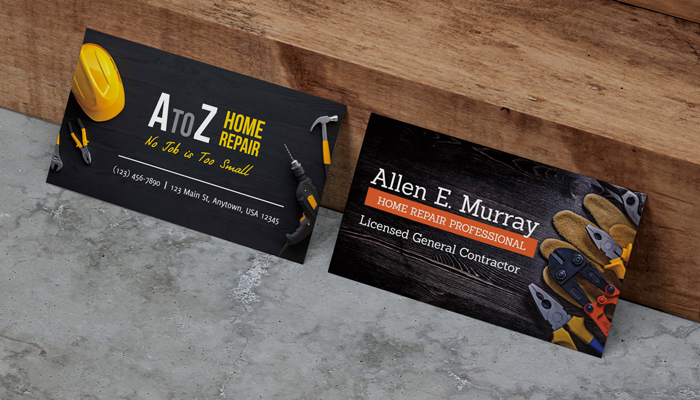 Left Template: Measure Tape Icon
Right Template: Hammer Icon
These types of templates are ideal for the general home repairman that can handle many tasks and contractors who can delegate tasks and already have a team of professionals that work well together.
Browse all home repair business card templates
Architect Templates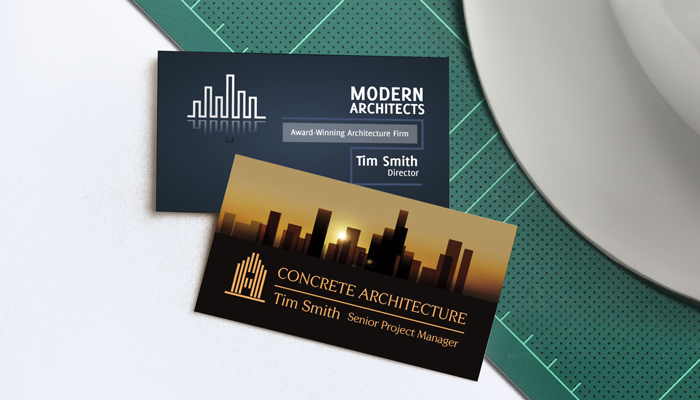 Top Template: Building Line
Bottom Template: Sunset
Architects are artists of their craft. Your position will always be valued, as you are what creates the concept of any structure – homes, buildings, and other structures. Choose any of our architect business card templates and modify them with your own contact information.
Browse all architect business card templates
Plumber Templates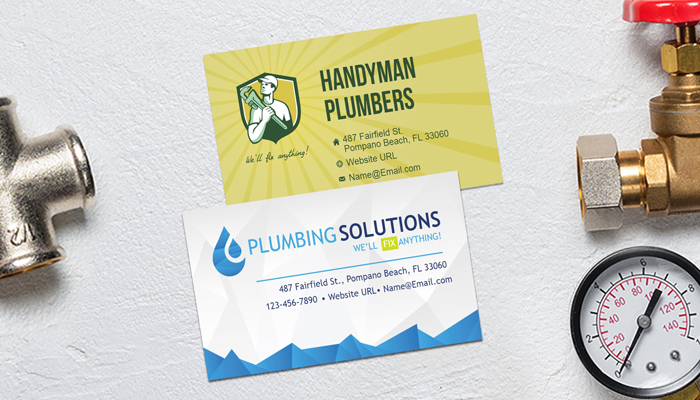 Top Template: Plumber with Tool
Bottom Template: Plumber Service
Plumbers are often contacted at a moment's notice, and it's most likely because something has gone wrong. When you have business cards that promote your skillset, people who have one of your cards will likely contact you first before turning to the web to search for a one-off plumber.
Browse all plumber business card templates
Mason Templates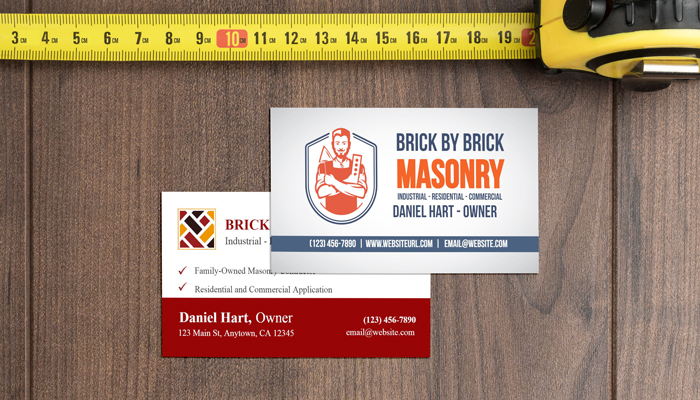 Top Template: Construction Man
Bottom Template: Colorful Bricks
Masonry is still very much relevant when it comes to construction. Your specific skillset will come in handy. Printing your own business cards will allow you to share your information with contractors. You'll be surprised how quickly you'll fall under someone's radar, and you'll be booking jobs in no time.
Browse all masonry business card templates
Other Construction Field Categories
Electrician Business Card Templates
Carpenter Business Card Templates
Landscaper Business Card Templates
—
Every single one of our templates is customizable, so if you like a business card design that has characteristics or elements that don't relate to your profession, you can absolutely modify it by removing elements and even adding your own logos and photos. The GotPrint design tool was made so that all of our customers have the freedom to edit templates with ease.
If you have any questions while browsing or modifying templates, please reach out to our friendly customer service team.