Running or managing a business, whether it's a brick-and-mortar store, or an e-commerce shop, entails structure, strategy, and being open to different methods of creativity. At GotPrint, we offer traditional marketing materials, like business cards, postcards, and hang tags, but it's entirely up to you if you need these products for what they are traditionally intended for, or if you like to think outside of the box to come up with alternative, yet necessary uses. In this blog, we discuss 5 different products offered on our website to show you different, yet creative uses in scenarios of in-store and online shops, other than what they are conventionally used for.
---
Business Cards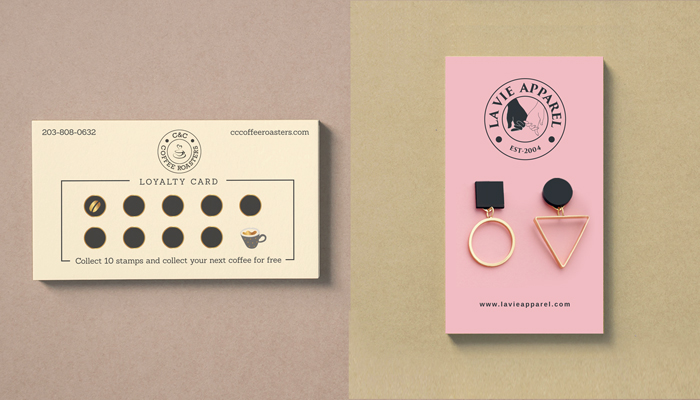 While these remain one of the most popular marketing tools to this day, business cards can be repurposed as a number of different things.
In-Store: Of course you can print and display traditional business cards on the counter of your establishment; however, one promotional tool that really seems to go the distance is a customer loyalty card. Cafes, coffee shops, and other various casual food and beverage establishments hand out loyalty punch/stamp cards to a customer once a purchase is made. Anytime after that, when a customer makes a follow up purchase, all they need to do is hand the card to the cashier for a punch. Usually, after 10 purchases, the fully stamped card serves as a ticket to a free item, like a cup of coffee, as a form of gratitude for being a loyal customer.
Online: Yes, you could also send out a traditional business card in the packages you send out to online customers, but there's much more than can be done with a small piece of cardstock. If you sell handmade jewelry online, or run an e-commerce clothing shop with accessories, you'll need a practical way to hold your smaller items together. Using a business card as a backing for your earrings, necklaces, rings, and so on will not only keep them in place when being sent to customers, but you'll also be making a professional impression of your brand.
---
Postcards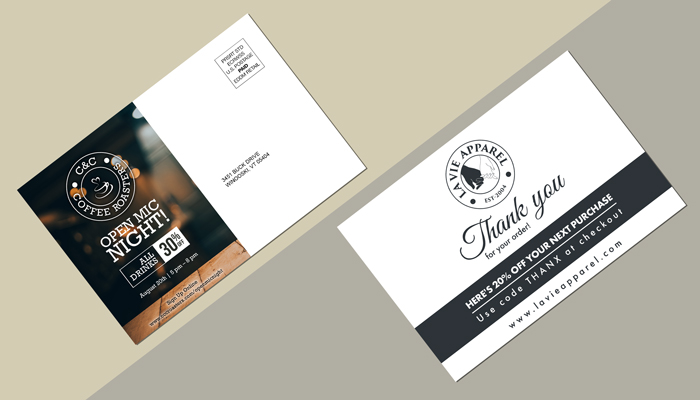 As mentioned in a previous blog about print materials for online shops, postcards have evolved since their creation. You can display literally any message you'd like on a postcard — whether it's an invitation, announcement, thank you message, and so on. 
In-Store: The traditional marketing use of a postcard is still widely used by businesses of different industries and sizes. Yes, even small businesses! The goal of the mailer you send out is to attract attention and traffic to a specific event or sale happening exclusively at your store. Even if you sell your items online as well, and use email marketing and social media often, it's good to get the word out through traditional means, since not everyone uses social media regularly. Adding some sort of incentive to the mailer for patrons to attend, like a happy hour discount, is a bonus to bring in new faces.
Online: When consumers place online orders, they do so because a) they already know the product and can order with confidence, or b) they don't know the product but are willing to take the risk to try it out based on research and the general reputation of the company selling the product. This is especially true in regards to a small business e-commerce store. To take this into consideration, you can include a thank you postcard inside each package to show your appreciation for your customers, who have put their trust in your store and products. A simple thank you note and a coupon for their next order will go a long way. If they like the first product they purchased from you, they will be more inclined to order from you again if they have an exclusive discount code to use.
---
Roll Labels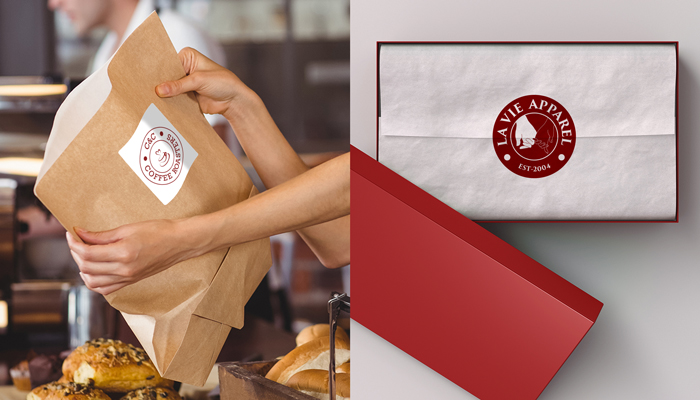 Roll labels are durable stickers and can be used on a number of objects. This is the product to use if you don't want to invest in branded packaging right away. 
In-Store: Putting roll labels on to-go bags is a simple way to brand and save money until you're comfortable with investing in branded packaging. However, even if you don't end up purchasing branded packaging, roll labels can maintain the same effect, and might be a better investment in the long run. This is especially true if your branding structure allows you to play around with concepts and colors. Printing different variations of branding labels, for the sake of variety, even holiday themed ones, can be proven to be cost-effective.
Online: Roll labels can also be used for internal packaging. Tissue paper is most commonly used as the first layer of wrapping in a gift box. It also conveys a sense of sophistication. When we as consumers see tissue paper in the packages we order, we feel that we've just received a gift in the mail, even though we likely paid for the item ourselves. A neatly packaged online order will say a lot about your brand. Using branded roll labels as a sort of "stamp" to seal the contents of the box with tissue paper will highlight the quality of both your products and your store.
---
T-Shirts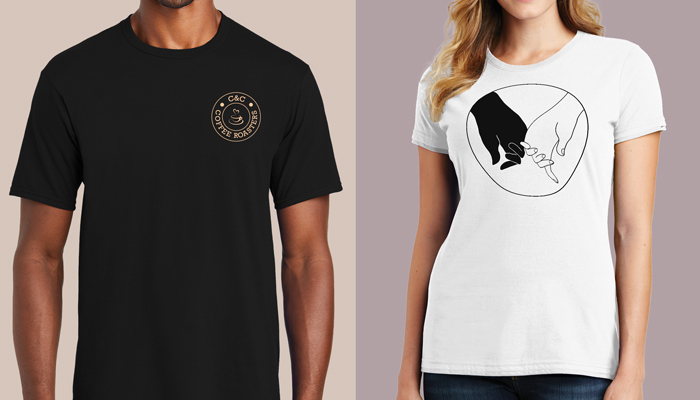 T-shirts are the go-to piece of apparel for multiple instances. 
In-Store: T-shirts serve as one of the best and most simple clothing options for an employee uniform. They're comfortable, affordable, and long-lasting. Branding them is easy as well. All you have to do is print t-shirts with your logo and your uniforms are ready to go. Your employees will be thankful, as they won't have to put much thought into what to wear to work. Plus, the uniformity shows your customers that you run an organized establishment. If there is a demand for it, you can even sell a version of this t-shirt to die-hard customers who want to sport your brand.
Online: Your brand says a lot about you, right? Similar to the concept of an in-store shop, if you have a logo that customers have expressed their love for, why not provide a version of it as merchandise? With a t-shirt like the one above to the right, you can generate revenue simply by extending your branding as a wearable design.
---
Hang Tags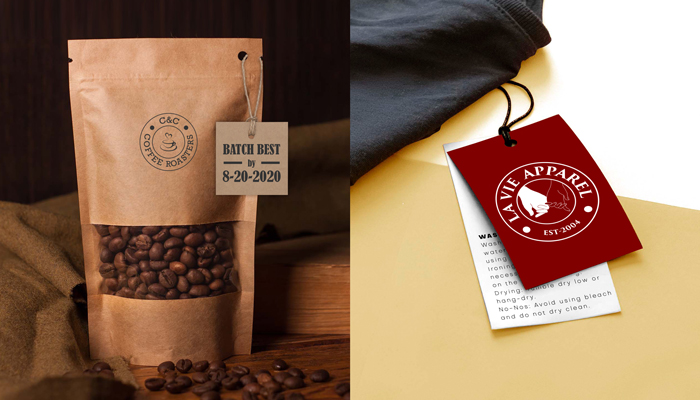 Hang tags are proven to give important information such as care instructions or material contents for clothing. However, they provide just about any type of information and can be used on a number of different products. 
In-Store & Online: If you are selling branded items, from mugs to take home coffee beans right out of your storefront, or selling clothing or accessories from your online store, hang tags are the best tool to use to convey any type of information. Whether that's a sell-by date, a packing date, recipe suggestions, care instructions, or logo display — literally, anything that relates to the product you're selling. You can pair a hang tag with any product, as long as there's a way to tie them together. The bottom line is, hang tags are the ultimate informational tool for both an in-store and online business.
---
We're interested to know your thoughts! Do you run either an in-store or online business? How many of the products have you used above, and how? Let us know in the comments below.