Hang tags, also called swing tags, are often an overlooked gem in the retail industry. Of course, you do frequently see them hanging off a piece of clothing or an accessory and refer to them for a price or size. However, Hang Tags are useful for much more than just noting this necessary information. They allow you to differentiate your products from your competitors through branding. As a consumer, if you find yourself recognizing a brand just by the look of its hang tag, this alone proves how effective a hang tag is to the product it's attached to.
You can include a plethora of helpful information on a swing tag, including the company logo, bio/story, website, social media handles, care instructions, and QR codes, just to name a few. 
Not only are they a staple print in the retail industry, Hang Tags, especially custom ones, are a hit for birthdays and weddings when paired with party favors. Add a personal touch to the tags by including a sweet note thanking guests for attending. 
No matter how much information you have to include, we have sizes and types for every need, like square hang tags, folded hang tags, and more.  
Let's get into the details of where you can apply a hang tag, and how to create one successfully.
What can you use hang tags for? 
Essentially, hang tags can be used for any type of physical product that you intend to sell or gift to another person. They are bearers of information, so whenever you have something important you need to add to a product, a hang tag is your go-to.
Hang Tags are best for:
Clothing/Garments (shirts, hats, sweatshirts, pants, dresses, etc) 
Accessories  
Gift bags  
Bottles 
Party favors 
Home Décor items
(just to name a few!)
What sort of information can I include on a Hang Tag?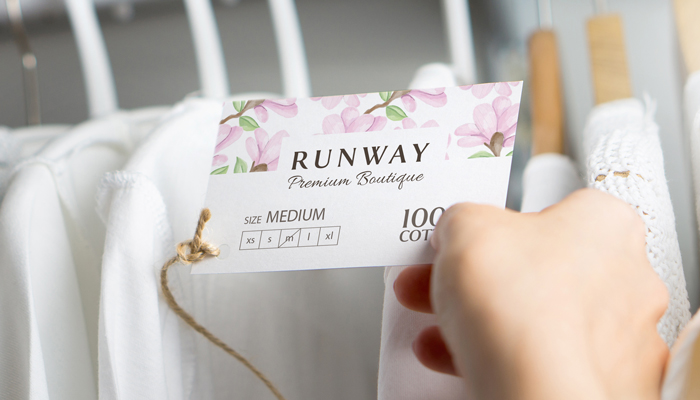 Size (if applicable) 
Though your product likely has a clothing tag sewn on that indicates a size, it's common to also include it on a hang tag so that picking out a size is exponentially easier, whether on a clothing rack or in a nicely folded stack.  
Price 
If it's possible for the product you're marketing, adding a tag with a price is much better than putting it on say a sticker. 
Your Logo 
Adding your logo to a hang tag is a huge benefit because you get to accentuate your brand.  
A short snippet of info about your brand  
This could be the company story or a quick bio, a mission statement, etc. Including this adds a more personal touch and gives your product an edge that others may not have. This may work best on folded hang tags because of how much space you are given to print designs, text, and more.   
Care instructions 
Care instructions, including wash, storage, and more, can be put on a separate tag to really highlight the importance of following the specific method to care for the product.
A discount offer  
Like care instructions, a discount offer can and more so should be on its own tag. This way, if you change your mind about the discount or promotion, you can simply remove the discount tag and sell the item as normal. However, if your intention is to sell the product at a marked-down price indefinitely, then you can print the discount offer on the main tag and simply include a slash through the original price while indicating the new price next to it.  
Pack date/Expiration date (if applicable) 
This only applies to perishable items, especially if you don't have a stick-on label. This includes language like "Packed on", "Best by", and "Fresh until".
Tips for Designing a Hang Tag
1. Stick to one theme 
When it comes to designing a hang tag, you'll need to create something that stands out, but also stay within your company brand guidelines. Sticking to a consistent theme will allow your products to become more easily distinguishable when consumers are shopping around. Over time, your products will be easily recognized by just the look of the tag, which is a major bonus if you ask us.  
2. The larger your logo, the better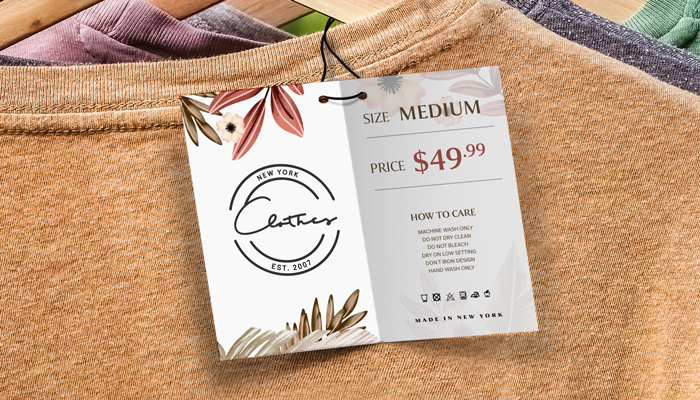 This ties in with the point above. If you intend to print on both/all sides of a hang tag, we recommend designing one side with just your logo so you can really focus on branding. 
3. Use both sides 
You could only print on one side of a hang tag, but why would you when the cost is not much more if you print on both sides? This way, you'll get more bang for your buck.  
4. Keep the text minimal 
Try not to add too much text to a hang tag. Because it's already so small, the more concise you are, the better. Even when you intend to share your company story, do so in a way that's short, sweet, and to the point. You can also consolidate information by including the URL to your website so that customers may learn more about your brand without having to read it in a small format.
5. Add a QR code to lessen any potential clutter and give users a hands-on experience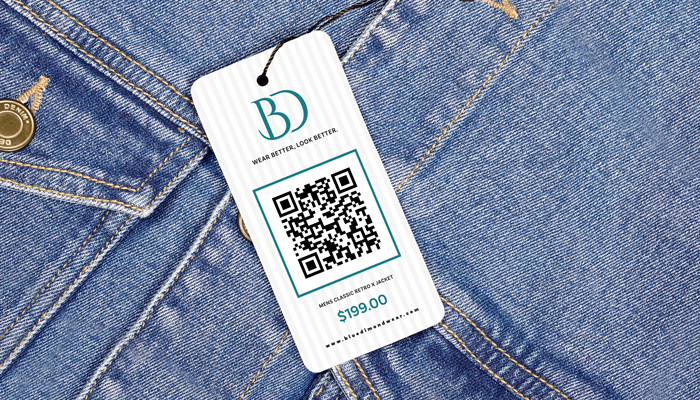 QR codes are extremely easy to create and are beneficial for both the customer and the seller. You can track how many people actually scan your code while giving your potential customer access to information they need (such as a link to your website).  
---
Need More Inspiration? 
We have a catalog of hang tag templates you can browse and modify to fit your needs. The best part? All of our templates are completely free (you'll just pay the printing cost and shipping fees).