Are the days of using old-fashioned wall calendars long gone? This is debatable, as calendars will always be relevant. However, in this modern day and age, we often refer to our smartphones to check the date, to pencil-in appointments and set reminders of important events. It's easier this way, especially because almost everything else you need is on your phone and most likely always with you. However, sometimes it's important to disconnect from your phone. In my own experiences, when I have to plan things ahead of time and need to quickly check a date in advance, I prefer not to check my phone, especially during work hours, as it can hinder concentration. I like to have a small calendar somewhere close by on my desk, either in the form of a postcard or bookmark, something compact enough where it doesn't take up much space, but large enough that I have quick access to it whenever needed. If you need to refer to a calendar, but don't want to constantly rely on your phone, or don't have the space or desire for a traditional wall calendar, here are a few print products that are solid alternative solutions. 
Postcards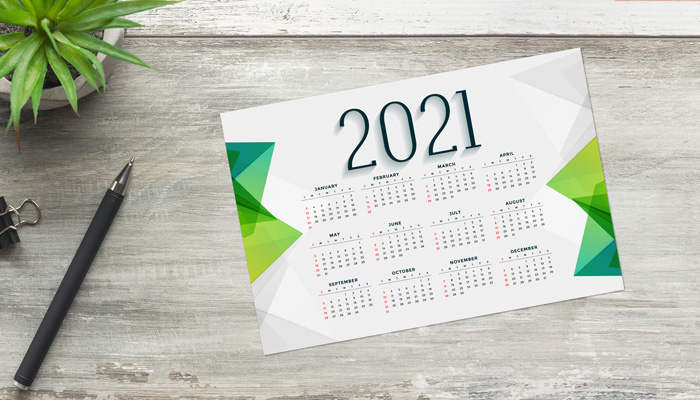 A postcard is a go-to product alternative to print calendars on. With so many sizes to choose from, you can choose your preferred layout and design your compact calendar however you'd like. It's a handy way to have a monthly calendar lying around whenever needed.
Postcard Magnets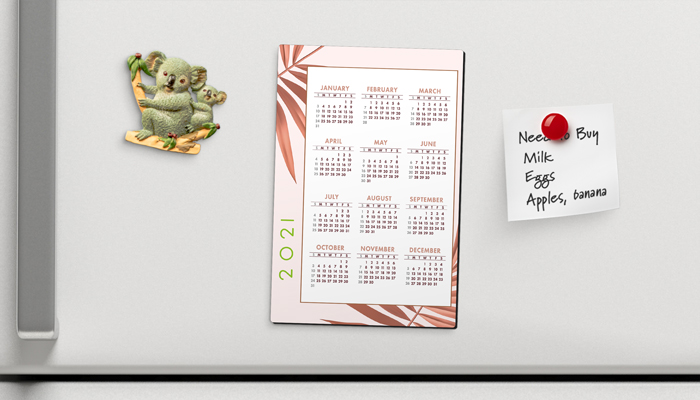 A postcard magnet is probably the most useful print product as a compact calendar because you can display them on anything magnet, like a fridge or a white board. These are handy in office spaces, classrooms, and at home.
Posters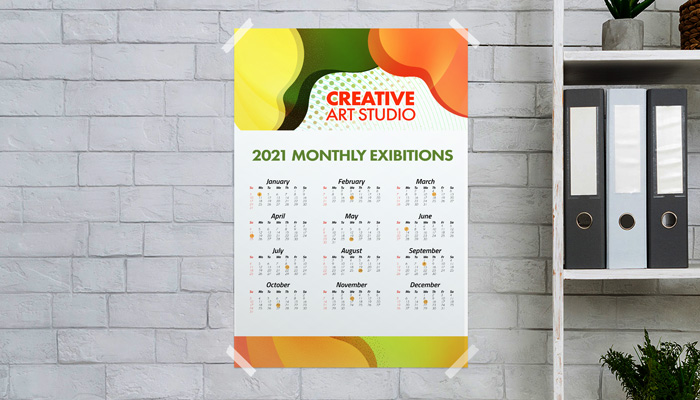 Large format posters are great if you want to display a calendar view of events you are planning to host in your establishment. Because there's no minimum quantity, you can purchase these on a monthly basis to have an update of monthly events displayed at your place of business.
Flyers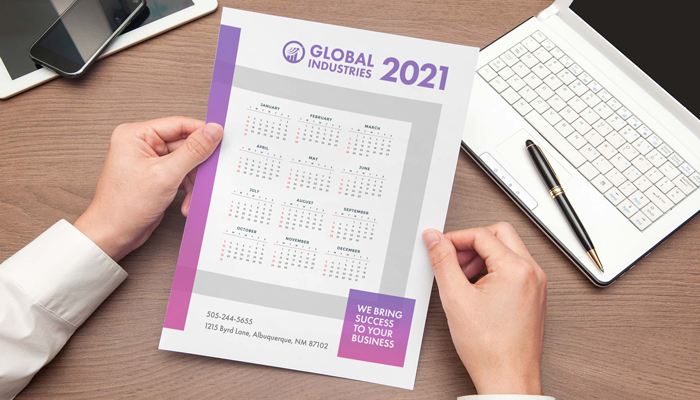 Printing calendars on flyers is another way to display a calendar view of events, except in contrast with a poster, these flyers can be handed out to all patrons visiting your establishment. It's also a good way to spread the word by displaying event flyers on various bulletin boards across town.  These are also great employee kit item if you include your logo and color scheme in the design and place them in your company welcome kit.
Rack Cards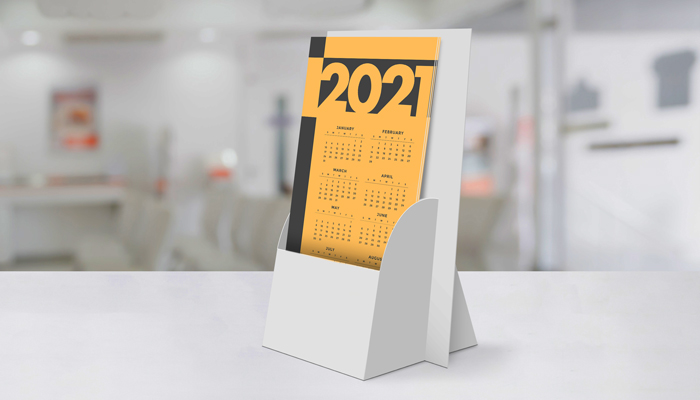 Rack cards are useful takeaway promotional items for clients visiting your establishment, as you can display them at your front desk for all to help themselves. Printing free compact calendars with your company info can be as helpful as any other calendar, and as memorable as a business card. In this case, it's a two-in-one tool.
Table Tents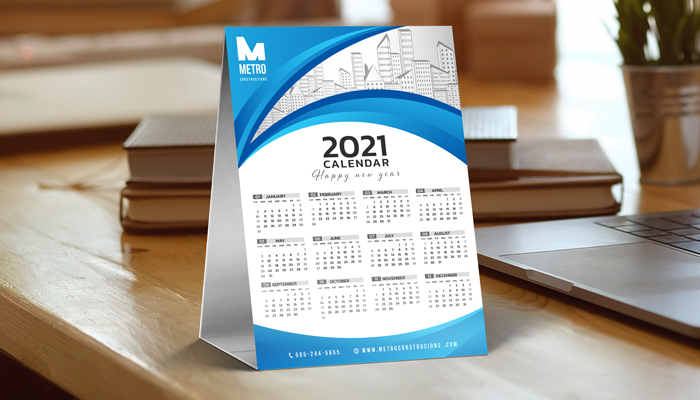 For a stand-up option on a desk or any other surface, table tents are the best option. You can order these with your company logo and give them to all your employees to use as a compact calendar reference.
Bookmarks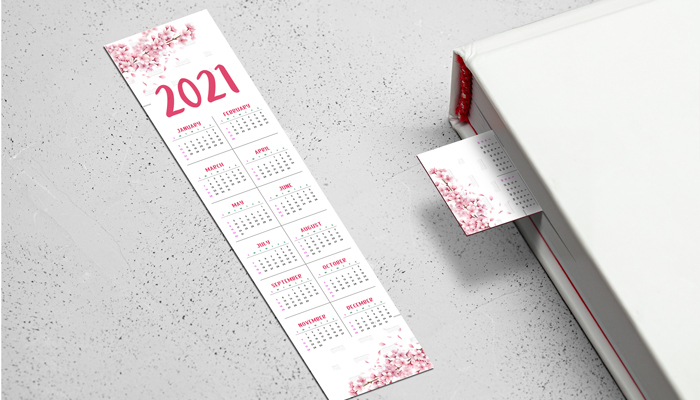 Arguably the most compact printed calendar you can have, the size of a bookmark is just big enough to include a 12-month calendar view and takes up no extra space. If you're a teacher, it's also a good gift to give to your students.
---
Bonus: (Actual) Calendars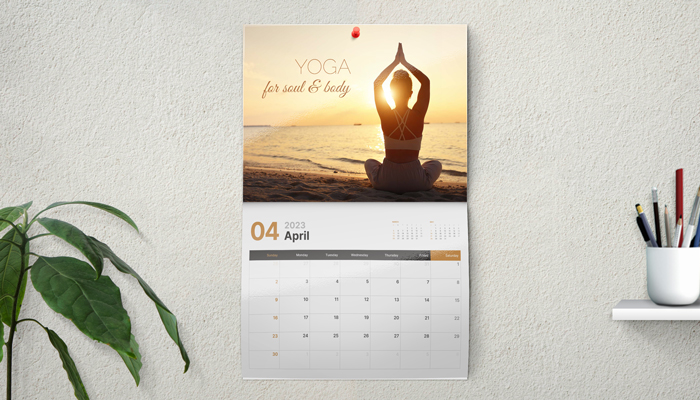 Of course, if you're looking to print a traditional calendar, we have those, too. Printing calendars in bulk is ideal for large companies to pass out to employees and clients, retail stores that sell calendars as merchandise, and educational institutions that have their own campus-wide events and dates to remember. Our high-quality calendars are offered in a variety of glossy and matte paper stocks, are held together with saddle stitch binding, and even have the option of hole drilling if you intend to hang them on a flat, upright surface. You can purchase as little as 100 quantity 8.5″ x 11″ custom calendars for under $230*.  
*Prices are subject to change at any time without notice.