When competition runs high, it's important to be ahead of the game with showstopping, creative business cards. One way to do this is creating die-cut, or special-shaped cards. They're a creative way to cater your card to your business and keep things fresh and modern. In the crowd of standard-shaped cards, using shape as a way to enhance your marketing message, ensures you're remembered.
We've seen many interesting ideas over the years, but to help you visualize all the possibilities of what you can do with your business cards, we've posted our top pics of creative and special shaped business cards that we've seen at GotPrint.
1. Leaf-Shaped Cards
These leaf-shaped cards, designed by Flying Fish Art, have curved corners on one side, and sharp edges on the other that work very well with the company's logo and name, NorthShore Church, which features a sailboat. The soft lines in the design complement the soft curves on the edges of the card, making this design a real winner. Regardless of the industry you're in, a creative design and unique use of a business card can be the best way to pique your audience's interest. So go on – dare to be a bit different and break out of the mold.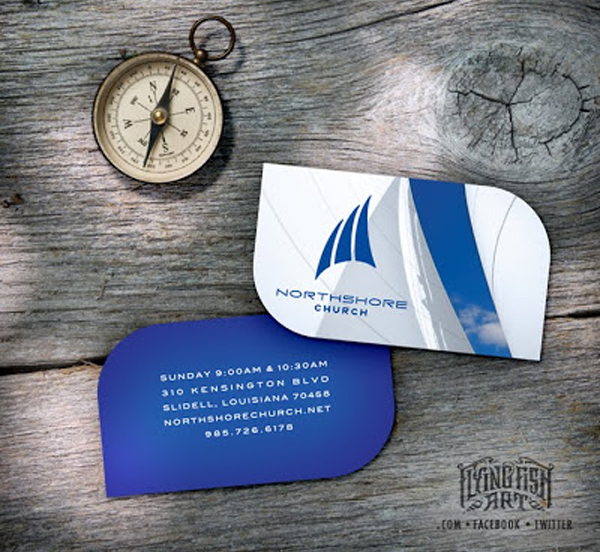 2. Playing Cards
Flying Fish Art strikes again with a great design and fresh idea—2" x 3.5" business cards with round corners, that double as playing cards! With an intricate design and beautiful typography, the artists behind this design prove that with just a little bit of creativity, the sky is the limit to what you can do with your business cards.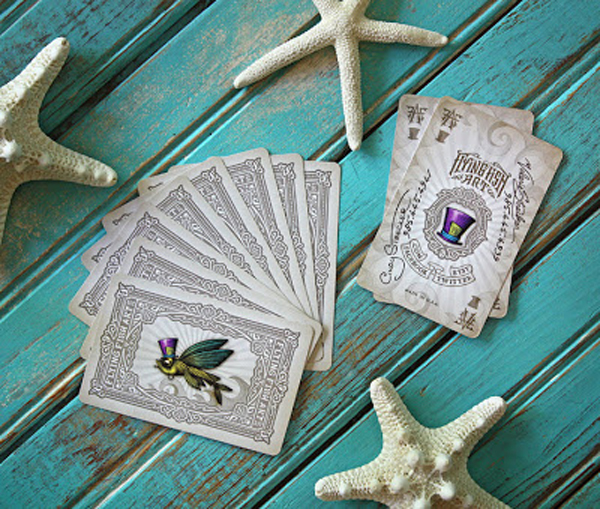 3. Round Hang-Tag Cards
Valerie and Cindy from Flying Fish Art reinforce the theme of their design with the shape – circular cards representing water bubbles of the sea. These lovely round cards are a great idea when versatility is the name of the game. They make great business cards that can also double as hang tags for merchandise. This makes it easy for them to order one product and offer two promotional pieces. For the tags, they simply punched holes and tied string to attach to their products.
To drive brand awareness and recognition, it's crucial to have matching promotional pieces – everything from your business cards to the promotional tools that allow you to promote your products. Circle-shaped cards are more unique than your standard, rectangular cards, so it's just one more way to stand out from the competition. And the best part is you don't have to worry about destroying any business card corners!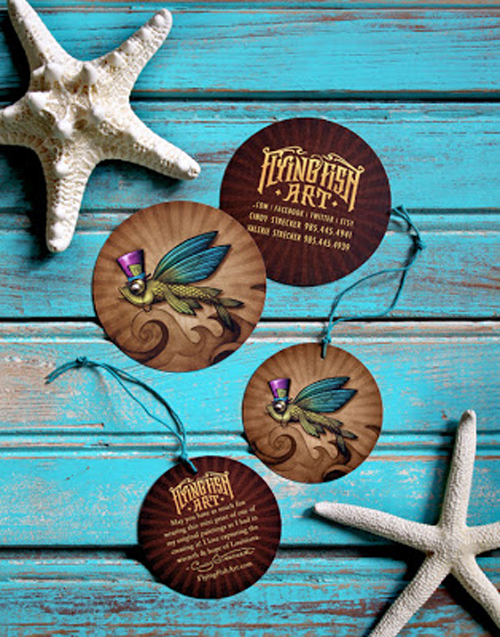 4. Capture a Photo on Square Cards
These square cards with rounded corners by Allissa Jacobs offer a fresh, modern take on the business card. Often times, if you're in the creative industry – whether you be an artist, photographer or crafty person, your images are the focal point of your business cards. Why not let them stand out with a symmetrical shape like a square card with soft, rounded corners?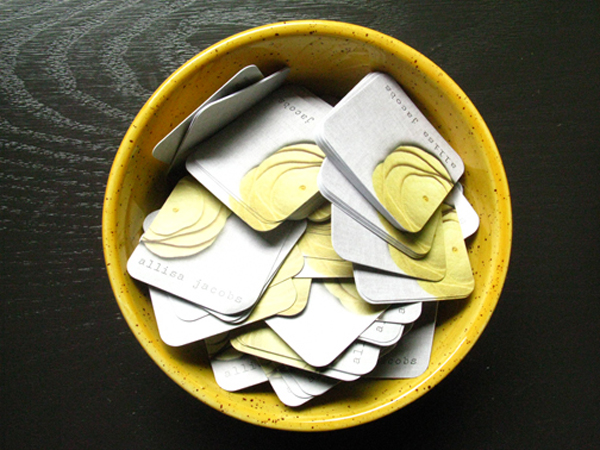 5. Shape it Up with Circle Cards
These circle/round cards by Tiffany Burks emphasize her star logo design and popular "circle star" embellishments. With this shape, Tiffany was able to place even more emphasis on the creative, die-cut products she creates. We love the play on circles and shapes and we think it truly helps her reinforce herself as an artist.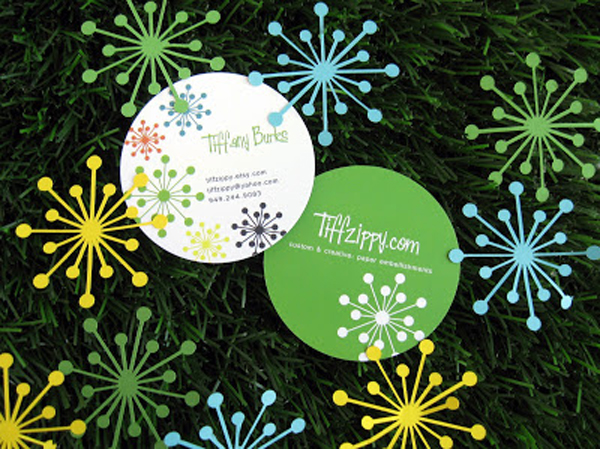 6. Half Circle Shape
If you can't really decide between a rectangular card and a round one, why not try the half-circle special shape? These cards, designed by Tamara Dever of TLC Graphics, emphasize the shape of a CD, in a clever way that's sure to get noticed. Moreover, placing this much thought and creativity in your business cards really does speak volumes about the passion you have for your work!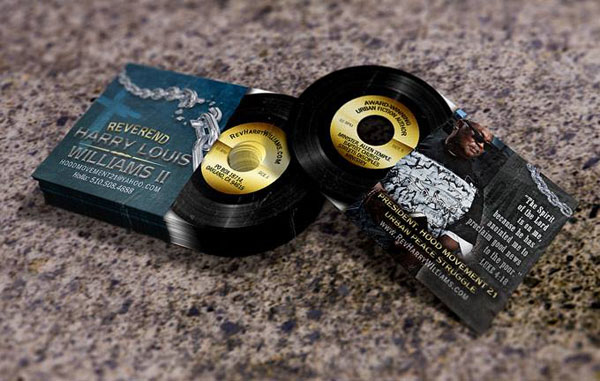 7. Match Your Card to Your Name
It's true, we love the color green, and elephants are great too, but that's not the only reason why we like this particular design. Designer Eleanor Grosch cleverly takes to punning her client's last name with a half circle shape card which emphasizes the elephant's trunk. It's a clever way to ensure you remember the card. After all, business cards are extensions of our identity, and if you're only going to get one first impression, make sure it's a memorable one.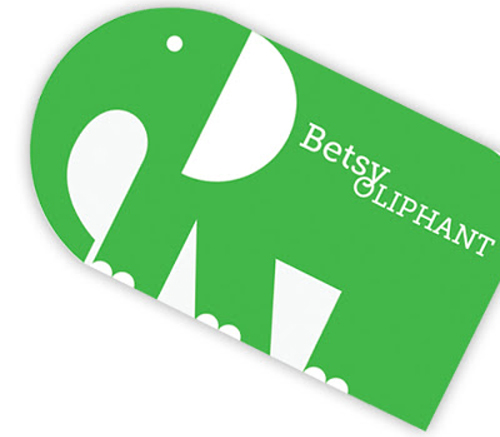 8. Round as a Cake
Alicia Hansen's round-shaped business cards are perfect for her cake pop business. We love the simple design and how she reinforces her product with circular shapes. Moreover, it has just the right pop of color to bring upon a sweet craving!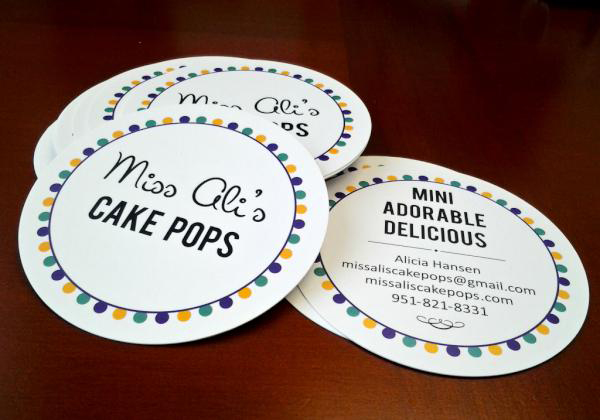 9. Simple Circle Cards
Look at these round cards by Tessa Michelle, who keeps it simple but still stylish enough to grab our attention. With a bright color, a friendly greeting "hi", and a soft round shape, you can't help but think these cards are friendly and inviting. Tessa's cards are a great example of simple, yet tasteful cards that let the shape do some of the talking.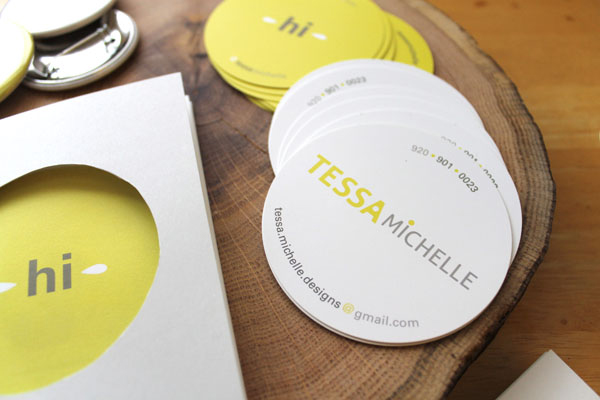 10. Slim Cards
We just love the idea behind birth photographer Catie Stephens' cards. She designs her slim business cards with a series of four different black and white shots next to each other, to resemble a strip of film! Slim business cards may look narrow, but they have just the right amount of space to highlight the most crucial elements you want to get noticed.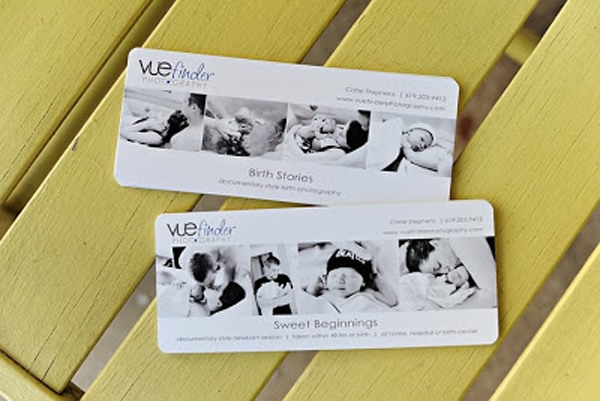 11. Square with Rounded Corners
Artists and illustrators certainly shouldn't conform to the boring, corporate card structure. We love these bright, square business cards that feature Liz Masters' illustration on one side, and her contact details on the other. And what better way to include an illustration of your face than with a symmetrical, square card?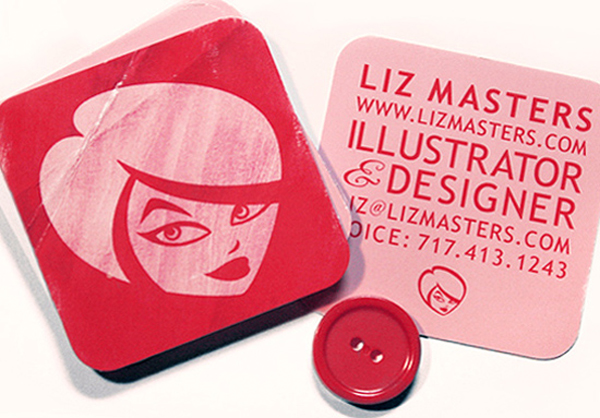 12. Circular Cards
Here, Jaimie Woodruff uses the round special shape to emphasize his business' name—BubbleWood Photography—and to stand out from the crowd.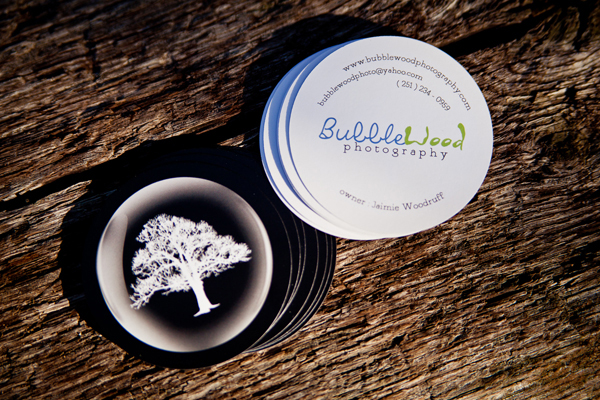 13. Diamond-Shaped Cards
Take a look at these rounded-square cards by Flying Fish Art. They've placed a little twist on this shape (literally) to create these beautiful, diamond-shaped cards that perfectly accentuate their V-shaped logo.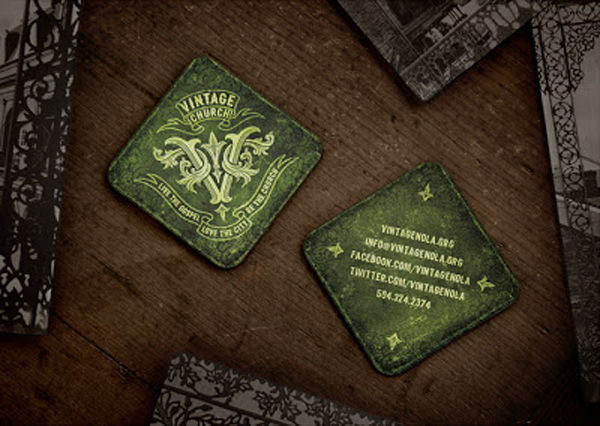 14. Rounded Corners
A design that follows from the front to the back of your business card is a nice way to ensure your customers check both sides of your card. We love the colorful icons for all the social media sites, which tie in with the QR Code. Lastly, the rounded corners make for a very elegant, finishing touch on the card. Good work, Creation Today!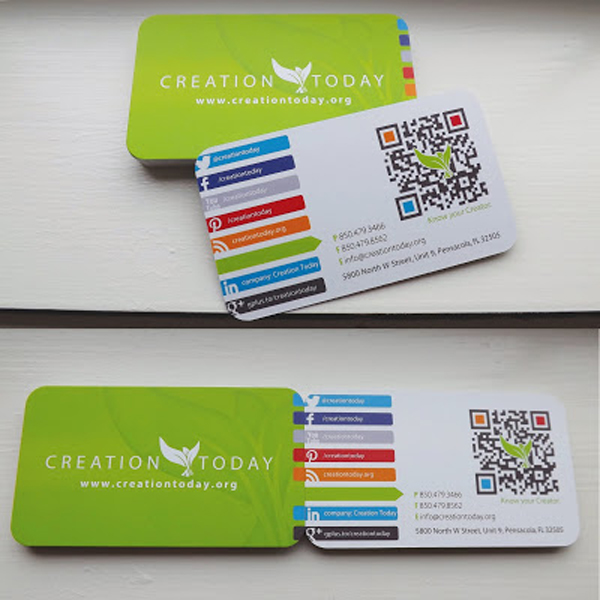 15. Curved Cards
If you can't decide between round corners and standard corners, why not have both as Ethan Fender has done here? The leaf-shaped business card combines sharp and soft corners for a unique look. It's modern without being too modern. For those professionals and creatives that want to be fresh, yet still stick to a traditional size, this cool shape can offer a much-needed twist.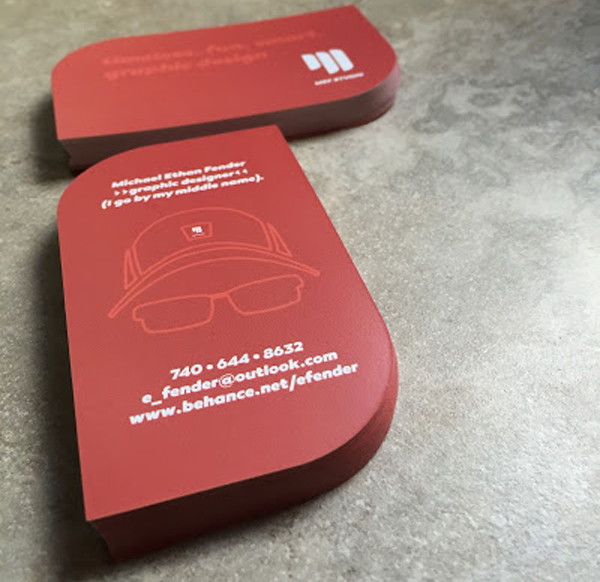 16. Combination Approach
Why just stick with one business card to illustrate your message, when you can have many more? These cards by Killer Napkins may look like standard cards on their own, but once you lay them out on a table next to each other, you get a rather scary image! It's a great way for illustrators to add a little bit of mystery and fun in their work.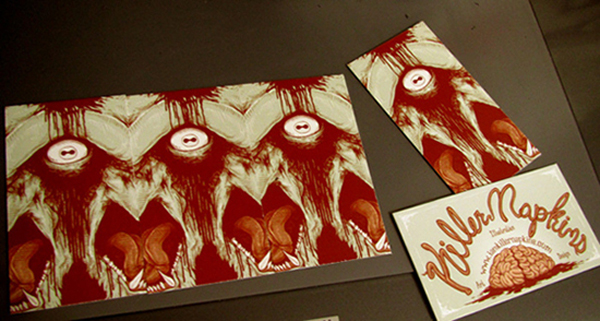 17. Match Your Industry
Reinforce your business identity with a shape that matches! Take a look at these round business cards for the Target Golf Association, designed by Tiffany Burks. Customizing the shape of your cards to match your business is a surefire way to not only get compliments, but actual interest that may lead to real connections and sales.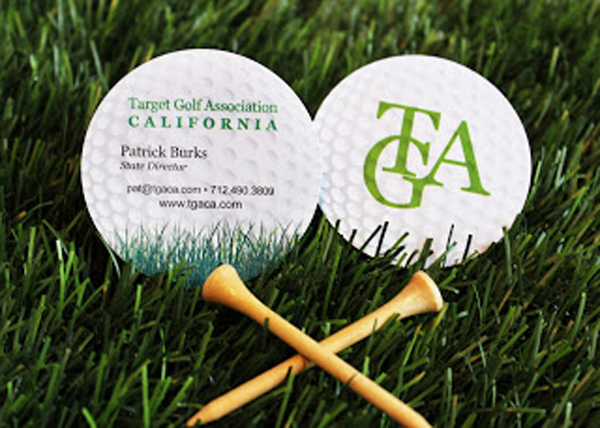 18. Business Card Coasters
We've seen business cards used in many different ways, and believe us, some of them have been quite entertaining and humorous…but coffee coaster business cards are definitely a first for us. This is one business card that's clever, functional, and ideal for keeping your tables sticky-free. And to make it even more fun, the owner of the cards, Laura Meyer dubbed this card the "business coaster."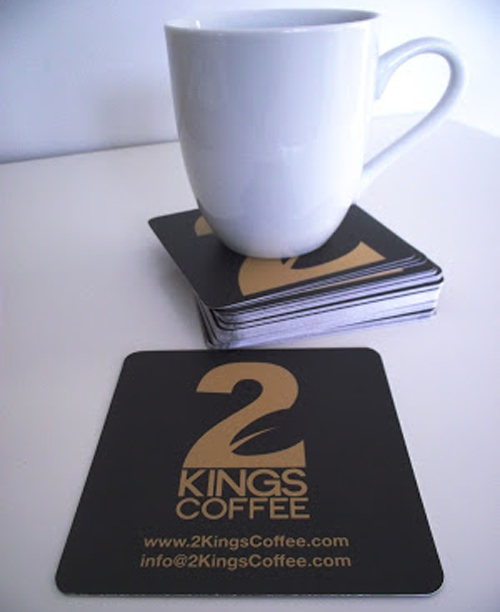 19. Lens-Shaped Business Cards
Are you a photographer looking to stand out and get new business? Then you may like this unique idea: circle business cards in the shape of a lens! We love the idea of using a shape to reinforce your brand and business with a creative shape, as Lykos Photography has done here.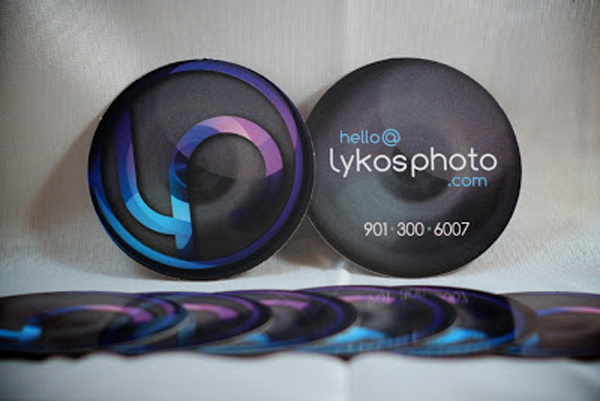 20. Square for QR Code
QR Codes are a good idea if you have a highly targeted page to which you can direct potential customers or clients. With his ontact details on one side, Gary Gogis makes his large QR code the focus on the back. Moreover, to ensure his QR code appears prominently, Gary makes his cards square to perfectly match the square QR code shape. But QR Codes may not be for everyone or every business, so make sure to measure and track your success. Just keep in mind that it's crucial to ensure your QR code is directed to a mobile-friendly site. Check out our tips on QR Codes  here and here.