Think back to a time when you were walking, be it on the street or in a large, enclosed space, like a mall, and you noticed something eye-catching on the floor. Perhaps it was a few walks ahead of you or right under your feet. Was it an advertisement? A directional sign? Artwork? Either way, it caught your attention, didn't it? It's likely that you've come across floor decals in these scenarios. Floor Decals are an underrated marketing sign type that actually has many considerable benefits.  
What are the benefits of Floor Decals? 
They are easy to install – the adhesive backing makes this product a breeze to apply.
They can be used indoors or outdoors – If you think about it, floor decals can essentially be used on any flat surface. The longevity of a floor decal depends on the type of material, and the amount of wear and tear it endures from foot traffic.
They don't take up any space – You won't need to worry about sacrificing space that a regular sign might take up. When decals are placed on the floor, that floor space is still functional. 
They are safe to walk on – adding to the previous point, people can comfortably and safely walk over a floor decal without any issues.   
They attract attention – as we mentioned earlier, you've probably come across a floor decal that has caught your attention. You can design floor decals for promotions like holiday sales, directional signs, or even just your company's logo. If designed right, any floor decal has the potential to be seen.
There are two different types of floor decal materials you can choose from, depending on where, how, and how long you need them.
The Lightweight floor decal is a white textured matte vinyl, slip-resistant indoor material that can be applied to flat carpet, tiles, wood, PVC floors, and untreated stone. If you need temporary solutions for floor decals, this material is perfect for trade show applications, promotional displays, and events. It has a general life span of 6 months to a year, based on upkeep and overall conditions.  
The Heavy Duty floor decal is a Polyester Reinforced Self-Adhesive White Vinyl, slip-resistant material that can be used both indoors and outdoors. Because of its heavy-duty traits, this material is suitable for rough surfaces. Common applications include transportation facilities such as airports, metro stations, train stations; sports stadiums and arenas, concert venues, museums, driveways, restaurants/food establishments, sidewalks, and pedestrian-heavy areas. It has a general life span of up to 1 year based on surface/conditions.
7 Creative Ways to Use Floor Decals
1. Provide instructions/line control – "wait here" or "line starts here" signs help the flow of traffic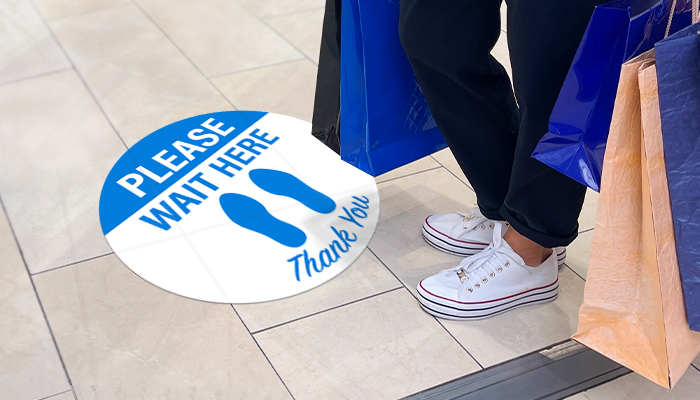 2. Directional signs – An easy, straightforward guide for all.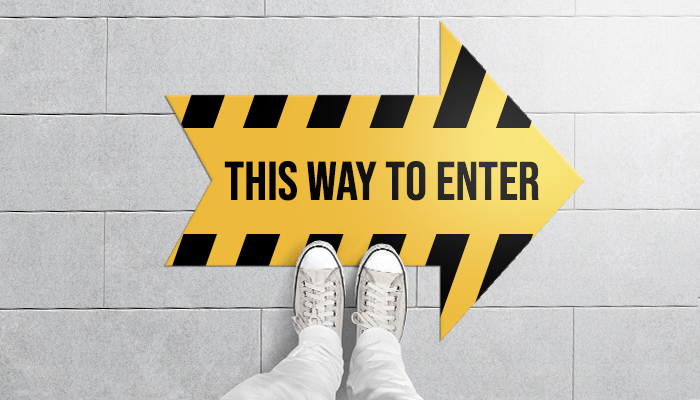 3. Graphic floor art – cool street art-looking design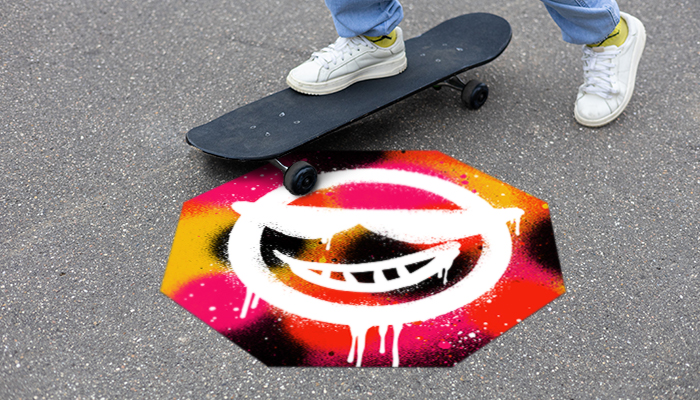 4. For general branding, like your business logo – Sometimes having a floor decal at the front of your store is a great way to attract people in, especially if your traditional store sign is not as visible and you're surrounded by other stores.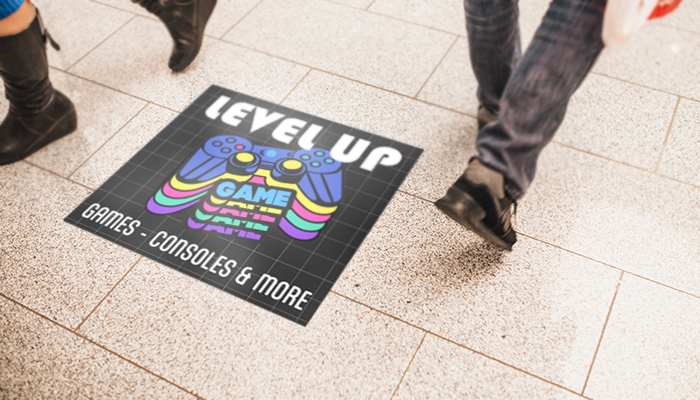 5. Advertise big events like holiday sales or new products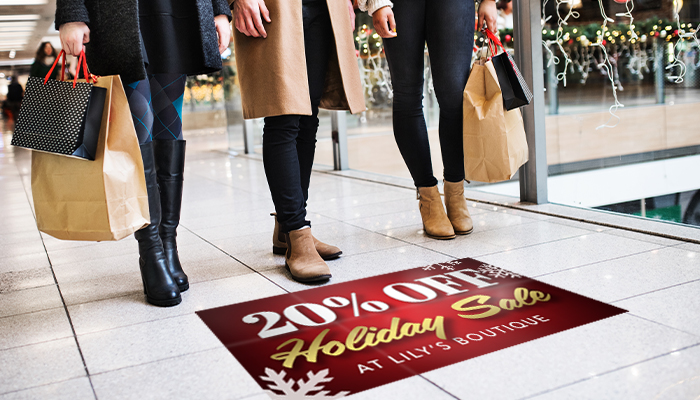 6. Words of encouragement/inspirational quotes – this would be a hit at pre-schools, daycares, and children's event spaces.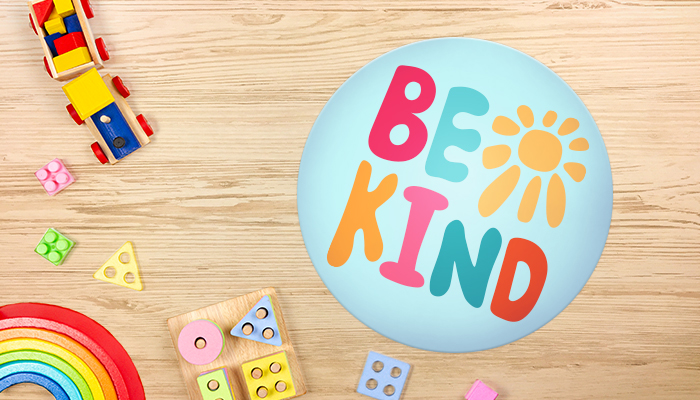 7. Add a school logo and mascot to any part of campus for overall branding and to encourage school spirit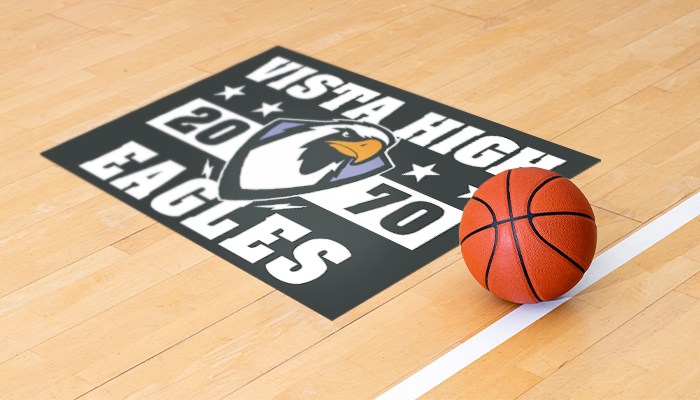 ---
In short, not only are floor graphics a beneficial tool to add to your list of print materials and signage, but they're also affordable, making them an economical choice for your custom floor display needs.
A 9″ x 18″ rectangle, lightweight floor decal starts at just $9.80*, and a heavy duty rectangle floor decal starts at just $17.07*. Ordering is easy! You can either upload your print-ready files, or you can use our intuitive online designer to create something from scratch.
Show off your custom floor decals on social media and tag @GotPrint for a chance to be featured. We love seeing our customers' creations!