Creating a logo design may seem easy, but in reality, it is quite a hefty task that comes into its final shape after going through a lot of pre-work. It takes intense market research, profound design knowledge, and many revisions to come up with an astounding logo design. Therefore, what seems like a minor detail actually makes a huge difference to the brand's image. A logo is a compact visual representation of your company, and the right logo is potent enough to send your brand's message across in the most effortless way possible.
If you really want your startup to make a strong impression, you need to craft a memorable, recognizable, timeless, and versatile logo that resonates with the vision and goal of your business. So how would you start the process of building an innovative logo for your startup? Some questions to consider:
What are your brand's values?
What colors do you think suit your brand?
Which fonts communicate the tone you want to set?
Do you want an abstract design or a pictorial mark?
Once you have a visual image of your logo in your mind, ask yourself if it will make sense with your target audience. If yes, then go ahead and pass on your ideas to your logo designer and collaborate with them until you fall in love with the design. First, let us walk you through the pro tips and tricks to designing a striking custom logo for your startup.
---
1. Know Your Audience
Suppose you are having guests come over for dinner, all of whom prefer less spicy food and don't drink alcohol. Would you make them a piquant meal and serve it with red wine? Absolutely not. A similar principle applies here; you need to understand your target market before creating your logo. Conduct thorough research to determine who your customers are, where they live, and their preferences. Remember, the best design is the one that effortlessly attracts your audience.
Take the Toys"R"Us logo as an example; anyone can tell just by looking at it that this brand is geared toward a younger audience. The logo has bubbly colors, playful fonts, and a backward 'R' that has always served as its most eye-catching element. In a nutshell, the design signifies child-like playfulness and is considered one of the most iconic audience-focused logos of all-time.
---
2. Opt for Simplicity
Whether you run an enterprise or are a small business owner, simplicity is something that makes you stand out. Why did well-known companies like Pizza Hut, Twitter, and Shell opt for logo redesigns when they already had a vast audience base with strong connections to their brands? They kept tweaking their logo designs to make them simpler because they learned that it is wiser to be minimal and straightforward than over-designed.
These elements can help you create a simple yet effective logo that will get you identified in the market and last longer:
Limited use of colors: Stick to a main palette. Make sure the colors are suitable for your brand and that you are aware of the meaning behind these colors.
Minimal Design: Don't go for extravagant shapes and complex details. Keep the design minimal and clean. Shed all excessive elements that may fail to attract the target audience.
Symbols and Shapes: Include symbols and shapes as they make the composition of your logo. Again, use relevant ones and take care of the symmetry and balance throughout the designing process.
---
3. Look at Real-World Examples
Before you start building a brand identity for your startup business, learn from brands that you admire or inspire you. For example, there was a time when Apple's logo was filled with intricate details. Eventually, the company's founder realized that the logo was a lot more complicated than it should be. It underwent an intense overhaul and the company launched its new minimalist design.
Take notes from Apple's logo design journey. Bear in mind that your logo is not just for your storefront or website header. Logos today are meant to be used throughout the web, including social media, as well as print materials like business cards, letterheads, and packaging. In short, your logo should be designed to stand out no matter how it is displayed.
---
4. Wisely Choose Your Color Palette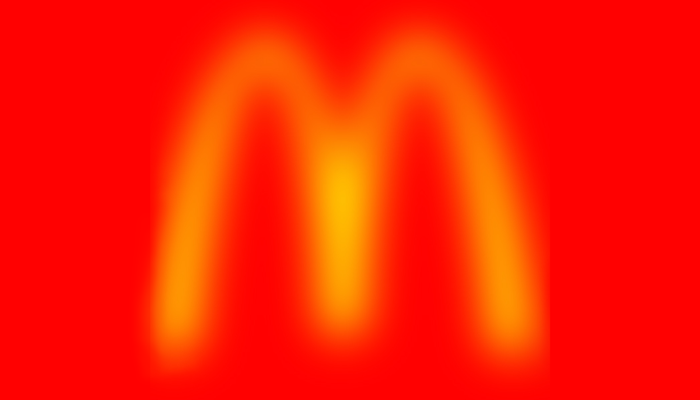 Here is a blurred image of a famous fast food chain's logo. We are sure that most of you recognized the brand in the first glance, even though the logo is heavily blurred. Why? Because of the excellent choice of color palette.
Study your industry and competitors, particularly which colors are currently being used in your field. Remember that color is one of the most detectable elements of your visual identity. Choose one that not only conveys your brand message but also helps you to stand out from the crowd with minimum effort.
---
5. Start with Pen and Paper
If you want your startup logo to be versatile, adaptable, and suitable for all platforms from social media to business cards, I recommend that you first create the design manually with a pen or pencil. This will help you visualize how your logo will look without any color.
This is a crucial step that many designers pay no heed to. However, these are the small details that make a huge difference to your brand in the long run. When you start with black and white, you can be entirely focused on the design and shape of the logo, then add the colors.
---
6. Make it Memorable
A logo redesign to make subtle tweaks here and there can be a good idea; however, going after every design trend can be really dangerous for your brand identity. Trends come and go, but a clean, crisp, and memorable logo can stick around for years and years. For example, Nike's simple yet sleek swoosh makes it one of the most memorable and globally recognized logo designs in the world. No matter what is trending in the design world, Nike's logo remains just the way it is and still makes a bold and powerful statement.
To emphasize, memorability comes with simplicity. Be mindful of your fonts, colors, and other details, as a complicated visual can be repulsive to the memory cells. Remember, your logo is not only a visual identifier, it often serves as the first impression to your potential customers. Always strive to give their eyes a treat, rather than bombarding them with complex visual details.
---
7. Make it Unique
It's always a good idea to get inspiration before you embark on your logo design process. At the same time, your logo should be distinctive. Keep an eye on industry trends and styles, but come up a unique concept that is relevant to your customer base. A custom logo designer can help you develop a professional logo with exclusive details.
---
8. Build Professionalism with Tone
Before you start the design process, determine the tone that your brand will use to communicate with your audience. For example, if you are a healthcare consultant, you wouldn't want your logo design to be vibrant and peppy. A healthcare logo should be restrained and sophisticated, so your potential customers will consider you as a trustworthy source for their healthcare solutions.
Establishing the right tone is a vital factor to help you look professional at first glance. Once you've set a brand tone, it should be reflected through your logo design.
---
9. Don't Even Think of Gimmicky Fonts
If you want your startup logo to act as a positive representation of your brand, then steer clear of gimmicky fonts. We understand that sometimes it gets difficult to resist all the fancy fonts available out there, however no experienced designer would choose a font that contradicts the tone of the brand. Every single font has its own personality, and you don't want to mess up your brand message by opting for a font that is totally irrelevant and has nothing to do with your company.
---
10. Get a Second Opinion
After you've finalized your logo design and are all set to make it live across all platforms, take the time to show it to others for their feedback. After all, you don't want to accidentally publish a logo with hidden meanings or inappropriate visual cues. If you are working with a logo designer, don't hesitate to ask him or her to make changes within the contract duration. Remember, it is always better to be safe than sorry. Otherwise, you could end up in someone's "top 10 logo design fails" list.
---
Key Takeaway
Creating a logo design for a startup requires tremendous design skills, incredible brand knowledge, and some serious research to articulate the framework for your branding process. A thoughtfully designed logo sets the tone for your business and gets the brand message across with the first glance. It has the capability to capture eyeballs even when someone is not looking at it with their full attention and the strength to leave a cue in the subconscious so they can easily recall the memory of that symbol each time they come across it. If you succeed in creating a logo that is capable of doing all these things, you will surely have a brand identity that will provide a robust foundation for your upcoming marketing efforts.
---
About the Author:
Loius Martin is the Creative Marketing Manager at Invictus Studio in Southlake, Texas. He has been doing digital marketing for the past three years in the US. Loius has extensive experience in blogging and marketing, and his work reflects a deep insight into the marketing tactics of the present world. You can follow him at @loiusmartin1 on Twitter.
Please note that by clicking on the above link, you will be taken to an external website. External links do not constitute an endorsement or approval of any of the products, services, or opinions of the corporation, organization or individual. GotPrint takes no responsibility for the accuracy, legality, or content of external websites.