If you're new to real estate marketing, you've probably noticed the word "farming" being thrown around a lot. Simply put, farming is the concept of establishing yourself as an expert in a specific area of real estate. This area can be based on geography (such as an exclusive neighborhood within a large city) or a demographic or niche (e.g. first-time buyers or foreclosure properties). Gaining a reputation as a trusted agent in a specialized field is one of the best ways to ensure continuous business and a strong career in real estate.
Real estate farming encompasses many forms of advertising, but the one most people might be familiar with are the ubiquitous postcards that seem to arrive in their mailboxes at least once a week. Compared to other traditional forms of advertising (newspapers, magazines, online marketplaces), a farming postcard is far more cost-effective and flexible. Whether you are looking to send your very first mailing or refresh your current one, our best practice tips will help you create a design that generates new leads and clients!
---
Start Small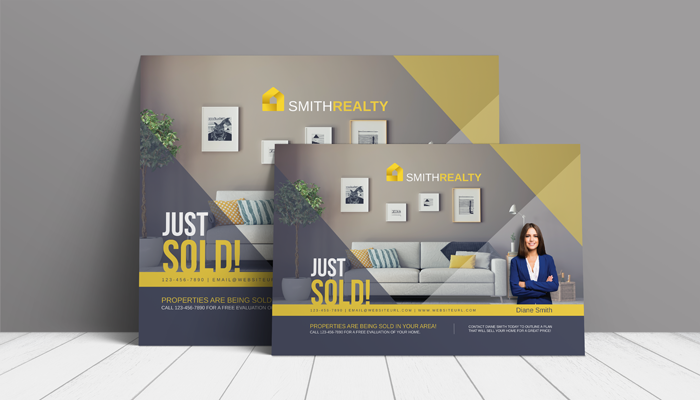 When you're trying out a new form of advertising, it's a good idea to start small, test out a few concepts, and grow the campaign from there. Maintain a spreadsheet detailing the audience you targeted (whether it's a zip code or a mailing list), how many households were included, the date the postcards landed in mailboxes, the content of the mailing, and the response (how many new leads and listings you received). Over time, you should start to gain knowledge about trends in response rate that you can apply to future advertising.
For the first few mailings, I recommend picking 2 comparable audiences that are roughly the same size and sending each of them a different postcard design. For example, you may want to test different postcard sizes (standard 4" x 6" vs. full-page), different color schemes, or different tones of voice (informal vs. formal). When testing 2 different concepts to similar audiences (often referred to as A/B testing), it's important to test only one element at a time. This way, if one advertising concept significantly outperforms the other, you can be relatively confident in isolating the reason to that single element. Once you've settled on an overall "look and feel" for your mailings, you can gradually expand your mailing audience and start establishing your brand.
---
Focus on Turnover
For many real estate agents, it can be very costly to advertise in a wide geographic area, so they need to narrow it down somehow. Most agents factor in turnover rates when determining which zip codes or neighborhoods to target. Simply put, the turnover rate for a specific region is the percentage of homes sold in the last 12 months. This can be found using your Multiple Listing Service account (a Realtor®-exclusive database containing information about sales and tax information for homes in a given area), or you can ask your employing broker for this information.
Once you know which regions have the highest turnover, it's easy to target them directly, without purchasing an expensive mailing list. USPS Every Door Direct Mail® service allows you to send a promotional mailing to every household within that zip code, and its mapping tool even provides information about the average age, income, and household size of the homes along each carrier route. Please note that EDDM® postcards must follow certain size and layout requirements – for a general overview of EDDM®, including more information about our full-service EDDM® options, please click here.
---
Tailor Your Mailing to the Neighborhood
If you are targeting more than one neighborhood or demographic, do not use a one-size-fits-all approach. Do as much research on your target audience as you can by studying the regional newspaper, local blogs, official social media accounts, etc.
You want to paint a vivid picture of each town. What is the average age and income of the neighborhood residents? What percentage of residents are home owners? Are there any dominant industries, such as education or tourism? What topics are hot-button issues within the community?
This research will give you valuable insight on how to approach the tone of your postcard as well as which talking points you should focus on, whether it is a strong school system, relaxed loan requirements, or upcoming investment opportunities.
---
Distinguish Yourself From Other Agents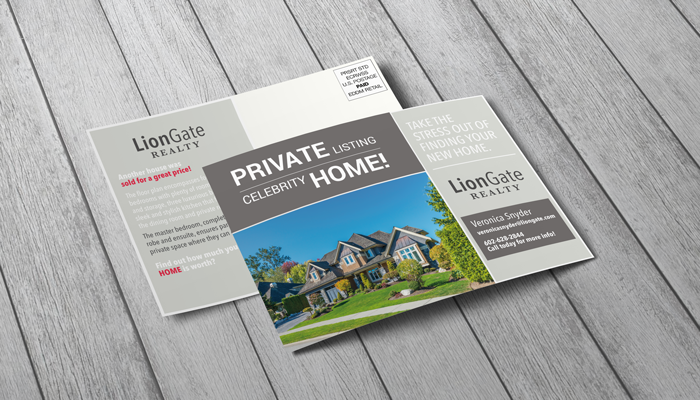 Of course, if you're targeting a desirable, high-turnover region, chances are other real estate agents are as well. Use your mailings as an opportunity to show homeowners why you are different and how you will provide additional value. Some qualities you may want to promote include:
advanced degrees or related licenses
fluency in multiple languages
"pocket listings" – available properties that are not yet publicly listed for sale
listing benefits you offer (free staging, professional photography, etc.)
---
Study the Competition
Don't be so quick to throw a competing agent's mailing in the trash! Studying other agents' postcards has 2 major benefits – first, you can see how they're marketing themselves (especially if you know they are very successful) and second, they may have a new listing that one of your clients will like. As a real estate agent, you will almost always work with other agents on real estate transactions, so it's in your best interest to build good relationships with your colleagues.
---
Don't Forget a Clear Call to Action
We say this time and time again when it comes to promotional and marketing materials – you must include a clear call to action. Now that a potential buyer or seller has received your postcard, what step(s) should he or she take to move forward? Make sure your farming postcard includes multiple ways of contacting you (email, text, phone call) and an incentive to reach out to you ASAP. For example, you can offer a free detailed home valuation to anyone who emails you within the first 2 weeks of receiving the postcard.
---
Farm Consistently and Mix Up the Content
As with any other advertising effort, consistency is key. For most people, buying or selling a home is a monumental event, and it can take months or years to get into that mindset. So, while a homeowner may casually glance over your postcard today, in six months, their circumstances could have changed to the point where they are now eager to sell.
While it is recommended to send out farming postcards on a regular basis, don't send the exact same design over and over again – residents will soon learn to just tune them out. By mixing up the content, you increase the chances of getting noticed, building familiarity, and having local residents look forward to receiving your mailings. Need some ideas? This list should help:
Neighborhood sales data over the past year
Feature a single, extra-special property
Festive open house invitations that promise food and drinks
Holiday greeting cards for a more personal touch
Newsletter-style postcard with relevant community updates
Partner with a local business to send out a coupon or gift card
Include a favorite recipe or family-friendly jokes
---
Invest in the Occasional Brochure or Catalog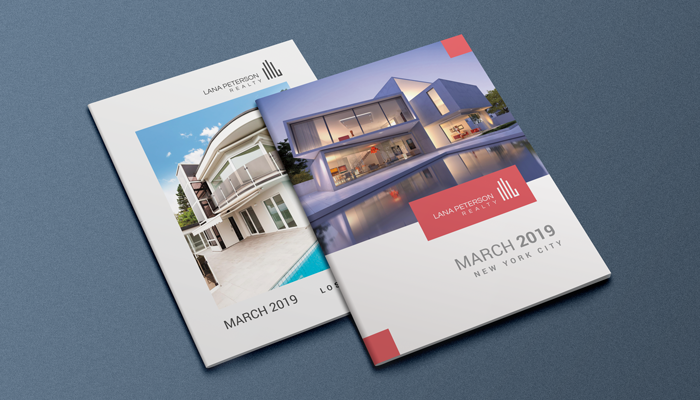 If you're trying to gain a foothold in a high-value, high-turnover neighborhood, stand out from the competition with a professionally-designed brochure or booklet. It will be hard for residents to resist flipping through a glossy catalog filled with full-color photos of breathtaking homes. You can also include additional content like articles on how to choose a real estate agent and tips on how to prepare your home for an open house.
To supplement the higher cost of a brochure or booklet (compared to a postcard), ask local small businesses such as interior designers or mortgage lenders if they'd like to purchase full or half-page advertisements in your catalog or ask a colleague if he or she might be interested in collaborating with you. Just be sure to check local regulations before sending your postcards or other mailings to print, as many cities and states have specific guidelines that real estate agents must adhere to in their advertising.