We've all heard the saying, home is where the heart is. Nowadays, home is where everything is, really. Let's be honest, the luxury of being home may sound great for most people at some point in time, but when you actually have no other option, it becomes very old, very fast. While it's true that there are some real perks to being home and even working from home, it's also common to feel unmotivated and uninspired. We totally feel your struggle, and we think we have a solution!
If you ask us, one of the best ways to bring elements of change, liveliness, and even coziness into your home is through home décor prints. Prints can be found through a variety of channels, in-store or online, so you can almost guarantee that you'll come across something that matches your taste. Better yet, you can print custom pieces to match exactly the look and feel you're trying to achieve. You can choose to print whatever you'd like! A photo of the whole family, of a memorable trip you've taken, of a landscape photo you once shot during golden hour… the possibilities are endless. We've even seen so many inspo pieces of people using digital artwork to create the mood for their décor. You can purchase affordable digital pieces from platforms like Etsy or iStock, and they are yours to print! With all of this being said, once you have your vision ready to go, you can head to our website, where we have a number of different custom print options such as Canvas Prints, Framed Prints, Metal Wall Prints, and more. Sprucing up your home in the simplest ways can truly change the energy within your home environment.
If you still don't have the slightest clue on what kind of print you're looking for, let us help! In this blog, we share inspiration of what, where, how you can use home décor prints to transform your home into a newer, cozier space.
A Pop of Color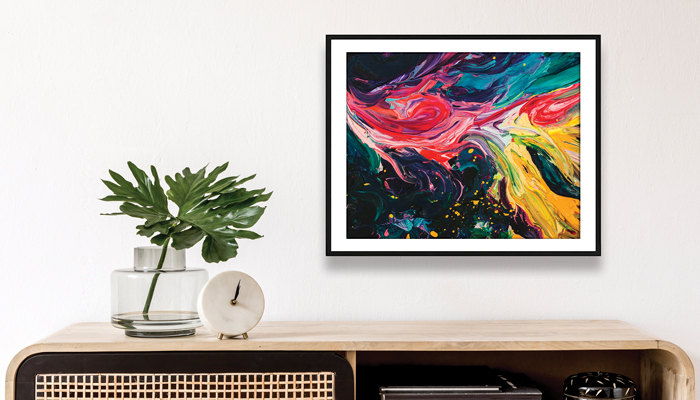 If you're lacking color in your space and don't want to spend time or money to re-paint or re-decorate, consider printing a colorful abstract piece or two to bring some life to your walls.
---
A Sketch and a Statement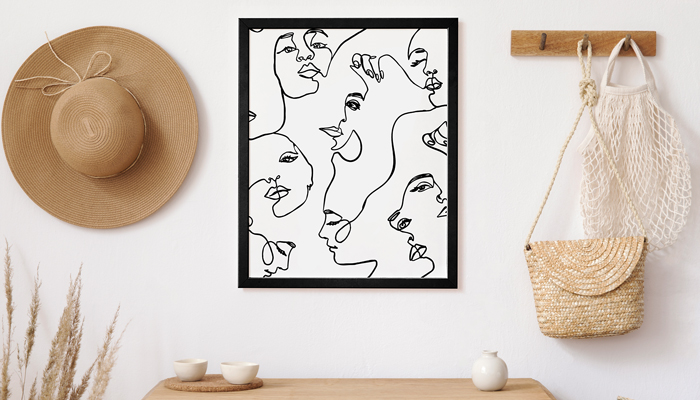 While they are an increasingly popular design element, sketches are essentially the "beginning steps" of a work of art – a step up from a blank canvas, if you will. Sketched artwork can turn a plain space into a den of creativity, as it promotes development and the idea of moving forward.
---
When Two Worlds Collide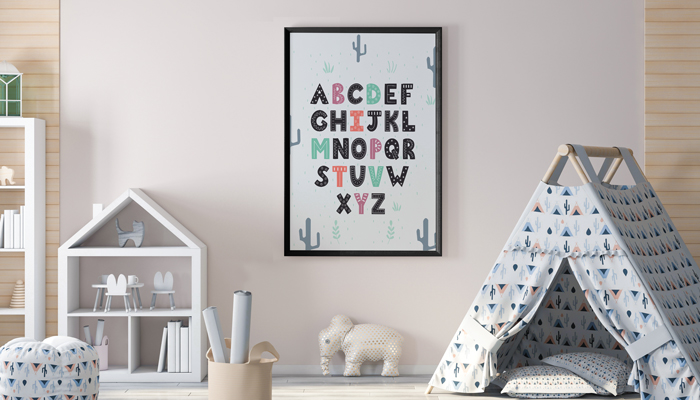 Decorating a child's space is probably the most fun anyone can have in terms of home décor. You essentially just have to pick a theme and roll with it! Decorating the walls with exciting prints is a part of this process. Not only is this an opportunity to print a cute piece of staple décor for the kids' room, but a print can double up as a learning tool for your little ones.
---
Monochromatic Minimalism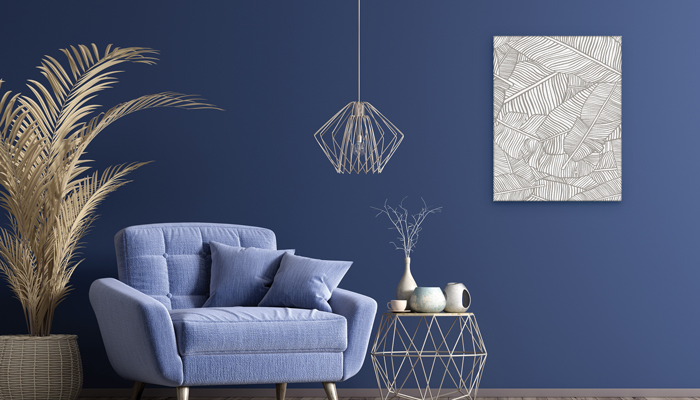 A simple piece has the potential to brighten a room without screaming for attention. Simple designs are ideal for minimalists who don't care to go all out with décor.
---
Chasing Wanderlust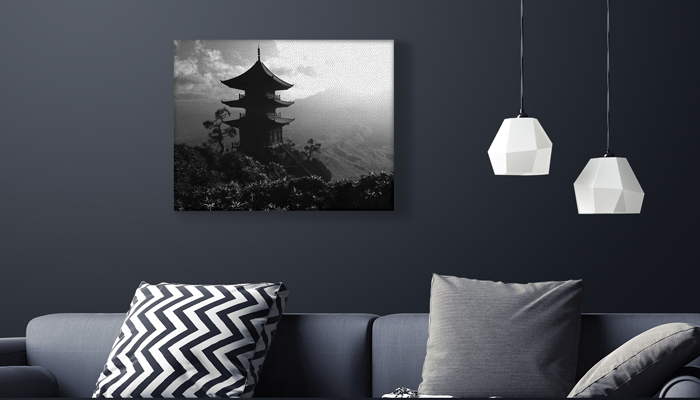 Are you itching for the opportunity to get out and explore the world once more? By printing beautiful, high-quality images of global landmarks or your favorite destinations, you can escape to fa away places from the comfort of your own couch.
---
Effortlessly Put-Together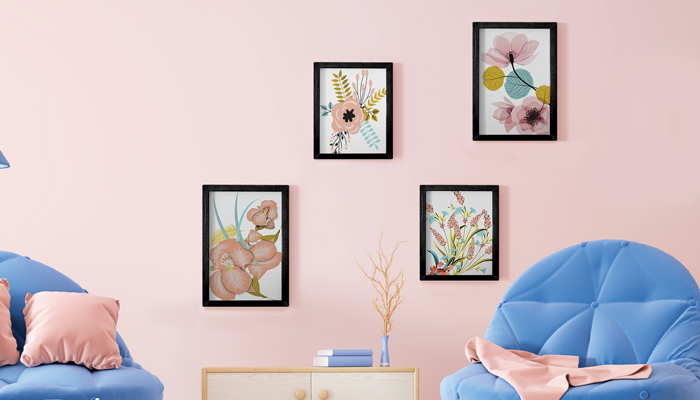 Have you ever wondered about and even envied living in one of those incredibly sophisticated, put-together homes? You probably think it's harder to achieve than it actually is. With the right color palette to match pieces that have already made your house a home, you can create a chic space in no time.
---
Serenity Where You Sleep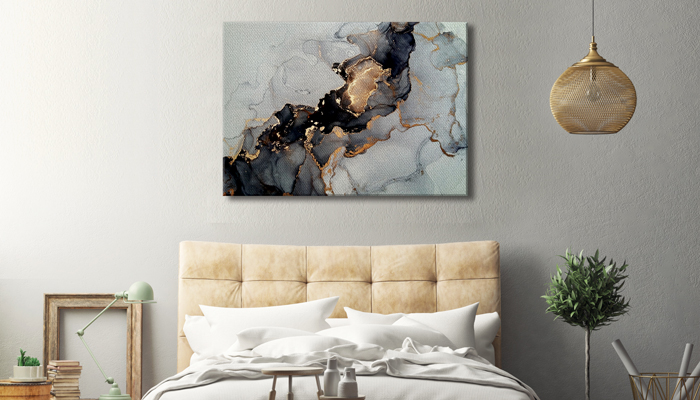 A bedroom is the most tranquil place in your home, but having bare walls doesn't necessarily make it so. Marble isn't just for countertops– there's something about marble-inspired prints that promote fluidity, serenity, and elegance, which is why it's so popular among different accessories and home décor pieces.
---
A Delicate Touch in the Kitchen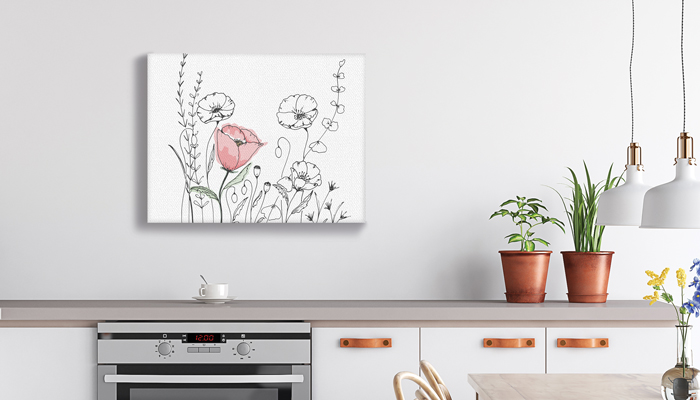 While it's not entirely common to have printed décor in a kitchen, the best kind of art piece you can display is an understated wall print. You can frame an abstract drawing, or display a canvas print that has elements of nature and growth. We've seen multiple people setting up their makeshift home offices in their kitchens, so adding something to the space can also make a world of difference for boosting productivity and positivity.
---
Let us know in the comments below, which one of these prints would you want to be displayed in your own home?
Found on IG Guides: Home Décor Ideas for Any Style