As a leading print and design company, GotPrint is fortunate to work with real estate agents all over the United States to help them grow their businesses. Naturally, we were thrilled to connect with the Pasadena-Foothills Association of REALTORS® (PFAR), a local trade organization serving over 2000 members in the Pasadena, San Marino, and Foothills regions of Southern California.
PFAR supplies its members with the education and resources that enable them to conduct their business successfully, ethically, and profitably. To accomplish this goal, PFAR hosts three membership events a year that act as informative platforms covering the topics of legal changes, the digital world, and the housing market. The first membership event of 2019 took place in February at the beautiful Altadena Town & Country Club, with June Barlow, Senior Vice President and General Counsel of the California Association of Realtors®, discussing a broad range of topics from the housing shortage to wire fraud. Each year ends with a large Inaugural and Awards Ceremony to celebrate its members.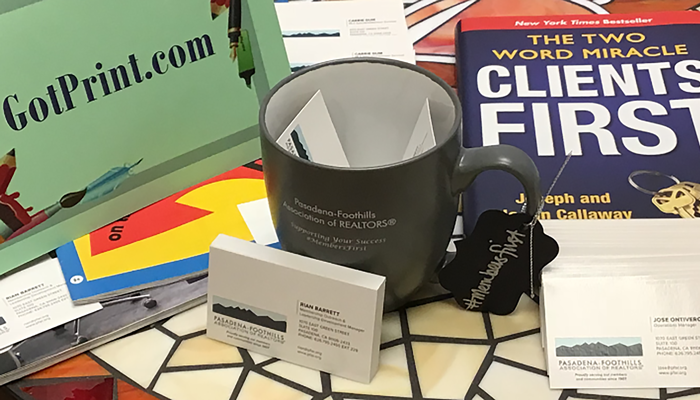 As the 2019 Official Business Printer of the Pasadena-Foothills Association of REALTORS®, GotPrint partnered with PFAR to develop business cards, signage, and other printed materials for its staff and members. Representatives from the organization reached out to GotPrint after learning about our company through one of its members. "We have been impressed with the quality of print at such an affordable price. We are constantly ordering business cards, along with other printing needs. With the online re-order option, we can literally order our prints in seconds."
Thanks to our comprehensive selection of products, from business cards to yard signs, and expert services (including custom design and EDDM marketing), we are proud to have helped countless real estate companies and professionals like the Pasadena-Foothills Association of REALTORS® successfully market themselves and reach new clients.