'Thank You' cards are just one of those prints that will be around forever. They are thoughtful gestures and give each recipient a sense of purpose and reassurance for their positive actions, no matter the scenario. 
Generally printed on greeting cards and sometimes postcards, thank you cards are very easy to send out – you've probably found yourself heading to the store on occasion just to purchase a one-off card and write either a quick generic or personal note.  
When it comes to specific circumstances, however, thank you cards need to be a bit more thought out regarding everything from the design of the card to what note you include. Using a generic message or design concept for every scenario would be the easy cop-out, but putting a little more effort into your cards will surely go the distance.
Read on to learn how you can develop thank-you cards for multiple situations, from weddings to corporate cards.  
Wedding Day-of Thank You Cards 
On the day of your wedding, you may want some type of stationery to place on either the ceremony chairs or at each person's table setting at the reception. Your 'thank you' note can be personalized but general enough that you can confidently display a card on every place setting.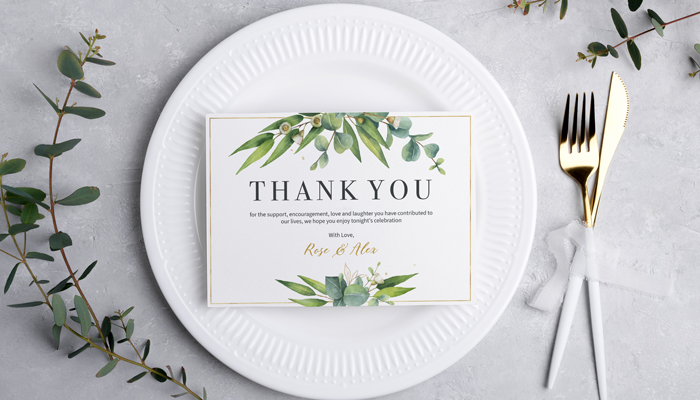 Here's a sample text to get you started:
To our favorite people,  
We'd like to thank you for joining us to celebrate our special day. Your presence means the world to us, and we're thrilled to have you here to witness our love and the beginning of a new chapter. We hope you enjoy the night! 
Love, [couple's names]
When it comes to the design, we recommend you keep it simple, but in tune with your color scheme/wedding theme.  If you are opting for a day-of thank you message to your guests, you don't necessarily need to send a post-wedding thank you, although it would be much appreciated by your guests.  
Post-Wedding Thank You Cards
Post-wedding 'thank you' cards are to be sent out after you have returned from your honeymoon, opened all your gifts from your wedding, and are settling into a new chapter of your life. In your card, you'll need to thank your guests for the following: attendance, the gift they brought, a specific memory you may have from the night with each recipient, etc. If you had a lot of guests, we fully understand that it's harder to personalize a card for each person, so we recommend coming up with a message that suits everyone, but still has something personal from the heart that's evidently written by you and your spouse.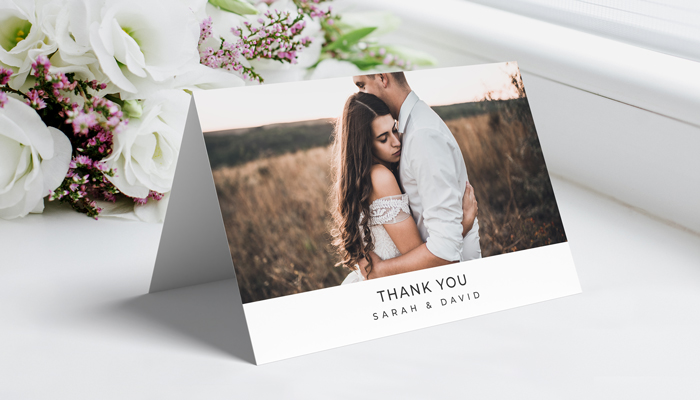 Design-wise, adding your names, the date of your wedding, and even a photo or two from your wedding day is the easiest way to design your cards. You can choose the colors of the cards based on the color scheme of your wedding, but you can also do something completely different. You have more freedom here because the festivities have passed.
Example text: 
Dear ___________ (if you print in bulk, you can either keep this blank so you can add each person's name by hand, or you can choose not to take this step to simplify it) 
As we begin this new chapter in our lives, we'd like to take a moment to express our gratitude to all our guests for being there to celebrate our wedding day. Your love, support, and generous gift are all appreciated and are considered foundational elements for our new life together. We can't wait to see what this journey will bring, and we hope you'll be along for the ride.

Sincerely,
The Newlyweds (include your names)
If you need inspiration or design help, check our template gallery of wedding thank-you cards, where you can modify each design and add your own text.
Client/Vendor/Employee Thank You Cards 
Sending out thank you cards to your clients, vendors, and even employees is a much simpler process when it comes to both the design and the message. All you need to include is your company logo, a professional note of gratitude, and the signature of the head of the company (or whoever is addressing the thank you). In any field of business, thank you cards are essential in keeping relationships long-lasting.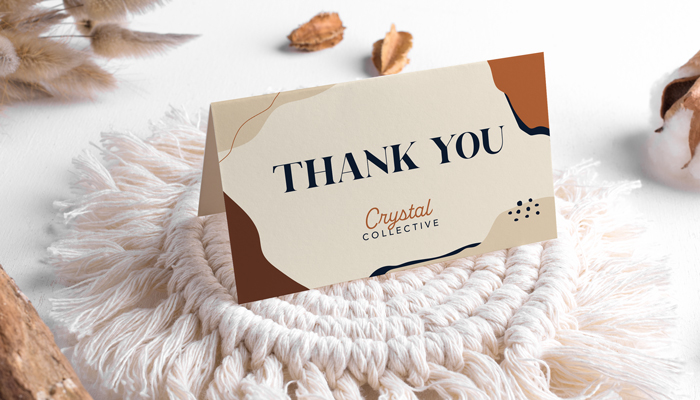 An example base text would be something like this:  
From our company to you. we strive to provide only the best and are constantly working towards improving our operation. We thank you for your continued dedication, support, and trust in our establishment. 
Order Placed Thank You Cards
These are essential for those who run an e-commerce retail store, especially if you are a small business. Placing a thank you card in every order you send out is a great way to be more personable with your customers. Include information about your business such as a short bio, or if you'd like to share more about how the product is made, an exclusive discount for the next order, and a link to leave a review or feedback, etc.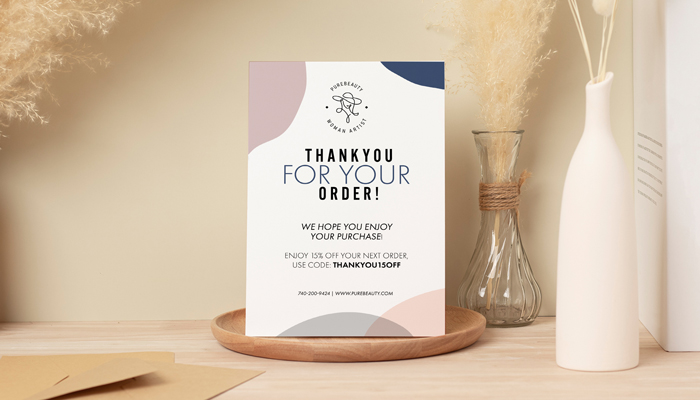 Example text: 
Thank you for placing an order with us! 
We hope you love our product(s). Here's 10% off your next purchase with [COUPON CODE]. 
We value all types of feedback – please leave us a review if you are satisfied with your product, and do not hesitate to reach out if you have any issues or concerns with your order.  
Non-Profit Thank You Cards
Sending thank you cards to donors and supporters either quarterly or annually is a huge benefit for non-profit organizations. Not only do you thank your donors for their support, but you also remind them that you exist and will generate more donations with this thoughtful gesture.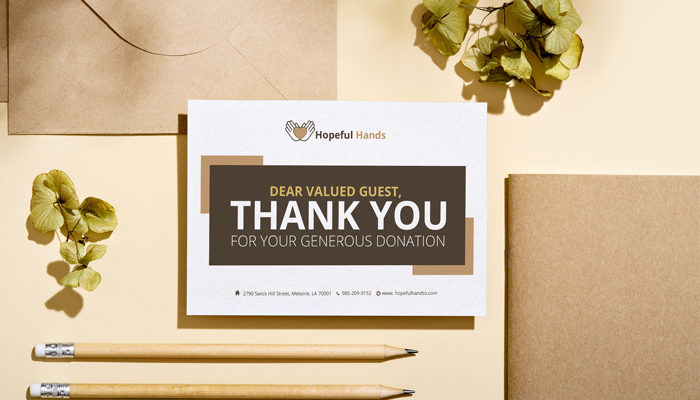 Instances to send out a thank you card:  
Thank donors for their contribution
Thank participants for attending a fundraiser
Gratitude for continued support and trust in your organization
---
Saying 'thanks' with a physical card will always be a valuable trait and will remain relevant as long as people have something to be thankful for. Designing a custom thank you card is simple, you just have to know what elements to include, from the text to the design, and soon you'll have the perfect cards to send out in no time.