If you're in the process of looking for a sign, you're likely trying to attract some sort of attention, make a statement, or provide necessary information in a straightforward manner. Signs are ever present in our daily lives – we constantly read them and take direction from them, and are even inspired by them. With so many different options to choose from, it's understandable if you become a bit overwhelmed with all the possible options. Let us help you out with a comprehensive guide to all of our signage products. This way, you'll be able to decide exactly which sign type is right for your project.
A-Frame Signs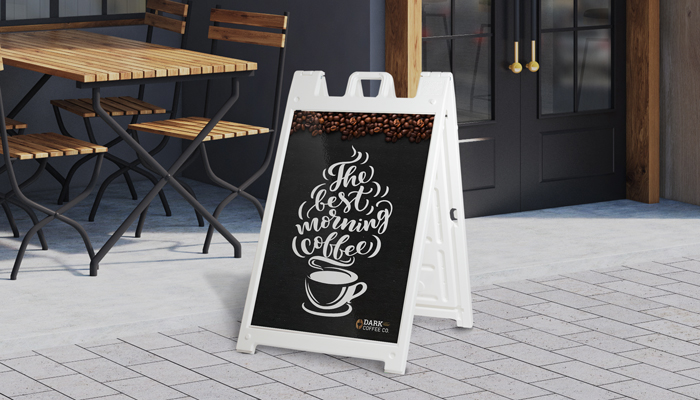 A-Frame Signs are portable and easy to display. Most commonly, they are used outside of storefronts, pop-up shops, and in/around large events. You can also use an A-Frame sign as directional signage, as the sign is large enough to give clear instructions on where people need to be.
A-Frames are offered in black and white, in standard and deluxe versions, and are printed on a 24" x 36" sign, regardless of the frame type you select.
Banners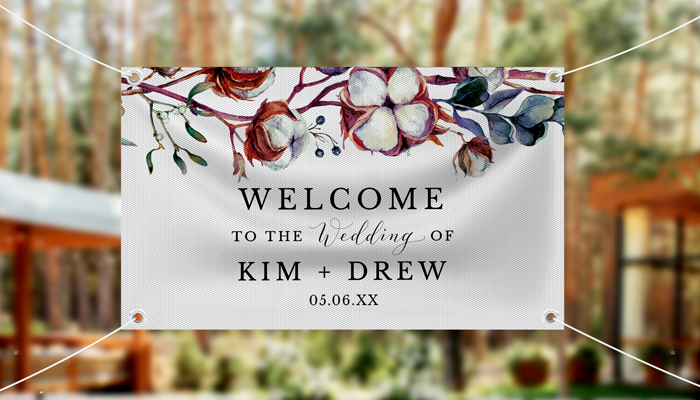 Banners are a classic, inexpensive type of signage that is often used to greet/welcome those attending a specific place or event. You've most likely also seen banners that advertise grand openings. Banners are seen across a variety of different scenarios – you can actually
We have a wide range of banner sizes to choose from, with our smallest being 1 ft x 2 ft, and our largest vinyl banner size being 6 ft x 20 ft, so you'll be sure to find exactly the size you need. The banners come with hemming included, and you have the option of selecting grommets to help display your finished banner.
Retractable Banners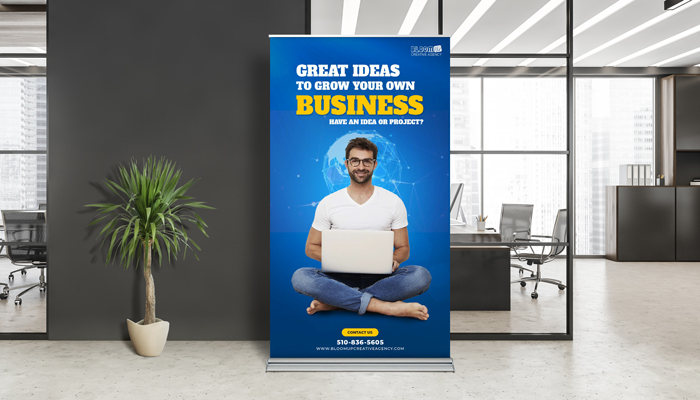 Retractable Banners, also called Retractable Banner Stands, are similar to vinyl banners in material but can differ in functionality. Retractable banners stand up on their own and are most commonly used to display special promotions or information. Though we do have tabletop sizes, our largest size is one that won't be missed. Retractable banners are bold and eye-catching. You can even create a single thin or multi-part backdrop with retractable banners for any given event.
Large Format Posters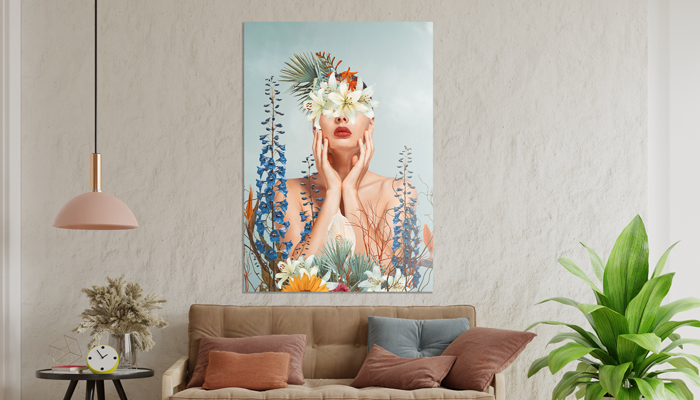 Printed on photo-grade paper, Large Format Posters are ideal for displaying artwork, film posters, photographs, and even event promotions. Offered in glossy and matte finishes, this sign type will give any artistic and bright design the attention it deserves.
Car Magnets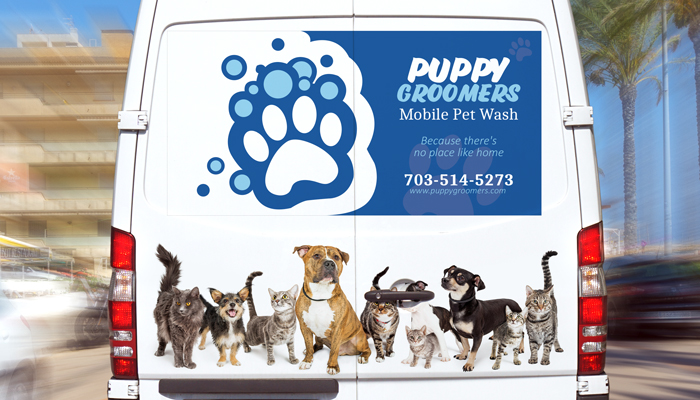 Car Magnets are perfect for marketing on the road. Display your business logo, contact info, and even a special promotion on a delivery van or service vehicle, and watch the business roll in – a bonus if your business is located in a metropolitan city with inevitable traffic jams. Our car magnets come in a variety of conventional and unique sizes, a center split option on some sizes and shapes, and perform well in adverse weather such as rain, snow, and heat.
Floor Decals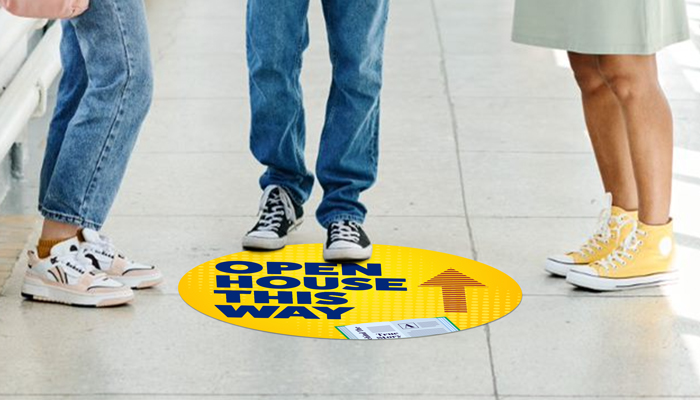 Floor Decals are great because they don't take up any amount of space, they provide clear direction, and are even ideal to add a touch of your own discrete branding on the floor. Our floor decals come in lightweight and heavy-duty options, which you would choose depending on the kind of surface you'd apply it to, and are even offered in a variety of shapes and sizes to pair with your custom design.
Rigid Signs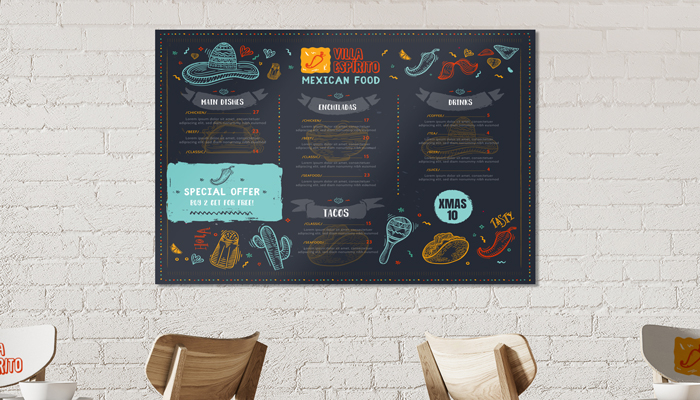 Rigid Signs are a cost-effective solution to both indoor and outdoor signage needs. We carry 6 different types of rigid signs, so you can rest assured that there's a sign type in our round-up that's right for you. All of our rigid signs have a conveniently large list of sizes and shapes to choose from. All of our rigid signs also have accessory options (availability depends on the specs selected) to help you display your signage.
Window Signage (Window Decals, Clings, and Perfs)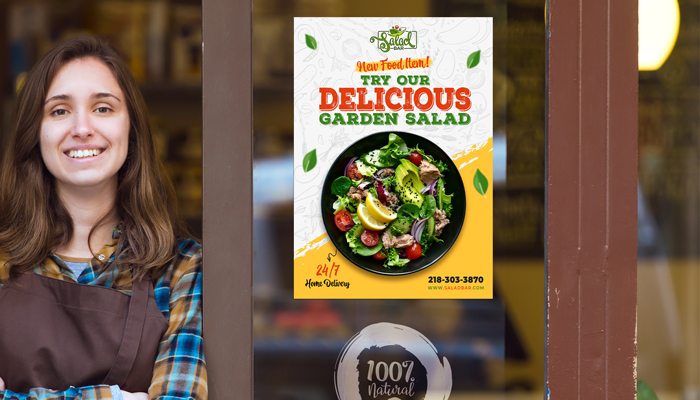 Easy to apply on any window, our Window Signage can be used for both informational (hours open) and promotional signage, and even decorative signage. Not sure which window signage type you'd need? Window Clings and Perfs can only be displayed on windows, while Window Decals can actually be displayed on most flat surfaces. There is also no residue left behind from any of these sign types. Just make sure that with any sign, you clean the area of the application beforehand.

Yard Signs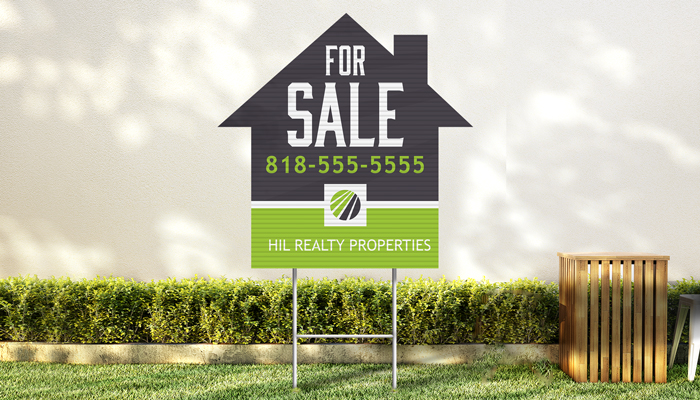 Yard Signs, also known as lawn signs, are commonly used in the real estate and political industries, but regardless are applicable across multiple industries and scenarios. All of our yard signs come with step stakes so that you easily stick your yard sign in the ground and achieve prime visibility. These signs can be used for temporary parking (or no parking) signage, directional signage, informational signage, and much more.
---
Though the options are vast, with this thorough guide, you're on your way to picking the right sign type for your project in no time. If you have any additional questions, please reach out to our friendly customer service team.