If you've stumbled upon this post, you may have just opened a new business and are hoping to gain more traffic to your storefront. Or perhaps you've had a brick-and-mortar establishment for some time now but want to increase your visibility to potential clients that have been right under your nose. You might even simply be on the hunt for a portable, easy-to-install, and visible sign to make your message seen, no matter the scenario or location. Well, you're in luck – because we've got a sign type that just might be exactly what you're looking for. Read on to learn all about A-Frame Signs and how you can utilize one to boost your business.
What is an A-frame sign? 
An A-Frame Sign, also referred to as a sandwich board, is a portable, foldable sign type that contains a stand which makes displaying any message, anywhere, simple. It stands up in an "A" shape, hence the name. This sign type can perform well in both indoor and outdoor situations and is most seen on sidewalks.  
How and what are A-frame signs used for? 
A-frame signs are often propped up in high-traffic areas to highlight a message or specific promotion that'll bring customers in. However, because these signs are so versatile, you can also use them for a variety of different projects, including directional signage, pop-up menus, and general information.  
What types of different A-frames are there?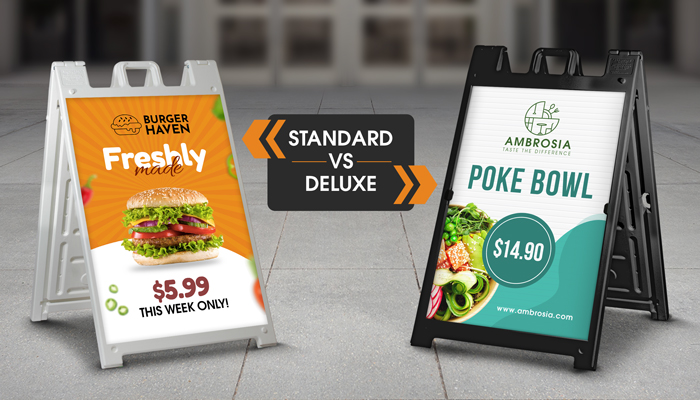 Standard: Comes with an adhesive vinyl sign that can be removed and replaced easily with no residue. Frame size: 45″H x 25″W x 3″D 
Deluxe: Comes with a corrugated sign that slides in and out of the A-frame and is held in place by the two middle notches. Frame size: 46.375″H x 27″W x 3″D 
Both signs are printed on a 24" x 36" material, and both types are available in white and black frame options and can either be printed one-sided or two-sided. To re-use an existing A-frame from a previous order, signs can easily be purchased without the frame. 
How do I make a custom a-frame sign?
To print your own A-frame sign, you can either upload your print-ready designs to our order form, or if you don't have something previously made and want to take a crack at it, you have access to an easy-to-use online design tool found directly on our website. On the order form, instead of selecting one of the "Upload" buttons, simply click on "Design Online" to be directed to our online designer, where you'll have access to an array of fonts, colors, backgrounds, and other elements you can use to design you're A-Frame Signs from scratch. You can even upload your own images to the designer, like a logo or a relevant photo.
Color is key – Use pops of color throughout your design, whether that's putting an effort towards a specific word or the overall background color of your sign.
When it comes to text, less is more – the general rule for an a-frame sign is that you should use the least number of words to communicate the "loudest" message. Consider the fact that passersby will likely only have a few seconds to read what's on your sign, which means you'll only have a few seconds to grab their attention.
7 Best Uses for A-Frame Signs
1. Advertise a Sale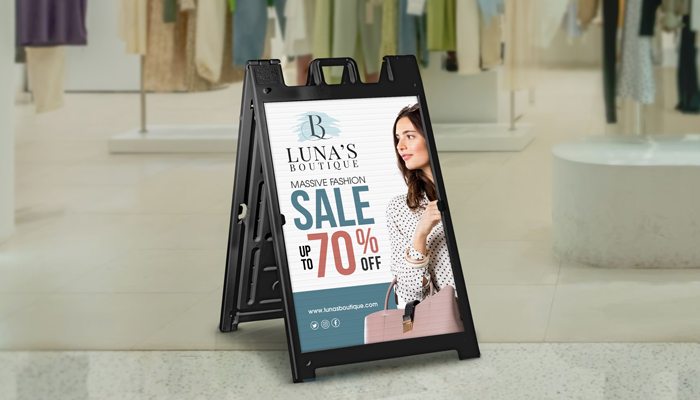 2. Announce a Grand Opening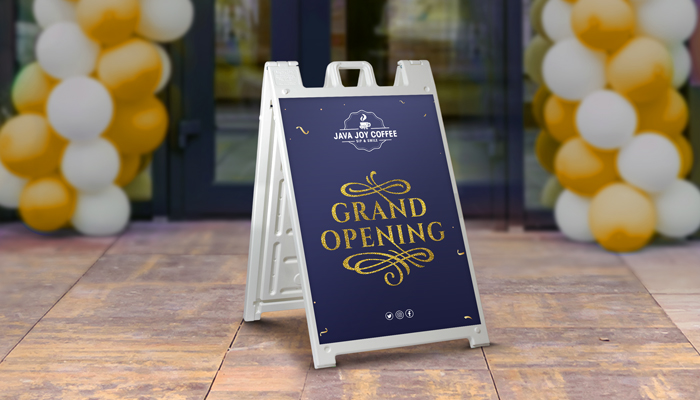 3. Highlight Happy Hour Specials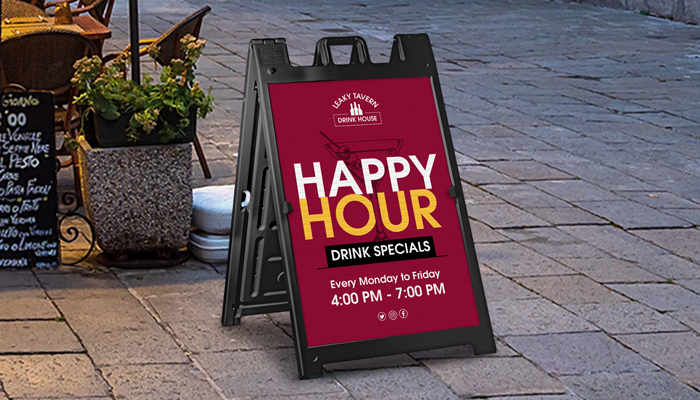 4. Create Custom Outdoor Event Signs
i.e. Welcome signs for wedding receptions, galas, and any other special event 
5. Emphasize Directions/Parking/Valet Locations 
This can be something as simple as a sign that says "Valet Here" or "Free Parking / Enter Here"
6. Display a Food Truck Menu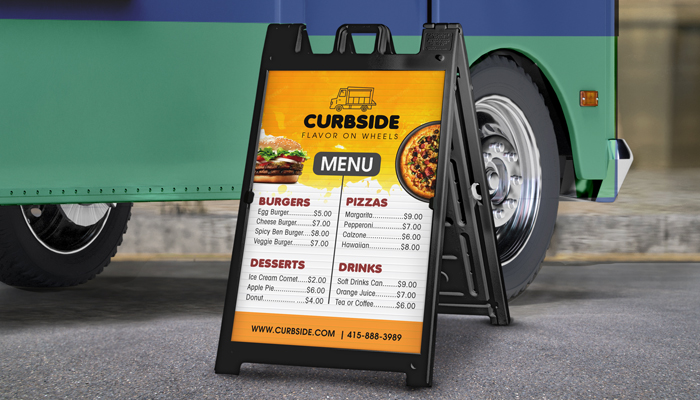 7. Share Store Hours 
Instead of just displaying it on your front door, perhaps you prefer to put a sign out on the sidewalk, especially when you're on a busy street with other stores and want to provide customers with this information so that they can plan their visit accordingly. If applicable, you can even include a message that states "walk-ins welcome" to entice more potential clients.
---
 If you're looking to print a simple A-Frame Sign with just text or a quick image upload, you can also place an order for Custom Deluxe A-Frame Signs on our Amazon storefront. A-Frames are one of our most popular signage products, so you can rest assured you'll be receiving a high-quality custom product.
---
Take a photo or video of your custom A-Frame from GotPrint.com in action to share it on social media and tag us for a chance to be featured! We love seeing our customers' print concepts come to life. @GotPrint on all platforms.