The concept of a pop-up shop for a business in the retail or food industry is, without a doubt, always a good idea. Especially if you run a small business! Why? Pop-up shops don't require long-term rental contracts and require much cheaper rent than you would normally pay for a permanent brick & mortar location. Because pop-ups can occur in different areas, your customer reach extends way past what it would have, had you only been in one permanent location. Open-air markets such as pop-up fairs or farmers markets are perfect examples of successful events for businesses. Whether you own a jewelry, clothing, or food business, there's a lot of foot traffic at pop-ups, which means you'll likely gain lots of new customers. In order to set up a successful stand, you're going to need some print products like business cards, banners, and more to not only get your business noticed, but also to convert repeat clients. The following 8 print products will help boost business for clothing shops, jewelry businesses, food trucks, local eateries, and much more!
1. Business Cards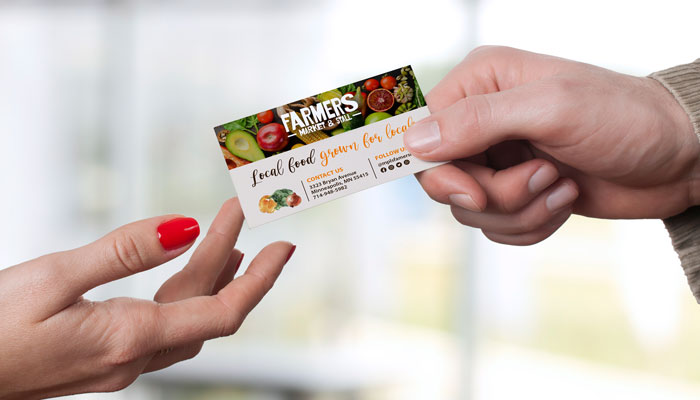 Always having a stack of business cards on hand is essential for networking, especially if you're hosting a pop-up shop. Because your setup at the specific location is likely very temporary, people will always have questions for you. A business that's always "on the move" sparks intrigue for most people, especially if your products are interesting and worthwhile. Give them a little something to remember your business by!
2. A Vinyl Banner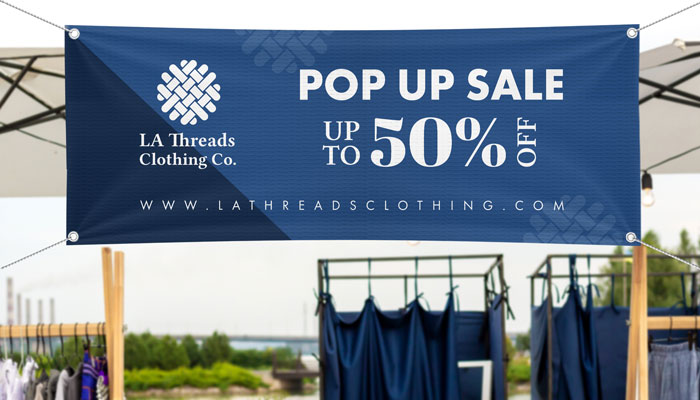 You need this if your pop-up is set up in the style of a table or a booth. Hanging a banner that includes your logo/business name, as well as something that will attract customers (such as a promotion) will get your booth the attention it deserves. The best part is, if you decide to keep it simple with just your logo, business name, and website, you can reuse this vinyl banner over and over again for any sort of event your business may participate in.
3. Retractable Banners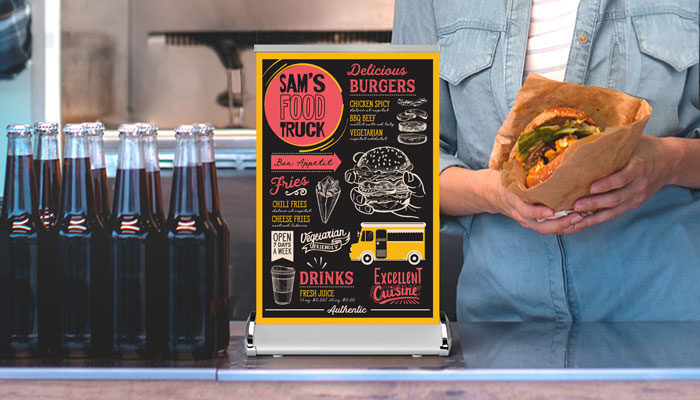 Another sign type similar to regular banners, these retractable banners come in a variety of sizes and stand up on their own (yes, they come with a stand!), so that you can either place one on top of a table or counter to highlight a price list or a promotion or create a large sign to place near your setup that is sure to attract plenty of attention.  
4. Thank You Postcards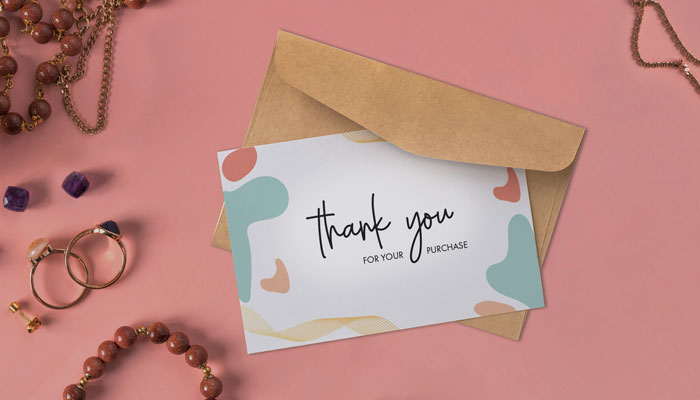 Adding a little thank you note with all purchases will go far – after all, it's the little things that make all the difference! Print a thank you message on a postcard to add a personal touch to every order. You can even include a promo on that card so that customers may visit your site or a future pop-up location to make another purchase.  
5. Hang Tags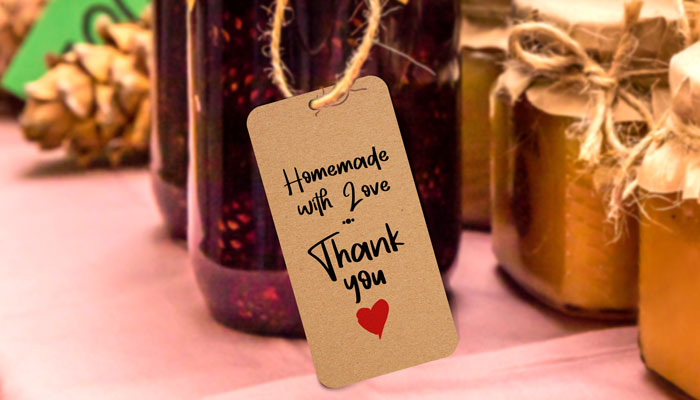 If you want to convey any sort of information about an item, you can print custom hang tags for literally any type of product – clothing, accessories, candles, bottles, packaged food, and so much more. Include information such as sizing, brand story, ingredients, nutrition facts, and even things like a website or your business's social media handles.  
6. An A-Frame Sign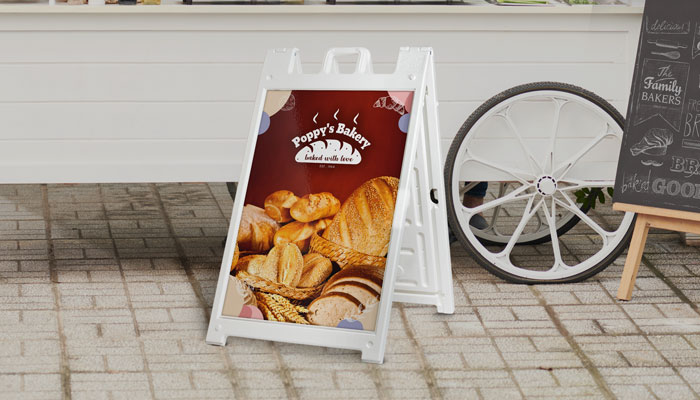 Sandwich Boards, or A-Frame Signs, are commonly used in high-traffic areas and will absolutely attract the attention your pop-up shop needs to reel in more customers. As long as you create a sign that's visually appealing to the eye, both in design and in messaging, you'll be sure to get good use out of an A-Frame. Plus, it's good for branding purposes! 
7. Roll Labels/Stickers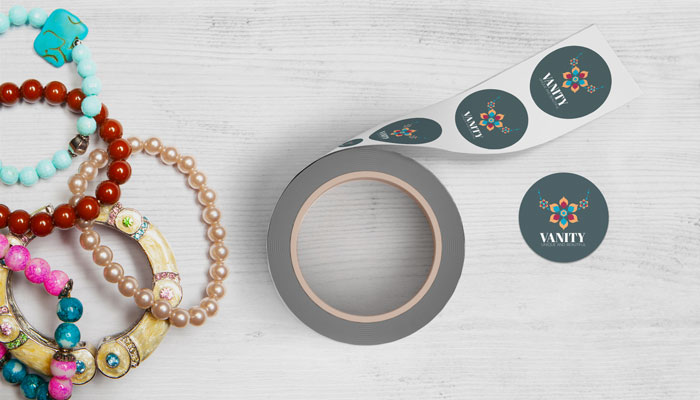 As a business owner, it's possible that you are searching for ways to save money while still maintaining a cohesive, professional brand. Well, roll labels and/or stickers are your go-to promotional prints. They are cost-effective and have the power to transform an average bag, box, or container into a branded package. Simply design a sticker with your logo so you can have your branding conveniently placed on all your products.  
8. Rack Cards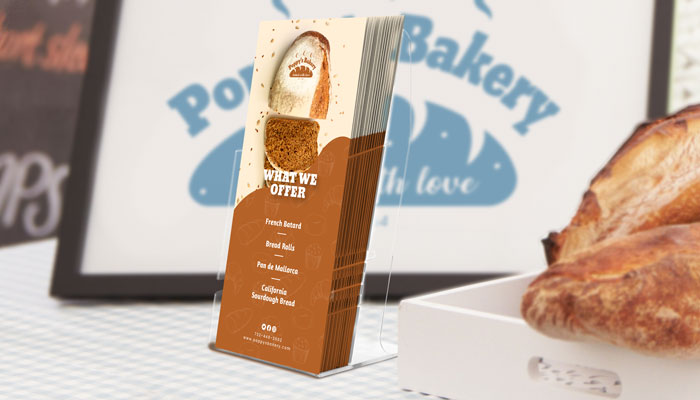 Consider rack cards as the print you use to create your price/services/product list. Customers like to have this type of information easily accessible, so it's much more convenient to have it this way than say only on a sign. You can display these in a rack on your tabletop so that customers can grab them with ease. Including your business story/contact information is also important here so that people have a reference of where they can keep in touch with you.  
---
By customizing these 8 print products, we're sure your next pop-up shop will be a big hit! Tag us in your pop-up shop content and let us know which products you ended up printing for a chance to be featured on our Instagram.