Trick or treating may be canceled this year, and you probably won't be invited to any costume parties, but that doesn't mean that you can't make Halloween 2020 a day to remember for the entire family! For those who love this spooky holiday more than Thanksgiving or Christmas, this guide was made just for you. Whether you're planning on entertaining kids or just a few of your close friends, we've done our research to find 10 of the best ways to fully get into the spirit of Halloween, right from the comfort of your own home.
1. Halloween Movie Marathon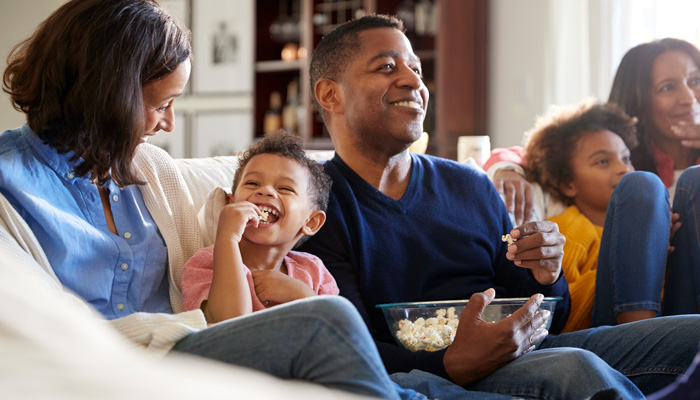 Movie marathons are a no-brainer when October rolls around. With so many films out there, some friendly enough for kids, and others creepy enough for all you horror fanatics, we think you may have a hard time narrowing down your spooky movie lineup. Here are just some of our personal favorites (all classics!):
Kid-friendly films:
Hocus Pocus (1993)
Halloweentown (1998)
The Nightmare Before Christmas (1993)
Corpse Bride (2005)
Casper the Friendly Ghost (1995)
The Addams Family (1991)
Beetlejuice (1988)
Cult-favorite horror films:
Pyscho (1960)
The Shining (1980)
Carrie (1976)
Scream (1981)
Halloween (1978)
Friday the 13th (1980)
2. Homemade Costume Challenge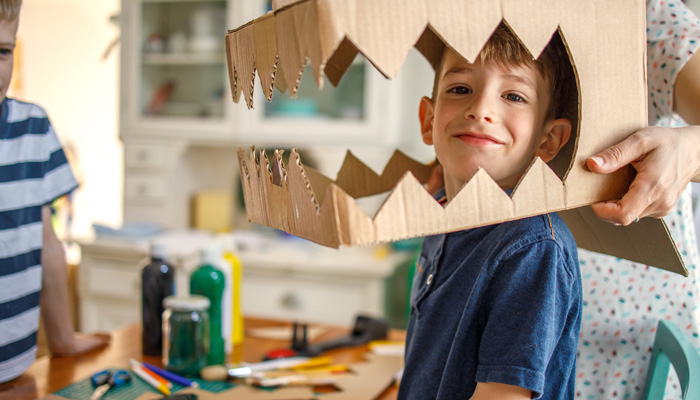 Skip over-spending on a new costume this year and create something from scratch instead! Making homemade costumes with whatever you have lying around the house is an activity that not only saves you money but also gives you something fun and creative to do with the entire family. You can even make a game or challenge out of it! Younger kids will get a kick out of it. The best part is, if the homemade costumes turn out great, you can repeat them next year. 
3. Order Halloween T-shirts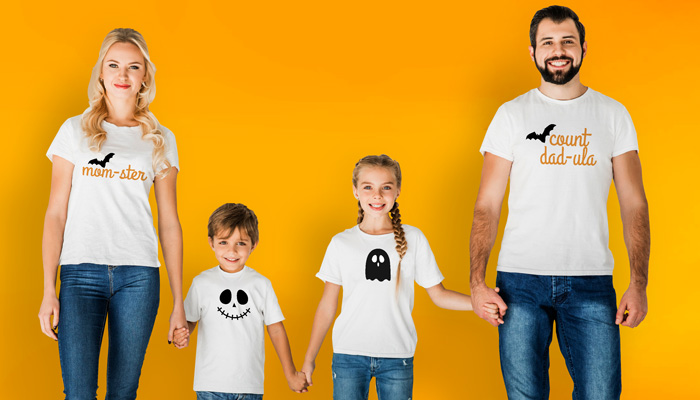 If you're not feeling costumes at all this year, Halloween t-shirts are the next best thing! T-shirts are the more affordable, more comfortable alternative to costumes and are wearable more than once a year. We now offer pre-designed Halloween t-shirts in both black and white crew necks in a variety of designs and sizes for the whole family! Mix designs among family members or coordinate to wear matching designs — either way, taking family photos is a must! You can now browse and order all of our spooktacular Halloween t-shirts here.
4. Carve Pumpkins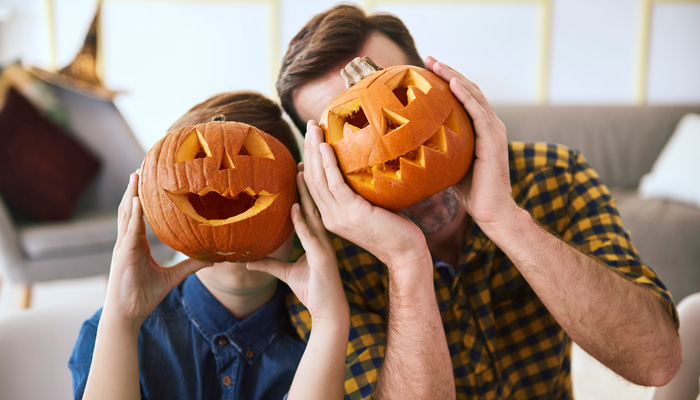 Need we say more? This is an absolute MUST if you're planning on celebrating Halloween this year, or any year for that matter. You can even make it a contest to see who can carve the most unique pumpkins. If possible, visit a local pumpkin patch to get your pumpkins for yet another bonding experience, and a possible photo op!
Note: if you have much younger children and would prefer not to use sharp objects, consider painting pumpkins instead!
5. Bake Themed Treats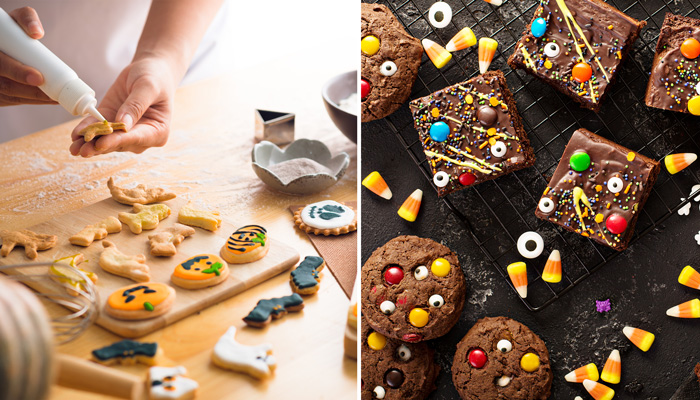 Halloween wouldn't be Halloween without some sweet treats! Skip the candy this year and prepare some delicious homemade treats for everyone to enjoy. This can absolutely be a collaborative effort among all family members or guests.
6. Indoor Scavenger Hunt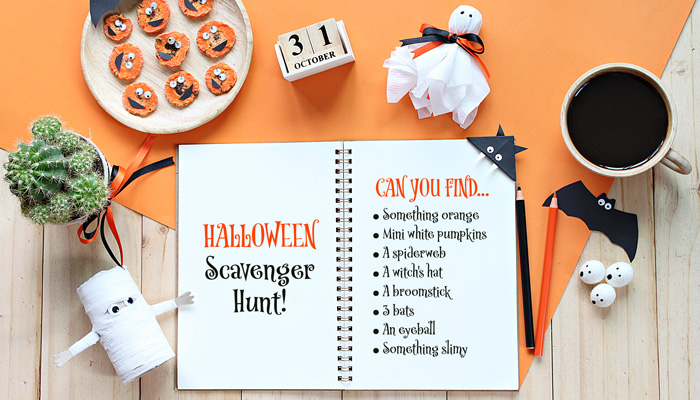 As parents, one of your best-acquired skills is hiding objects from your kids, and one of their best-acquired skills is being determined to find those very objects! Plan out an indoor (or outdoor) Halloween-themed scavenger hunt around your home for a fun way to pass the time while you wait for the treats to bake.
7. Make Slime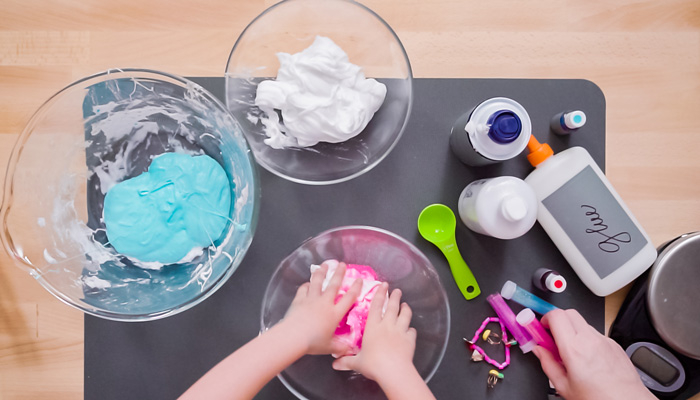 We're not exactly sure why, but kids tend to go crazy for slime, and it's fairly easy to make at home! Just make sure your workstation is fully equipped to handle the mess. Here's an easy, kid-friendly slime recipe.
8. Decorate the House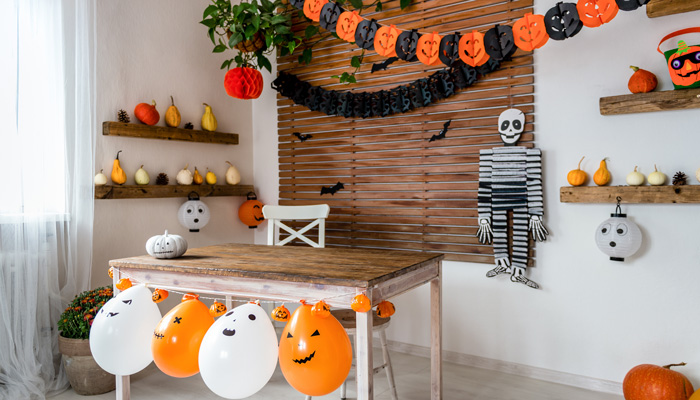 Just because you're not having a party, doesn't mean you can't decorate like you are! It's been proven that decorating brings positivity and excitement among all ages. If you have kids, this is especially important to boost morale. While they won't be able to go trick or treating or visit any spooky haunted houses, at least they will be able to feel the spirit of Halloween in their own home.
9. Themed Arts and Crafts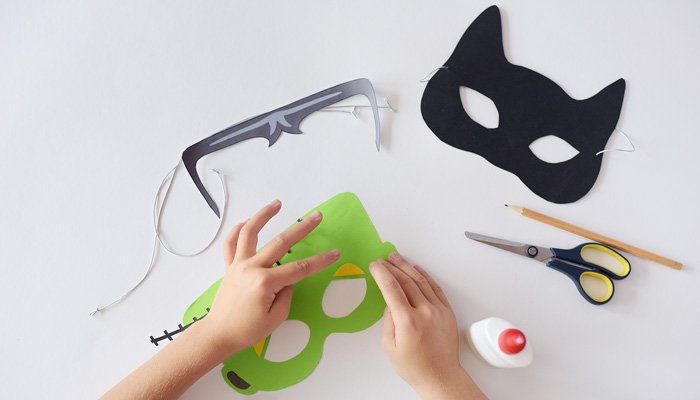 Here's another activity for younger kids, probably ages 5-10. Participating in themed arts and crafts is a creative way to celebrate Halloween indoors. This also ties into making homemade costumes. Children can make masks, and even entire costumes, all from construction paper!
10. Custom Puzzles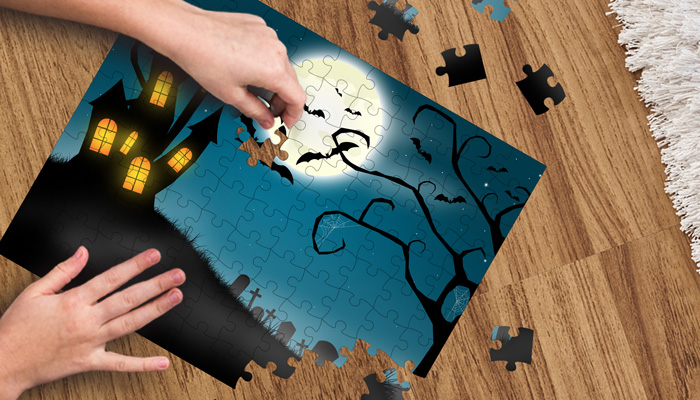 If you're really lacking in creative juices this year, we completely understand. Halloween puzzles are a go-to choice if you want your kids to use their cognitive skills. You can upload any image and order a custom puzzle from our website! We offer both children and adult-friendly size options.
How will you be spending your Halloween 2020? Share in the comments below and let us know if we've inspired you!
Happy Halloween from all of us at GotPrint!