At GotPrint, each and every customer matters to us, which is why we will never compromise the high-quality, friendly service, and competitive prices you've come to expect. As part of our ongoing commitment to meet our customers' needs, we're working on making our website faster, more responsive, and easier-to-use.
You'll find everything you need to order custom marketing materials and signage, including detailed information about our paper stocks, file setup instructions, and useful tips to walk you through the step-by-step order process. We've also put together this overview of our ordering process to help new and returning customers navigate our updated website and place orders accurately and efficiently.
Create an Account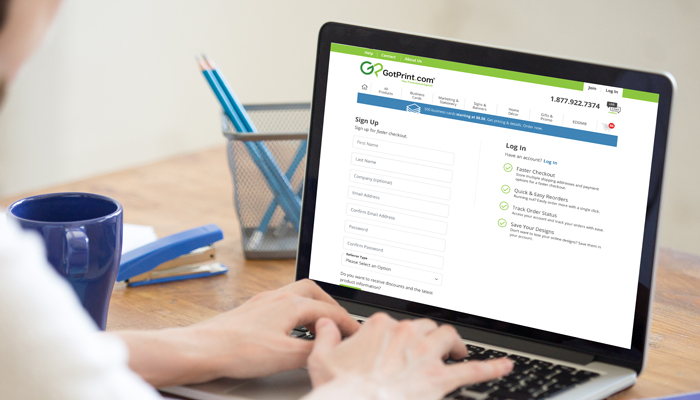 If you don't already have a GotPrint account, we recommend signing up and logging in before you start your order. This will make the ordering process more seamless, as you won't have to stop to create an account or find your password as you check out. Additionally, for some products like photo books, you will need to be logged in before you start designing in order to save in-progress projects to your account.
Choose Your Design Method
We offer 3 convenient ways to order the print products you need. You can upload your own print-ready file, create a design using our Online Designer tool, or work with our talented in-house designers on a completely custom design.
Option 1: Upload Your Own Design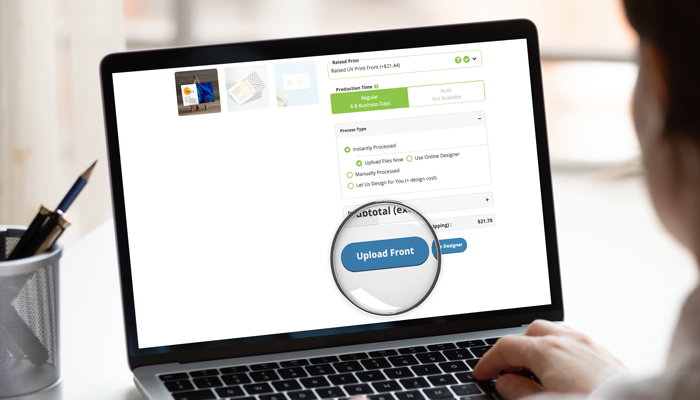 You'll love how easy it is to print your own design with GotPrint! The first step is to determine the ideal size and format for the item you are ordering. If you are ordering brochures, for example, you can see all the available options on our brochure order form. Most products come in multiple sizes and shapes, although a few products (e.g. rack cards) just have one standard size.
Download Templates: Once you know which size and format you plan to order, the next step is to prepare your print-ready file. We have downloadable templates for most of our products – you can download them from the order form (just look for the "Templates" tab) or from our templates page.
Each of our templates is clearly marked with the safety, trim, and bleed lines to help you determine the best placement for your text, images, and other design elements. Double check your final file against our checklist to help prevent printing errors, and make sure to delete the template layer before saving the final design.
Product Attributes: Before uploading your file, make your selections on the product order form. For most of our marketing products, you will need to indicate the size/shape, orientation, and single or double-sided printing preference.
Since every business is unique, we provide a range of paper stocks and materials so you can find the best fit for your brand. Some of our most popular stocks include:
14 pt. Gloss Cover – This card stock has an additional layer of High Gloss UV Coating for a beautiful shine, great color, and extra protection.
14 pt. Uncoated Cover – This card stock has a writable surface and a slightly textured, natural paper feel.
16 pt. Premium Matte Cover – Dull (not glossy) card stock with a layer of Matte Finish for a smooth, silky surface.
24 pt. Trifecta Green with Velvet Finish – This ultra thick, triple-layered card stock has a thick green middle layer and a soft velvety finish.
35 pt. Trifecta Pearl with Kanvas Finish – This ultra thick, triple-layered card stock has a thick pearl middle layer and a canvas textured finish.
38 pt. Trifecta Black with Velvet Finish – This ultra thick, triple-layered card stock has a thick black middle layer and a soft velvety finish.
38 pt. Trifecta Red with Velvet Finish – This ultra thick, triple-layered card stock has a thick red middle layer and a soft velvety finish.
38 pt. Trifecta Blue with Velvet Finish – This ultra thick, triple-layered card stock has a thick blue middle layer and a soft velvety finish.
100 lb. Matte Cover – Lightweight 100 lb. paper with a silky, matte finish.
70 lb. Opaque Smooth White – This bright white, uncoated paper is popular for letterhead, envelopes, and notepads. Compatible with Laser and Inkjet printers.
You can find more information about our stocks here as well as on the "paper stocks" or "materials" tab of each order form. If you want to see and feel our paper and print quality in person, order a free sample kit and we'll send you samples of our bestselling products and paper stocks.
Upload Your File: For some products, like double-sided business cards, you will need to upload separate front and back files, while for other products, like multi-page catalogs, you will need to upload a single file. If a product has specific upload instructions, you will find this information on the template or on the order form.
Production Time: After you've selected your product attributes, the Production Time field will update to reflect how long it will take to print your order. The first day of production depends on when your order is approved and your payment is processed. If your order is approved before 9 AM Pacific Time / 12 PM Eastern Time Monday – Friday (excluding holidays), your production time will begin the same day. If your order is approved after this cutoff, the production time begins the following business day. Any billing issues, file issues, and revisions can delay your order.
If you need your order sooner, rush printing may be available for an additional fee.
Please keep in mind that the production time refers to the time it takes to print your order. The delivery time will depend on the shipping method chosen at checkout. For more information about our production and turnaround times, please visit our website.
Process Type: For most products, you can choose between an "Instantly Processed" and "Manually Processed" order. Instant processing allows you to approve your proof online and is the fastest way to send your design to print. Once you upload your file(s), the design will be displayed onscreen, along with the safety, trim, and bleed guidelines. Take this opportunity to carefully review the design and check for any typos or mistakes – please keep in mind we print files exactly as we receive them.
If you are not sure you've set up your file correctly, you can choose to have your order "Manually Processed" for a small fee. A GotPrint employee will check your file to make sure it meets our print specifications. If the file is ready to print, we will create a PDF proof and email you a link within one business day for your approval. If we find any issues that may cause printing errors, we will notify you so you can make the necessary changes and re-upload your file. Please note that our employees do not check for typos or other text errors.
For multi-page products like catalogs and calendars, Instant Processing may not be available for customers uploading their own files. Rather, you can choose between Manually Processing (free) to get a digital proof for your approval or a high-resolution hard copy proof (fee varies). The hard copy proof is not a sample of the final product but intended for color proofing purposes only. Your file will be printed on poster size proofing paper, rolled, and shipped to the billing address provided.
Estimated Shipping: To learn more about the shipping methods available for a product, expand the "Estimated Shipping" field on the order form and enter your zip code. This will give you a general idea of the shipping cost for this product; the actual cost will depend on the shipping address you provide at checkout as well as the total amount of items within the same order. For multi-item orders, the shipping method must be the same for all items within that order, so to customize shipping methods per product, please place separate orders.
Option 2: Use Our Online Designer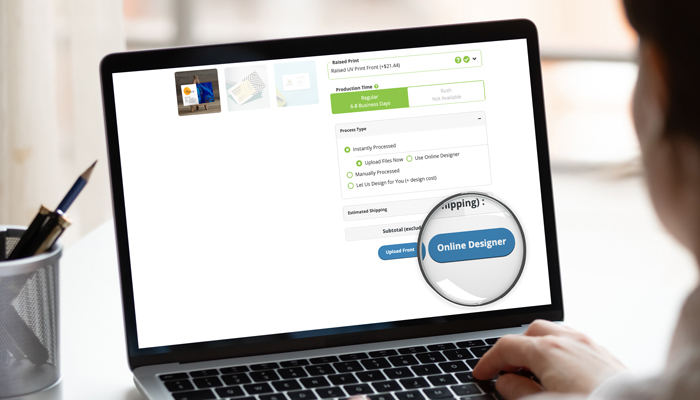 We built our Online Designer tool to make it easy for non-designers and experienced designers alike to create a print-ready file without any specialty software. The Online Designer can be launched directly from our product order forms. First select your desired attributes (size, paper, print type, etc.), then click the Online Designer button. When it opens, you'll see a pop-up asking if you'd like some tips on how to use the program. This quick tutorial consists of a series of pop-ups that point out the various features of the Online Designer. You can also click on the Help button in the lower left corner for additional information.
Business owners can design and order beautiful print materials in minutes by utilizing the general and industry-specific design templates within the Online Designer. Simply double click the template that you'd like to use, then replace the placeholder text with your own. You can even upload your own logo and photos to further personalize each template.
Option 3: Custom Design Services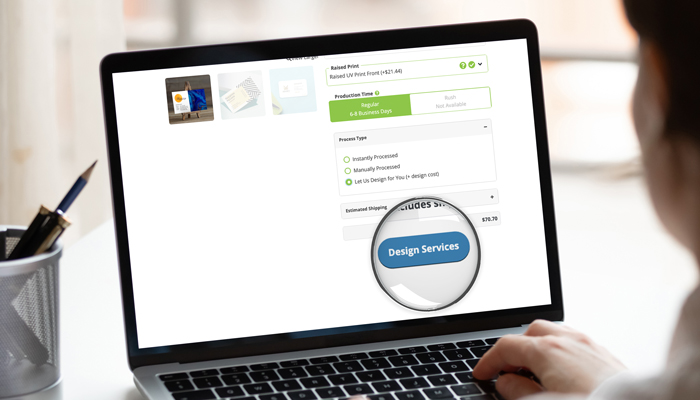 We understand that some customers need one-of-a-kind print products that require advanced design skills. Our expert design team can work with you to create everything from custom business cards to branded outdoor signage. Enjoy all the advantages of hiring a professional freelance designer at just a fraction of the cost!
We have three affordable packages to accommodate everything from simple designs that require fewer revisions to more complex designs, which may require more revisions. Our designers will work with you to come up with a design you love, then send your approved design straight to print.
To request design services, select your desired attributes on the product order form, choose "Let Us Design for You" in the "Process Type" field, and click the "Design Services" button. You will be taken to a new page where you can choose a design package, enter your design instructions and business information, and upload files to use within the design (logo, artwork, images). Add your product to cart, place your order, and a designer will send you an initial design draft within 2 to 4 business days. (Please note that any missing information may delay your draft). Click here for more information about our custom design services and eligible products.
Place Your Order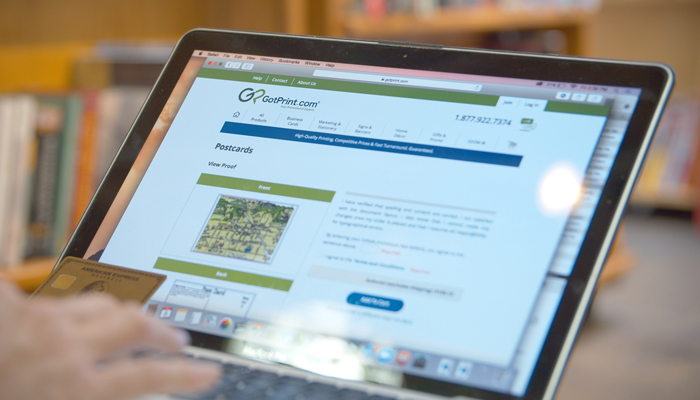 Our straightforward checkout process is designed to get your order in your hands as soon as possible. You can check out as an account holder (recommended) or as a guest. By creating an account, you will be able to save items in your cart if you're not ready to order, and you will be able to reorder previously purchased merchandise as needed.
If you are placing your first order, you will be prompted to enter your shipping address in order to review the available shipping methods. (Once you enter your address, you can save it for future orders.) As we previously mentioned, all items within a single order must be sent via the same shipping method to the same address. If you need to expedite specific items or need to ship different products to different addresses, please place separate orders. We also offer Blind Drop Shipping, meaning we will package your order in a non-branded box, label it with your return address, and ship it directly to the recipient. The final step is to enter your billing and payment information into our secured checkout, agree to our terms and conditions, and place your order!
We Process and Print Your Order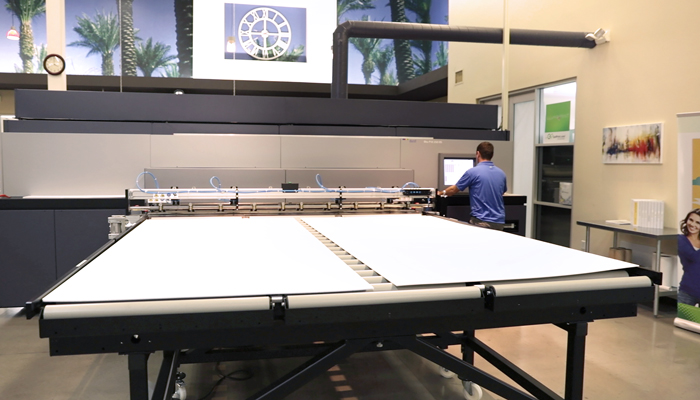 We will begin processing your order as soon as it is placed. If you select "Instantly Processed" during the order process (whether you upload your own file or use our Online Designer), your credit card will be charged once the order is placed, and your order will be sent to print. If you select "Manually Processed," your credit card will be charged once your proof has been created and approved.
Your first order is backed by our 100% satisfaction guarantee, so you can feel confident in trying our services. If you're not quite ready to place a custom order, you can request a free sample kit in the meantime. Each kit contains a selection of our most popular paper products printed on various stocks. Additionally, if you have any questions about our products or services, our incredible customer service team is standing by to help!
Check on Your Order via the 'My Account' Dashboard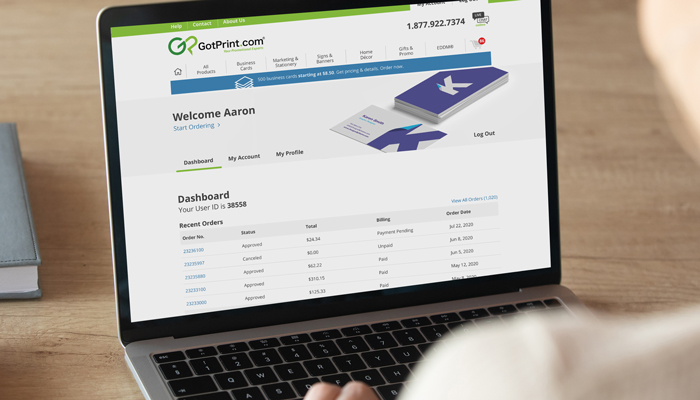 In that limbo of waiting for your order to arrive? You can check on the status by logging in to your account at any time! While it is currently in beta mode, you can now test a new and improved version of our 'My Account' dashboard. With this new update, we've provided users with an upgraded look and feel to bring you an all-around better experience.
The updated layout contains larger text, less clutter, and simplified navigation, to make browsing through your account a breeze. The best part is, thanks to a responsive view, you can now access your account on any device — whether you're in the office or on the go.
The new dashboard is set to officially go live sometime in the beginning of October, but because you are able to test it out now, we'd love to know what you think! Help us improve by sending us your feedback.
---
We hope this has been a helpful breakdown of the ordering process. If you still have questions, as always, our customer service team is here to help you in any way that they can.
Happy ordering!
---
GotPrint is committed to helping those with disabilities access our services. We strive to provide an excellent online experience for all our guests – including those with sight, hearing, and other disabilities. We want everyone who visits our website to feel welcome and to find the experience rewarding, regardless of ability or circumstance.