Never underestimate the time it takes to prepare for your big day. You have a lot to take into account, and a lot to budget. Wedding invitations set the tone for your wedding day, it's no wonder people spend copious amounts of time decided what will go into the design of their invitations.
We're here to help you get your special day off to a beautiful start, well ahead of time. Our expert designers have crafted 9 wedding invitation designs that will help plant the seed for a day you and your guests will never forget. The invitations offer a variety of options that will fit your style and are fully customizable.
These invitations keep all the important details in mind while tying in elegant, unique and sophisticated designs. Each invitation is one-of-a-kind with someone's ideal wedding in mind. These carefully selected inspirations really help you think outside the box so you can "WOW" your guests with excitement and anticipation!
After you've read through the post and are feeling inspired, head to our design gallery page to choose and create a unique invitation all your own, then send them to us to print them on premium, high quality paper. Your custom wedding invitation is the first step in turning your dream-wedding into a reality!
---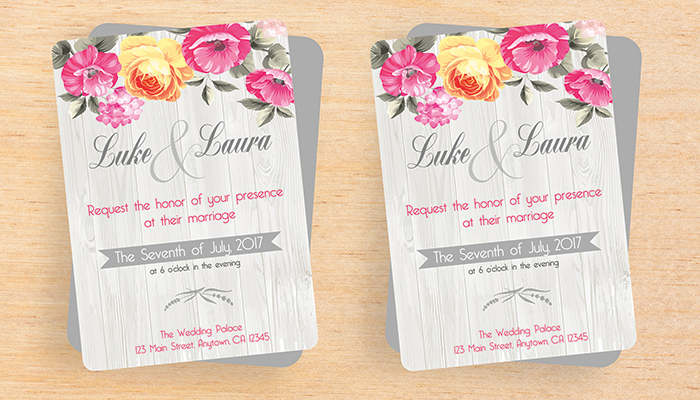 Sometimes a little says a lot, and that's what you're getting when you use this rustic floral design to introduce an elegant, outdoors "secret garden" wedding. The text you see here is simple yet formal, while the colors and design fill the guests up with a warm and inviting feeling. A big smile upon first glance is guaranteed.
---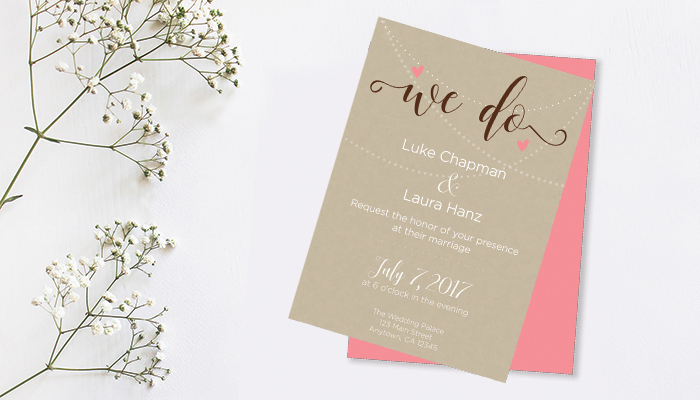 Your quintessential country wedding will be anticipated by everyone on your guest list once they receive this invitation. This design gives a hint of a classy outdoors bash without giving away too much. Whether you plan to have your wedding in wine country or in a whimsical venue tucked away in the countryside, this invitation will make your guests want to countdown the days til wedding!
---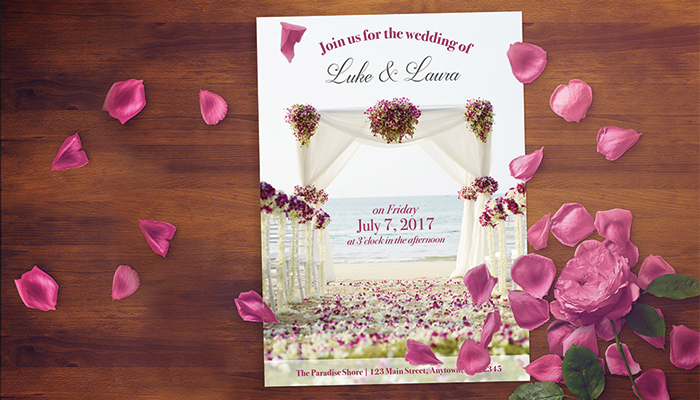 Many of us daydream about the perfect seaside wedding. This invitation relays that daydream to your guests, so that they can share your dream with you! The image in this design gives your guest a peek at the view they can expect at your beach wedding. Just imagining themselves at the ocean front to celebrate your love with an invite like this will, without-a-doubt, make them eagerly await the wedding day!
---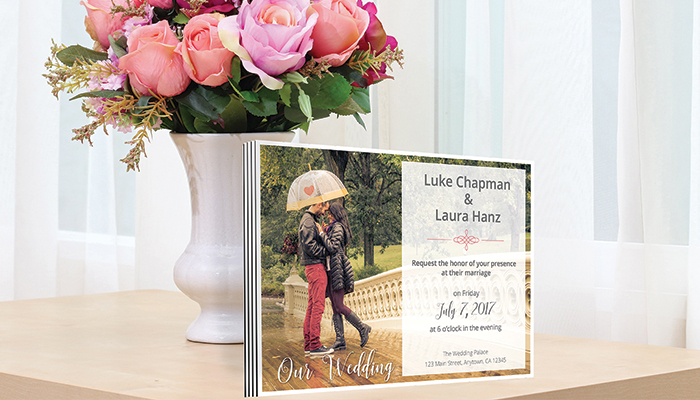 Sometimes we want to keep the theme of our weddings simple, classic and/or formal, and there's nothing wrong with that! With a professional photo design like this, your guests will immediately feel the true love between you and your fiance! With true love that people can see and feel, it would be hard not to get in the right mood to celebrate. Simply replace the photo of the couple with your very own!
---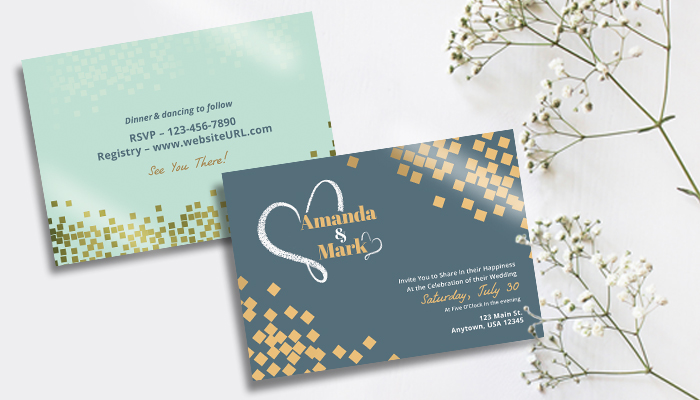 View Full Design – Front | Back
A modern wedding is all the rage these days. If this is your dream theme, these designs are sure to keep your invites looking celebratory and elusive. The gold confetti designs suggest a party to never forget. Your guests will have a hard time saying "no" to this invite!
---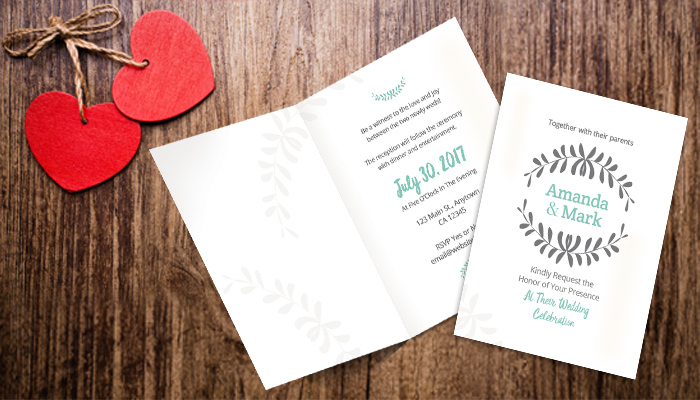 View Full Design – Front/Back | Inside
Planning a seasonal wedding? This minimalistic design fits perfectly into a summer or fall themed wedding. No matter where you're planning the ceremony and reception, these simple designs allude to a classic invitation that speaks of sophistication and elegance. Nothing spells "formal" like an invitation that is clean, simple and pure.
---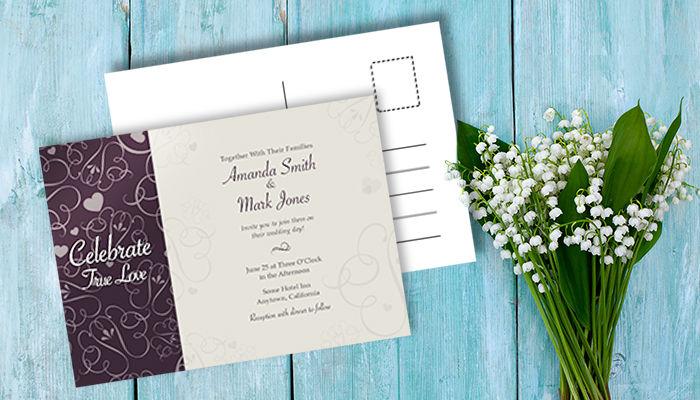 View Full Design – Front | Back
Wedding invitation postcards are very self-sufficient and give your wedding an edge. This design delivers everything you need about your special day while giving you an effective means for delivery. If you're planning a huge blowout wedding, postcards will definitely suit you. Postcards also give you an edge because you can print them on premium thick paper like triple-layered Trifecta, giving your cards extra durability and added beauty.
---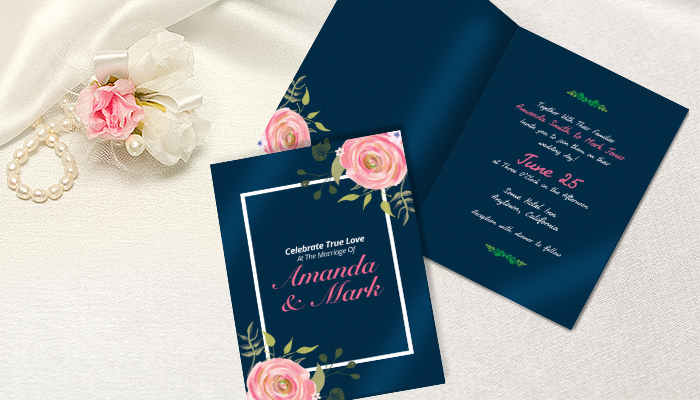 View Full Design – Front/Back | Inside
A vintage wedding is fun for everyone involved, that's why they've grown in popularity over the years. This vintage invitation is the perfect way to start your vintage themed wedding. From the cursive font, to the charming floral design, the invitation itself will bring your guest back to the magical golden day of the past and give them a glimpse of the fun and excitement to come.
---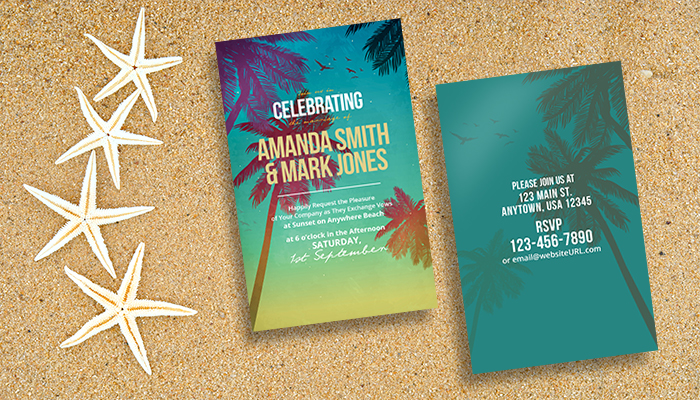 View Full Design – Front | Back
Who doesn't love a tropical getaway? This beach themed invitation does more than state the obvious, the design itself tells the guest exactly the kind of island beach party that's in store for everyone involved. This invite is perfect for destination weddings that take you away to a magical place full of sunshine and sand. The palm trees and color scheme do a good job at whisking your guests away to your paradise wedding.
Do you have any wedding invitation tips or inspirations you'd like to share with us? Tells us in the comments!