If you are familiar with the practices and details that go behind running a political campaign, you are well aware that it is a rigorous roller coaster. Campaigning can become increasingly challenging and stressful, especially if you don't have enough materials or manpower. While planning rallies and elegant events can pull in supporters and voters, it's important to be able to reach a wider base of people, especially if public gatherings aren't ideal in certain circumstances. A more cost-effective method of political marketing can be done through prints, signage, and promotional materials. This is where your promotional experts come in!
Whether your campaign is for a local or larger scale election, let us help you with the ultimate guide of print materials you need to gain traction for any political campaign.
Postcards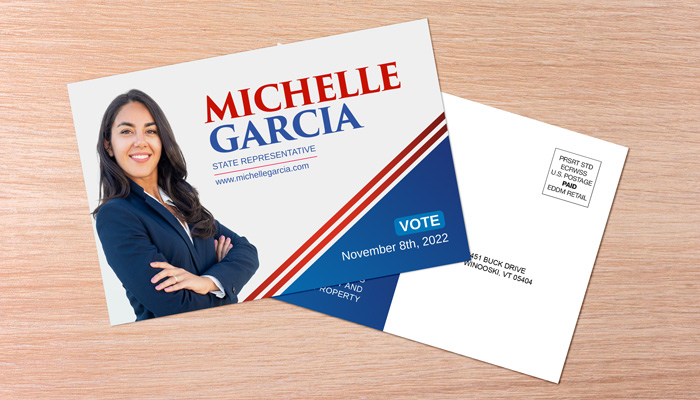 Postcard mailers are a great way to gain support and visibility for a campaign. With services like EDDM (Every Door Direct Mail), you'll be able to target specific areas needed to garner the attention of prospective supporters.
Business Cards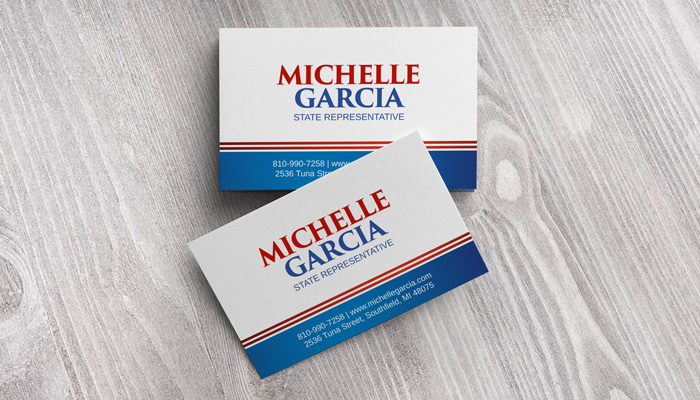 Business cards are ideal to have at all times during networking events. It's a given that the candidate running should carry these around with them, but business cards will also be handy for campaign staff members who canvas areas and attend events.
Yard Signs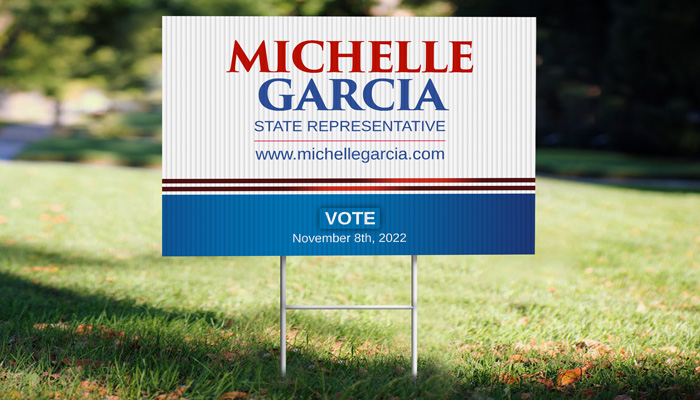 Yard signs are a must for any campaign strategy and are most commonly associated with elections. They are often seen propped up anywhere from the grass of your local park, to your neighbor's front lawn. Have you ever wondered why that is so? Not only is this printed tool a good way to attract attention and build name recognition, but it also reminds and encourages people to go out and vote!
Letterheads & Envelopes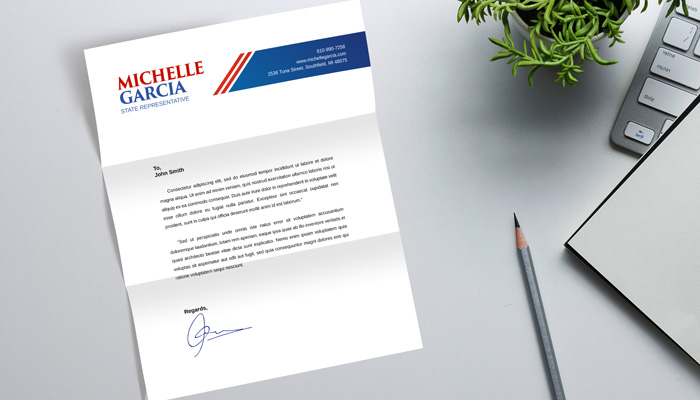 Personalized letterheads and envelopes are the keys to convey professionalism via mail. Though you may be sending out emails to an ever-growing subscriber list, it's essential to have these branded products on hand to send out official letters via traditional mail. Both our envelopes and letterheads are printed on 70 lb. smooth white paper and are compatible with inkjet and laser printers. Tip: Matching your letterhead design to your envelope will give a uniform and sophisticated touch to every letter.
Posters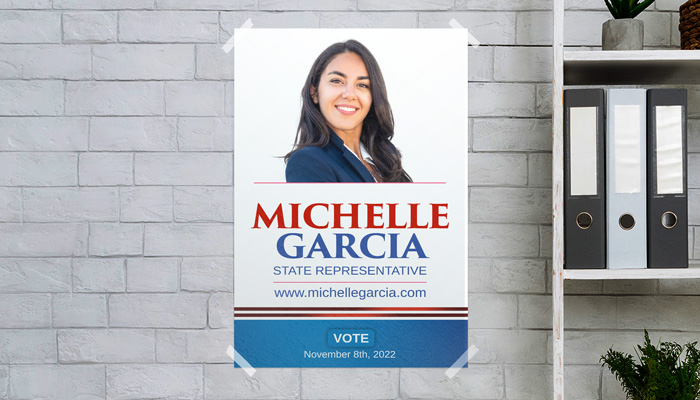 Printing posters are a quick and easy way to cover the bases of local hangouts or any public location that welcomes a display of signage. These are affordable tools that will attract the attention of passersby in any direction.
Car Magnets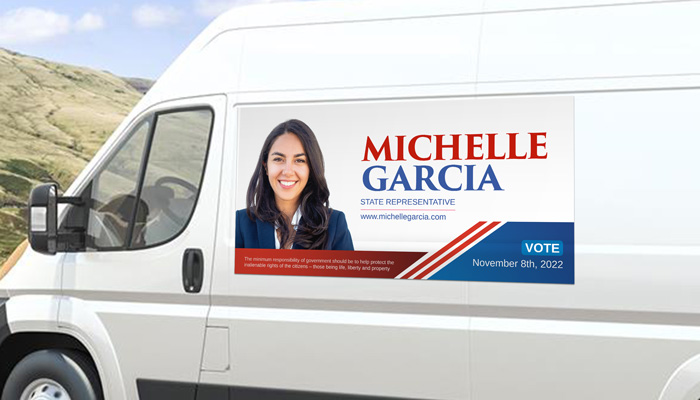 Advertise on-the-go! Campaign strategies are just another form of marketing. Printing visible car magnets to display on a vehicle will allow your candidate's name and face to be seen anywhere the car goes! This is particularly effective in traffic, where people are inclined to see what's around them while parked in bumper-to-bumper traffic.
Banners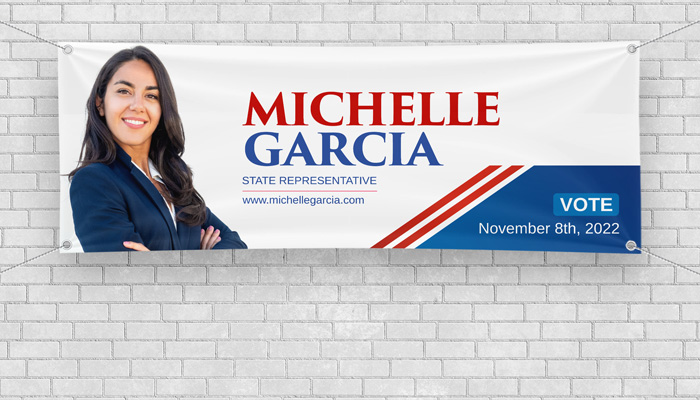 Banners are best used at special campaign events. Because they are reusable, they are proven to be cost-effective and can be carried around from event to event. If you're looking for a banner that doesn't need to be hung, we also offer retractable banners, which come with their own easy-to-assemble display.
Foam Boards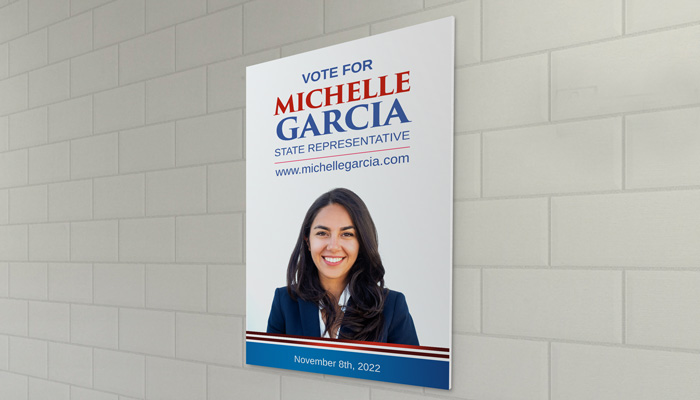 Also a viable reusable sign, foam boards are lightweight and easy to carry from location to location. You can either display them on some sort of easel or mount them to the wall for more permanent use.
Window Decals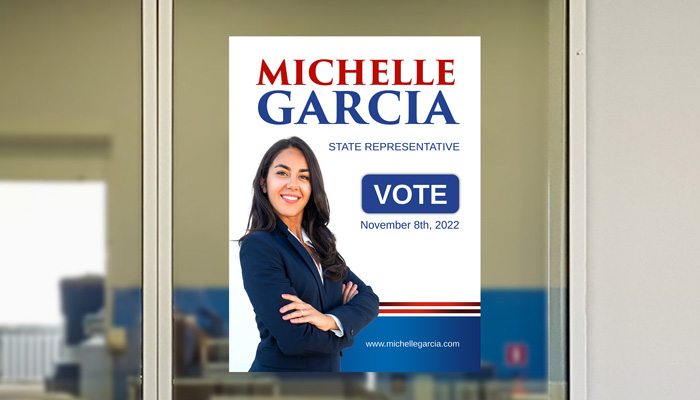 Displaying window decals strategically around your campaign headquarters and businesses that endorse your candidate will help you make a big statement without making a large financial investment. For maximum impact, make your decals noticeable and colorful and include an attention-grabbing message. We also offer other types of window signage, such as window clings and window perfs.
T-shirts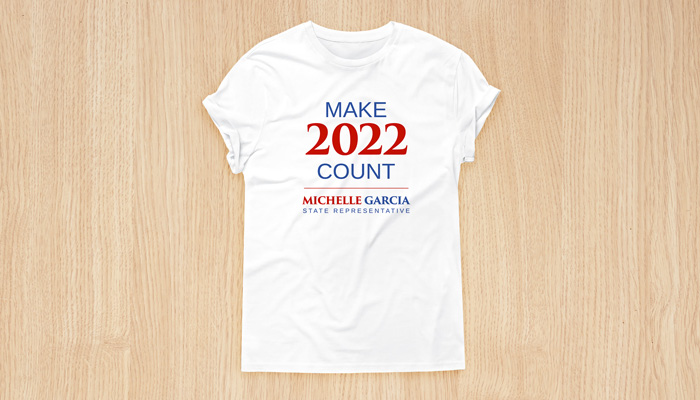 Print t-shirts for your staff or as a promotional item! If you're considering handing these out or selling them to supporters, we suggest commissioning an artist to design a t-shirt that's eye-catching and reflects the values of the candidate running.
---
Keep in mind that with all of these printed materials, it's important that you have a cohesive message and a clean, yet eye-catching design guide throughout everything you print for a given campaign. Consistency is key and will allow potential voters to develop a memory of the candidate running.
With access to affordable printed materials in just a few clicks, we're confident that you'll be able to carry out a successful political campaign.