There's a lot of uncertainty involved with the year 2020. From both the perspectives of an individual and a business, we're all living through a time where we've seen, firsthand, that we must be ready to adjust or shift to a "new normal" on a day's notice. Businesses, primarily those of a smaller scale, have especially had a difficult time trying to maintain steady revenue. One of the most important questions you might be asking yourself during this time is, what is the best way to reach out to customers?
Have you ever considered printing mailers to promote your business, such as postcards? In the age of social media, you might be asking yourself, what's the point of mailers? Well, the attention span of people browsing through an online feed is far shorter than those sifting through their less saturated pile of mail, so you can assume that your mailer would be more visible than your business's Instagram story.
You also may have seen a slight fear revolving around mail and packages during this pandemic. Because of this, you might be thinking, why would I send my mailers out if this is true? Fortunately, with most people turning to the CDC for guidance, CDC.gov directly advises the best way to handle anything being delivered to a person, including mail:
After receiving your delivery or bringing home your takeout food, wash your hands with soap and water for 20 seconds. If soap and water are not available, use a hand sanitizer with at least 60% alcohol.
After collecting mail from a post office or home mailbox, wash your hands with soap and water for at least 20 seconds or use a hand sanitizer with at least 60% alcohol.
Mail and delivery couriers are also required to follow strict guidelines when handling and delivering mail and packages.
Simply put, don't be afraid to use mailing services to increase your marketing efforts! We offer affordably priced packages, giving you a breakdown of cost based on the quantity of items ordered and postage rates, and give you clear instructions on how to order. We even provide templates so that you can accurately provide design files based on USPS® guidelines. In this blog, we discuss 3 different products – Postcards, Brochures, and Letterheads – that can be printed and sent out via GotPrint's mailing services, and how each one can be used as an effective marketing tool during this time. 
Postcard Mailers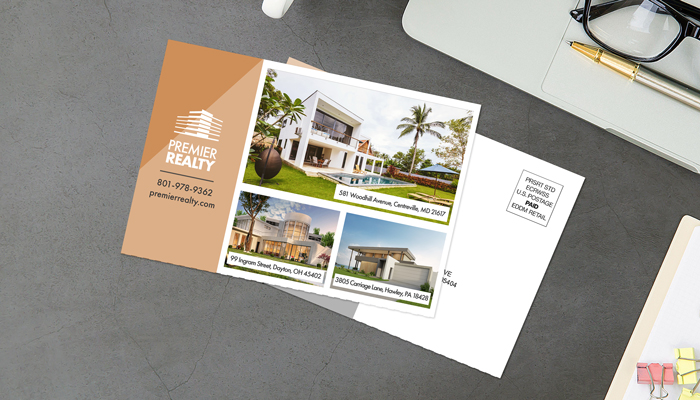 Postcard mailers are considered a classic form of advertising. Some might argue that they are not as relevant anymore, but we disagree! 
For instance, in the world of real estate, always, and even more so during the current climate, consider mailers as your trusty sidekick. Sure, you still have the power of the internet, and most likely the visible signage displayed outside of your listing. These resources will get your listings some attention. However, consider this: many people are still social distancing, working from home, and only going out to run necessary errands, so while a sign will attract some attention, it may not be as effective as it normally would be. As far as the internet, it's safe to assume that people aren't necessarily going out of their way to purchase new property or even browsing what's on the market, given the economic uncertainty of the remainder of the year and the months to follow. In our opinion, currently, the most effective way to market your listings and reach out to more potential buyers would be to drop the information right under their noses — via mail! Your postcard mailer should at the very least contain pictures of your listing(s) some key selling points, a link to your website, and even directions on how people can sign up for any upcoming virtual open houses. It's time to structure your marketing efforts differently, even if it's only for the time being. The best way to do that is by reaching out to clients directly. 
Keep in mind that even essential businesses are not immune to difficulties during this time. As most business owners in the food and beverage industry can attest to, even though the business is considered essential, it's difficult to try to maintain steady revenue during a pandemic. Are you currently offering some sort of special discount? Send out an appealing postcard to advertise that! In reality, postcard mailers are a versatile tool, as they can be utilized by any business that wants to get a quick point across, regarding a sale or special services, to all potential customers.
Pro tip: Include a coupon specifically to include on your mailer so that you can track
Brochure Mailers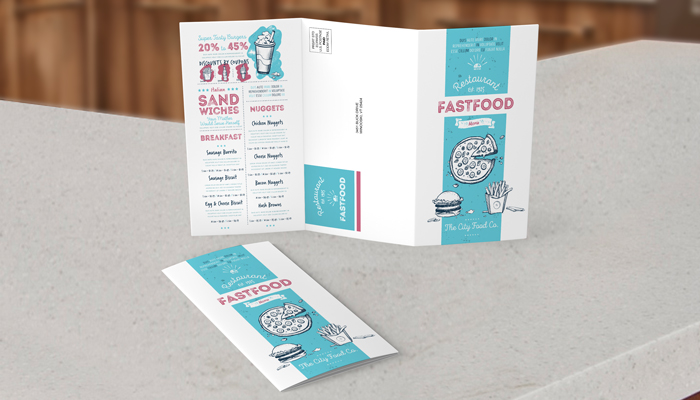 Brochure Mailers are best if your business has services that they can offer to the person or entity receiving the printed material.
If you're in the restaurant industry — this one's for you! Yes, people are eating at home much more now, either because they can't go out, as dining options are scarce, or simply because they don't feel comfortable going to restaurants just yet. That doesn't change the fact that they are probably missing dishes from their favorite restaurants and even the experience of trying new places. Not to mention, it's also extremely exhausting to cook all your meals, every day, especially if it's not a routine that people are accustomed to. With all of this being said, as a business in the restaurant industry, now is your chance to get your name (and your takeout menus) out there! 
A trifold brochure gives plenty of space to list menu items, provide information about your restaurant, including your efforts to prevent the spread of COVID-19, and share special offers to encourage ordering. Make sure the design is clean, yet appealing. Adding professional photos of your most popular dishes will be a bonus. Pro tip: Include a coupon that is exclusive to the customers that will receive this menu, so that you can track which orders are coming in from your mailer.
For pricing, additional sizes, and to learn more on how to place an order for brochure mailers, head to our website.
Letterhead Mailers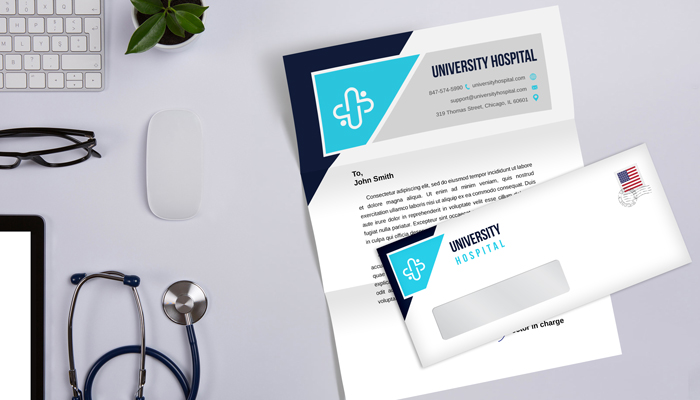 In our opinion, letterheads are an underrated mailing product. They offer a sense of professionalism, more so than a mass email, and are more likely to grab the receiver's attention. To put it into perspective, what would you say is more memorable, receiving a university acceptance letter via traditional mail, or email? We can bet that you probably chose the former, which just proves our point! Letterheads are ideal if you're looking to send out a general message to a specific group of people, such as your client list. As a business owner, it would be in your best interest, and a kind gesture to send out a personalized message during times of uncertainty, especially if your business can offer some sort of assistance during this time. 
If you own a local healthcare clinic, you might be wondering how to let both regular clients and locals know what services your facility can provide regarding COVID-19. An informational, yet personalized letter that highlights these points, while offering words of encouragement and general tips on how to stay healthy, are all you need to include in your letter.
---
Don't know where to start? Visit our website for all the information you'd need on our mailing services, including steps on how to place an order, and how to design your mailer so that it follows USPS® guidelines.
Let us know in the comments below, which type of mailer do you plan to send out? Have you sent one out before?