How did we find out about anything before the internet? It might be hard to remember, but the signs are still there. Stores, cars, laptops, signs, products, you'll find them on almost anything – I'm talking about stickers! Custom stickers are fun and have remained a favorite knickknack for so long now that we don't even realize these gems are actually a key player when it comes to brand marketing.
If you've been overlooking these resourceful items, this list will give you fresh ideas on how you can use the power of sticker marketing to make your stickers, stick! They are the secret to making your brand go viral within minimal investments. Make them funny, memorable, or creative, and you'll have a loyal following in no time.
Trust
Have you ever seen a familiar sticker and took comfort in its presence? For instance, maybe you're checking out a restaurant and you see a sticker of a brand you love. It gives you reassurance that you're in the right place because the brands you associate with have marked their approval somewhere. The goal here is to get to a point where people have that assured feeling in your brand simply by the presence of your sticker.
A place that is renowned for this is Wahoo's Fish Taco, a California-based restaurant that is adorned with stickers from hip skateboard and surfboard companies. If you want any kind of recognition as a skate or surf brand, your stickers will probably make their way to Wahoo's at some point.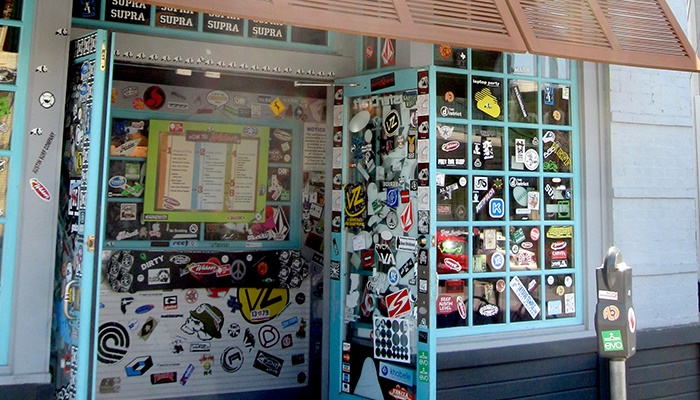 Stickers can also be a subtle means of endorsement. Your company or brand's custom stickers can do wonders for you in places while you're not there. In that sense, you'll always have a presence and a way of being introduced to multiple people indirectly. This is a simple solution in terms of your advertising efforts. Sticker's are less abrasive than other forms of print marketing, mainly because they have a sleek disguise. In the end, people put trust into items they can have a tangible connection with, and that's why stickers are your best friend.
Value
We see stickers as a form of gifts in our everyday lives. They are sold in markets, arcades, as souvenirs and in retail stores. A well designed sticker is held high upon receiving it. You don't need a large budget to ensure quality in your stickers. All it takes is a creative, clever design to create buzz and viral interest in your company, brand, and/or message. Stickers also bring value to your brand because people identify with a brand more if there is some sort of involvement to sow the feeling that they are part of something important.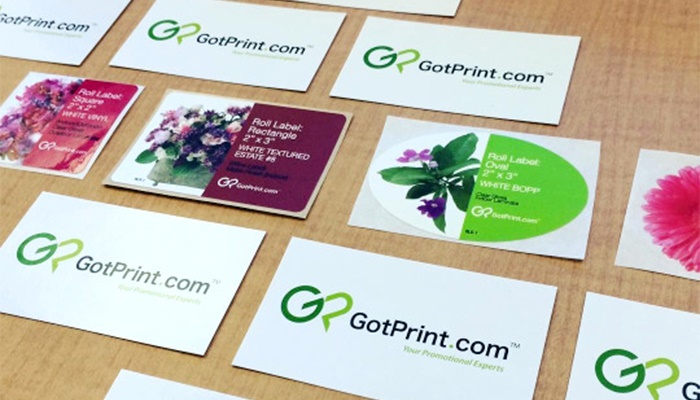 Many of us are familiar with the tennis shoe brand Vans. Anyone who purchases a pair of shoes from Vans can expect a distinct skateboard shaped sticker that has the company name and logo displayed. This is one reason why we are so familiar with the brand and their logo "Off The Wall." People stick the stickers on their skate and surfboards, cars, notebooks, and anywhere else to endorse their love for the brand. It's no wonder big brands went viral so fast!
Here are some ways you can add value to your custom stickers:
Give a pack of stickers to well-known local shops and restaurants so that they can offer it to their customers for free.
Die cuts – Different shapes will make your stickers memorable.
Appropriate sizing – Choose from a variety of sticker sizes and orientations.
Include a sticker every time a customer purchases one of your products or uses your services.
Placement 
Impressions are about what sticks in a person's mind. A unique design only does half of the job. Your designs can be completely elaborate, or extremely simple, but if you don't stick them in the right places, they will probably get overlooked.
It's important to think outside-of-the-box when it comes to the placement of your stickers. Even more so, you'll want to order stickers that serve a specific sticking purpose.
Smaller stickers are easy to give away as freebies and more than often are utilized as a decorative add-on to enhance items and accessories. Ordering different sizes is always a smart move because it increases the possibilities of places your stickers will appear.
Another benefit is that it takes away some of the promotional control on your end by letting other people stick it wherever they like. This creates a larger sense of exposure and interaction on the customer's behalf.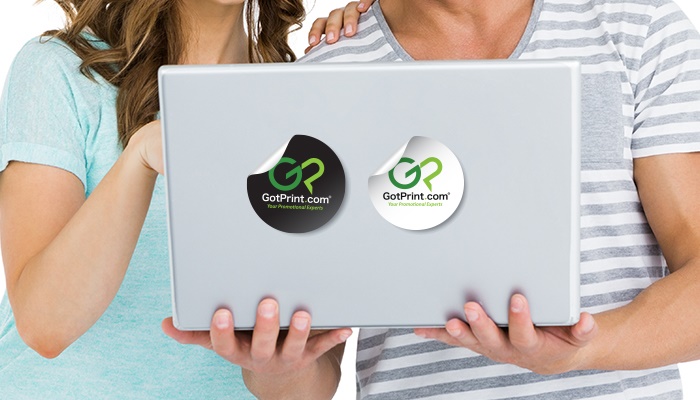 Here are some other places that will make your stickers stick:
Product cases
Promotional products and packaging
Local neighborhood shops
Events
Restaurants
Retailers
Repetition
Once you've settled on the best placement for your stickers, the next step is to hand them out to everyone and to stick them everywhere! This step is anything but challenging, it's the fun part of your sticker marketing efforts. Once your stickers are out there, all you have to do is sit back and watch your brand exposure grow.
"With stickers there's a low initial investment but no recurring fees for repeated exposure from the display of a well-done promo sticker. The right message, layout, and plan can pay off handsomely in word-of-mouth and free on-going marketing." – Jeff Nicholson, "Stick This! Using Promotional Stickers to Build Identity, Create Word-of-Mouth, and Grow Sales."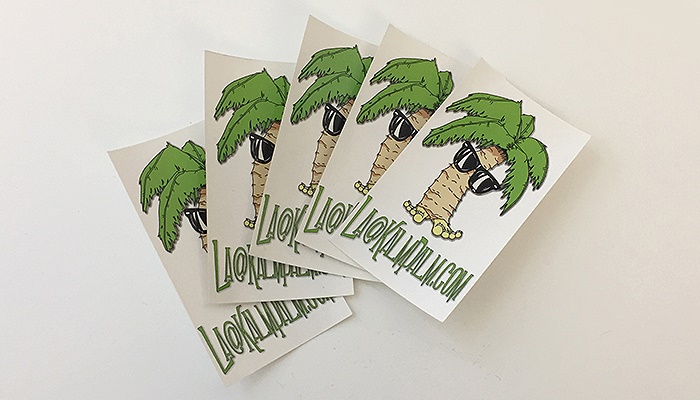 Has sticker marketing helped the growth of your brand? Let us know in the comments some other ways that stickers have worked for you!