Whether you realize it or not, there are signs everywhere. We mean this in the most literal sense. We look to signs for guidance daily in places like parking structures, highways, offices, and even event venues, but we also look to signs for inspiration via advertisements. Signage plays a significant role in marketing. Even if your marketing budget isn't big, it's important to consider affordable custom sign options that often get overlooked. A prime example of this is custom Cardboard Signs!  
When you think of cardboards, your mind most likely gravitates toward brown cardboard boxes. In reality, cardboards are actually an eco-friendly and wallet-friendly sign option. GotPrint's custom Cardboard signs contain a white base with two corrugated core color options – white and kraft (brown) in either ¼" or ½" thickness. We offer a wide range of small and large sizes in 14 different shapes, such as rectangle, square, rounded rectangle, rounded square, circle, oval, star, octagon, half circle, arch, half arch, house, and even apartment! They are best for indoor situations but also can be used outdoors temporarily, depending on weather conditions and the environment. This material is 100% recycled and lightweight, so they are the perfect choice if you're looking for temporary, yet high-quality promotional signs. Corrugated cardboard signs are ideal for several different projects in both professional and personal scenarios.  
Here are just some creative uses for Cardboard signs:
1. Professional Presentations
In business meetings, Cardboard signs are ideal for displaying things like visuals for quarterly reports, pitch ideas, and so on. You don't have to spend an arm and a leg to make your presentation look put together, and you won't feel guilty for using it only once. Impress your boss or manager with the right printed materials. For presentations, we recommend sticking to a classic sign shape, like rectangles and squares, and sizes large enough to display charts, graphs, data, etc so that your audience won't have a hard time viewing your boards from their seats.
Order 18″ x 24″ Rectangle Cardboard Signs
Order 20″ x 30″ Rectangle Cardboard Signs
Order 24″ x 36″ Rectangle Cardboard Signs
Order 23″ x 23″ Square Cardboard Signs
Order 24″ x 24″ Square Cardboard Signs
2. School Projects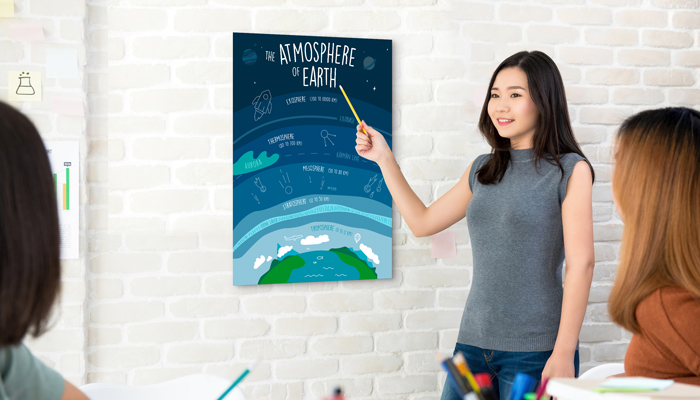 Remember the days when we used to buy blank boards at stores like Staples, Office Depot, and Hobby Lobby? Sometimes we'd even leave it until a night before the project was due (cough.. guilty!). Perfect for book reports, science project information boards, and more. Instead of writing everything manually on a board from your local office supply store, you can plan ahead with a digital design of what you'd like to showcase for any school project. Nowadays there are free and user-friendly design platforms, such as Canva, where you can create a print file from scratch, or modify one of thousands of templates. In fact, if you want to create and print in one place, GotPrint.com even has a user-friendly online design tool you can use to create your files. Keep in mind that you'll only be able to print your school project on a cardboard sign if you're ahead and done before the due date – so don't procrastinate!
Order 20″ x 30″ Rectangle Cardboard Signs
Order 24″ x 36″ Rectangle Cardboard Signs
Order 24″ x 24″ Square Cardboard Signs
Order 22″ x 28″ Half Circle Cardboard Signs
Order 24″ x 36″ Half Arch Cardboard Signs

3. Indoor Promotional Signs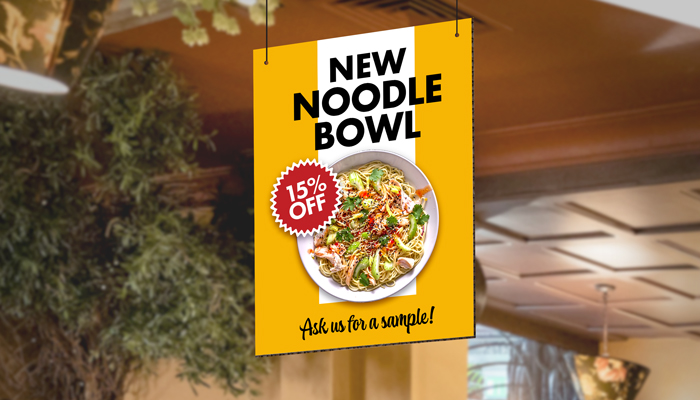 Whenever your storefront has temporary promotions, such as a flash or holiday sale, you'll need signage to advertise special offers in your store. Not only will custom signs bring patrons into your business, but they'll also entice them to stay and buy your products or services. If it weren't for signage, you'd have to rely on word of mouth to notify people of special promotions. This way, your signs will do the talking for you. Cardboard signs are even practical for food establishments that plan to launch new or limited-edition menu items.  
Order 18″ x 24″ Rectangle Cardboard Signs
Order 23″ x 23″ Circle Cardboard Signs
Order 20″ x 20″ Rounded Square Cardboard Signs
4. Temporary Parking Signs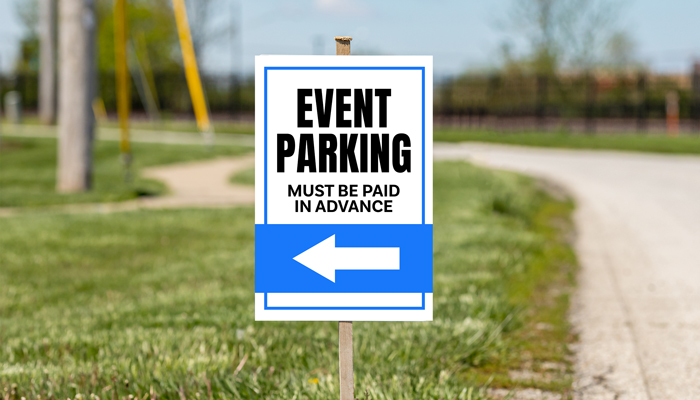 We see this often in front of construction sites or where special events are taking place – temporary "no parking" or "parking here" signs that are printed on regular paper or handwritten in permanent marker using cheap board material. If you only need parking signs for a day or so, a cardboard sign is the better alternative for these types of scenarios. Instead of printing on regular printer paper and having the sign potentially fly away, a small Cardboard sign can be attached to a tree, lamppost, stake, or wall. 
Order 10″ x 12″ Rounded Rectangle Cardboard Signs
Order "11 x 14" Rectangle Cardboard Signs
Order 12″ x 16″ Rectangle Cardboard Signs
Order 18″ x 24″ Arrow Cardboard Signs
Order 23″ x 23″ Octagon Cardboard Signs
5. Branding Signs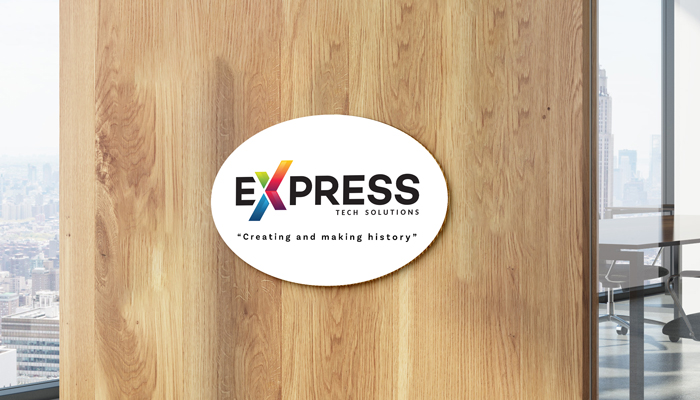 In scenarios where you're hosting a pop-up shop in a local community, have a booth at a convention or trade show, or have just moved to a new office, displaying your logo on a Cardboard sign is your solution for quick and simple branding. Our unique shape selection will help elevate your logo design. It's important to display branding anywhere your business is located, so even if you're on a tight budget, affordable cardboard signage will effectively market your brand without digging a hole in your pocket.
Order Oval 16″ x 23″ Cardboard Signs
Order 18″ x 18″ Circle Cardboard Signs
Order 9″ x 24″ Rectangle Cardboard Signs
Order 9″ x 18″ Half Circle (Short) Cardboard Signs
6. Welcome Signs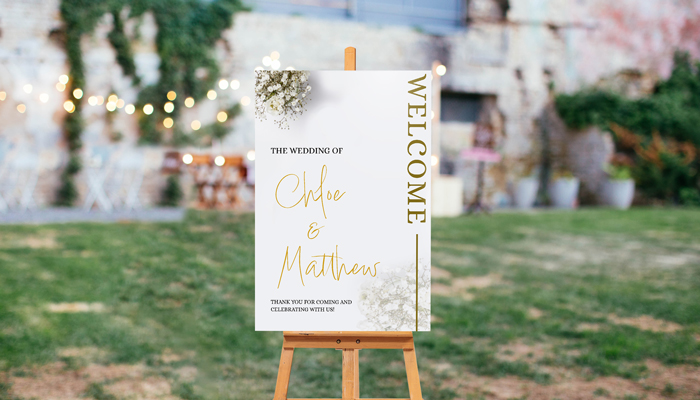 Welcome signs are essential for any event – company parties, baby showers, and weddings alike could all use a welcoming message at the venue entrance. A Cardboard sign is the perfect sign type for this if you're looking for something affordable, yet durable. Once you're done using your custom sign, you can throw it in the recycling bin guilt-free or save it as a keepsake. Bonus tip: If you plan to keep the sign – As a fun party exercise, leave a permanent marker by the sign and have guests handwrite quick notes.
Order 18″ x 24″ Half Circle Cardboard Signs
Order 20″ x 30 Half Arch Cardboard Signs
Order 18″ x 24″ Rectangle Cardboard Signs
Order 24″ x 24″ Rounded Square Cardboard Signs
—
We've shared with you just 6 ways you can use cardboard signs, but in reality, there are multiple creative uses for corrugated cardboards. You just have to think outside the (cardboard) box.
Shop All Custom Cardboard Signs
Have you printed a project on a Cardboard sign? Share your photos and tag us on social media! @GotPrint