Delivering direct mail to your target audience is a crucial marketing move for your real estate business. In fact, a study shows that 56% of customers find print marketing to be the most trustworthy mechanism.1 Postcard flyers for your real estate business are staples for exposure and for developing an increased steady flow of business.
They are extremely easy to make, non-time consuming, and very affordable. Giving your audience something tangible to hold onto will do wonders for your clientele, along with proven results.
These 10 effective direct mail postcard marketing tactics for real estate aim to help you get started on the right path to a success-driven campaign. Following these tips will help to ensure direct mail marketing success not only to bring in more clients, but to keep them dedicated to your services.
1 – The Use of Powerful Imagery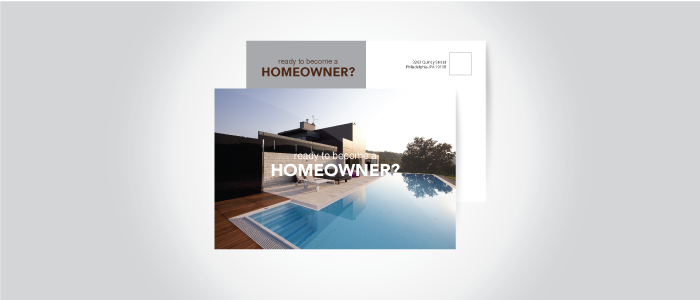 We cannot stress how important photos are to your postcard flyers. The photos need to be clear, captivating, and in high quality.
The more professional and attention-grabbing your photos are, the more likely that people will hold onto your postcard longer.
A chunk of your targeted audience may not be looking to buy or sell their homes right this moment, however, if you provide them with a postcard that features a beautiful photo of a property you've sold, they will be more inclined to pin the card onto their fridge or at least hold onto it.
A photo can say 1000 words so be vigilant about printing property photos that are professional, relevant, and attractive to the eye.
When it comes to advertisements, people certainly "judge a book by its cover." So use that to your advantage!
2 – Strong Messaging
One powerful statement or call-to-action can be far more effective than a long description or a lengthy bio.
Most people don't have much time or simply don't want to spend their time reading something lofty. However, the right line could be enough to ignite an interest inside anyone.
Make it big and bold.
Make it assertive and enticing.
You want your message to create top-of-mind awareness. The message should be powerful enough so that your name will be the first one they think of when they are in need of real estate services.
It's obvious that unless an advertisement pertains to something of interest to the target audience, they are more than likely to throw away your postcards.
This is why it is extremely important to offer them something of value. W.I.I.F.M stands for "What's In It For Me?"
Don't try to sell anything on your postcards. It's not a sales pitch.
Use it as a tool to generate buzz about your name and your services.
Address a specific need.
Show reasons as to why your service will be of value to your customer.
Prove to your customer why your services will make their life better.
The stronger your postcard's value proposition is, the harder it will be for them to resist reaching out to you.
3 – Consistent Delivery and Frequency
A one-time round of delivery is not consistent enough for your direct mail to make a lasting impression. You want to give those who threw out your postcard the first time, a chance to decide to keep it the second or third time.
Perhaps they weren't looking to buy or sell a home that first time, but in a couple of months, things could change! Consistency is key.
According to the marketers at IWCO, a tested and proven theory states that direct mail sent at the end of the week is the most effective for delivery, because people are more likely to go through their mail over the weekend time.
Aim to schedule your postcard deliveries closer to the weekend in an effort to push your mail to the top. 2
This tactic also plays a role in the top-of-mind awareness strategy we mentioned before, because consistency jolts the memory.
4 – Specialize In Small Geographic Locations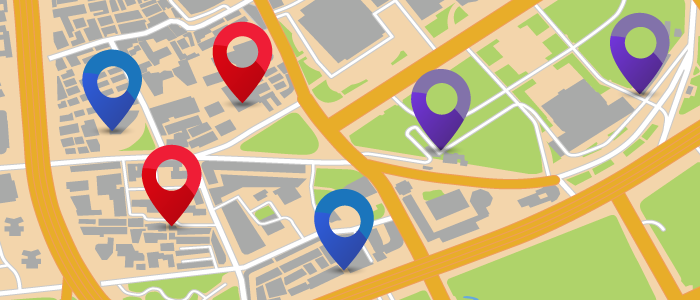 Pursuing a small geographic location persistently is bound to leave a mark. Communities tend to enjoy business from those they can trust and rely on.
By showing these communities that you know their location from the inside-out, how can they resist choosing you over someone unfamiliar?
Niche marketing is a proven tactic used by the pros. Targeting small areas and groups make your services more personal and easier to engage with customers.
This tactic also plays into top-of-mind awareness because you'll be the first person they will call whenever any real estate needs pop up, as long as you show them that you are dependable.
5 – Paper Quality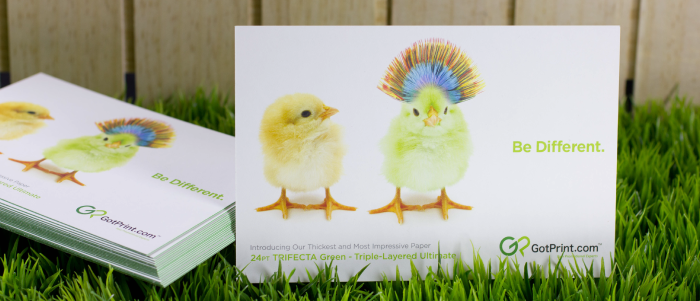 When it comes to choosing a paper type for your cards, you have the option to choose from glossy or matte. Both will benefit your advertising efforts in different ways.
The glossy option is an excellent choice if your content is mainly photographs. The gloss will help make the colors in the images vibrant and attractive.
The matte option is more ideal when using subdued colors and if you care more about the messaging rather than the photographs.
Don't overlook the thickness of your postcard either. It's worth it to put the few extra dollars into printing your postcards on quality paper stock.
Most people will choose the standard 100lb thickness to mass produce their flyers at a cheap rate. Many don't realize that it only costs a little more to print on 16pt, a heavy card stock that will guarantee durability and a longer life-span.
Show people that you put effort into your postcards, they will be naturally more attracted to a flyer that is well-made vs. one that is cheap and forgettable. These minor changes will help make your postcards stand out in the mailbox.
6 – Paper Size
Once you've decided on your paper type, it's important to choose your size wisely. If you're not familiar with EDDM (Every Door Direct Mail) already, you should be. It is:
An efficient way that USPS can deliver your direct mail marketing to a neighborhood region without the need for individual names or addresses.
Requirements: mail pieces must be flat-sized and no more than 15" long or 12" high or .75" thick, and no less than 11.5" long or 6.125" high or .25" thick.
GotPrint offers postcards in sizes that fit the USPS EDDM regulations to make your postcard design process simple.
Always keep in mind that the standard size isn't always the best option. You want to be creative with your postcards by making them unique and interesting so that you stand out from your competition.
7 – Seasonality Matters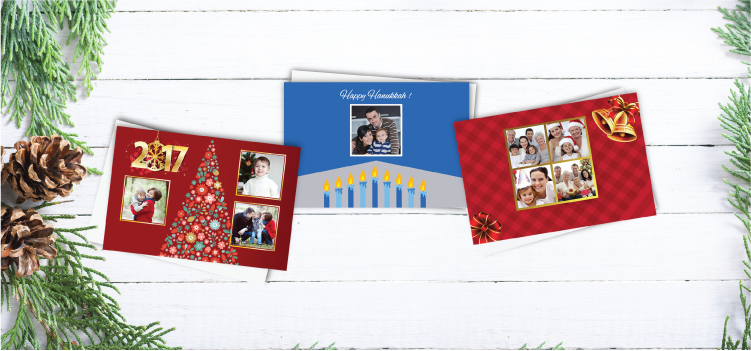 Turn your postcard into a holiday card. Wish your audience a "Merry Christmas" or a "Happy Halloween." Let them know you are thankful for their business during the Thanksgiving season.
Include some photos of beautiful summer homes you have listed in your postcards for the Summer season and gorgeous secluded cabin getaway homes during the Winter.
You should do this to stay relevant throughout the year and to show that you care about your clientele. This builds trust, and trust is a great way to ensure dedicated business.
It also creates the sense that you aren't just another mass-producing postcard machine. The seasonal touch gives your real estate postcards a human element to them and puts you ahead of the market competition.
8 – Lead Generation
This is where you can use postcards to your advantage and keep track of those who are engaging with them.
You can take advantage of lead generation on your postcards by providing a valuable offer on the front or the back.
For example, you can offer them a free consultation or 20% off of your services whenever they go on your website and sign up for your email list.
You can be as creative as you want with this, and because you already are making a point of contact, your future calls and/ or emails will not be as intrusive since they are choosing to opt in for more information.
9 – Tracking
Tracking is the only way you'll know if your direct mail campaign is working and how well it's working. There are many elements that can be tested on a postcard which include call-to-actions, headlines and more.
To track call-to-actions, make sure to provide a unique phone number on your direct mail card or to use phone tracking tools, such as CallRail, if your budget allows it. All URLs must also be tagged with a unique identifier that allows you to segment the traffic and the actions from those visiting the web URL.
Your direct postcard mail campaign won't have any benefit to you if you don't track how well it's doing. Having a robust tracking mechanism in place is a great strategy to improve your return on your investment (ROI) and understand what resonates with your audience.
10 – Testing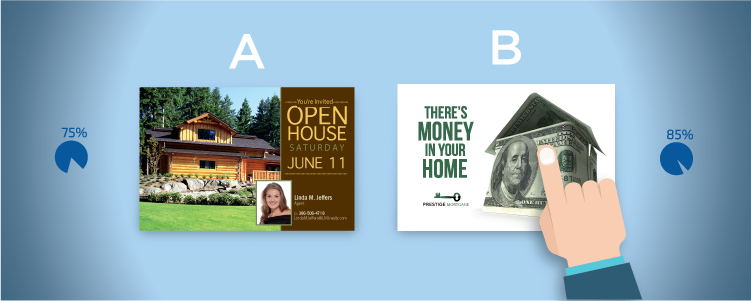 Now that you've tracked your responses, it's time to test which response does best. For each run of postcards you do, try to do something a little different to test which strategies tend to work better.
For instance, you may want to run a batch with a 1-800 number, and another batch with a local number. The business experts at Grasshopper state that local numbers perform better because residents take pride in a sense of community, and operating locally is becoming favored over global business.3
Test this out, see what works best for your targeted communities! Other things you will want to test include:
Imagery – Try different ways to showcase your photos
Logos
Message headlines – Does one headline get more traction than another?
Don't bet on just one postcard design or on one specific paper type and size. An older audience may enjoy the standard sized postcards, while a younger audience may enjoy postcards that have more unique shapes and sizes.
You now have enough resources to begin a success-driven real estate postcard marketing campaign. Head to GotPrint to start your design today, or choose from one of our many Real Estate design templates we already have in place for you. We make it as easy as 1-2-3


1 – http://www.epsilon.com/news-and-events/press-releases/2012/consumer-survey-reveals-notable-difference-channel-preferences-m
2 – https://www.iwco.com/blog/2013/06/12/effective-direct-mail-techniques/
3 – http://grasshopper.com/resources/articles/why-use-local-numbers/