Marketing Postcards are one of those promotional tools that often get overlooked by both companies and recipients. For companies, postcard mailers, depending on the service selected, can be one of the most affordable and simple ways to reel in new clients. However, as much as it's easy to create and send out postcard mailers, it's even easier to have your efforts thrown in the garbage without even a second thought. We're here to give you all the best recommendations to design a marketing postcard that stands out, has a clear purpose, and will generate the most traffic and sales. Whether you're in the real estate business or are opening a new salon in town, these 10 tips will help you design your next marketing postcard with confidence.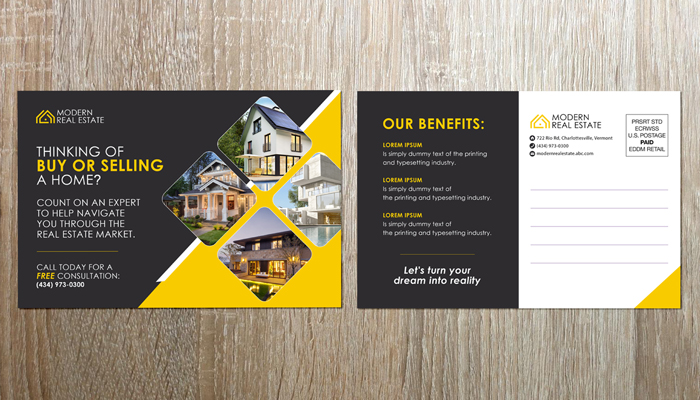 1. Showcase Your Brand (Include Your Company Name and Logo)
Postcard mailers are a fantastic way to make an introduction to people that may have never heard of your company before. Make sure to include your company name, logo, and slogan on your postcard. Brand awareness is key when trying to reach out to potential customers.
2. Choose Color Combinations Wisely
When you receive a postcard in the mail, or when you're looking at an advertisement, what entices your attention the most? We can bet that one of the factors is probably the seamlessness of the color scheme. When designing your postcard, we recommend you choose a color combination that a) doesn't clash with your company logo b) elevates the meaning behind your message c) has no more than 4 different shades/colors. Having too many colors in your palette puts your card at risk of looking too busy and ultimately getting tossed in the trash without a second glance.
3. Crisp Images are a Must
Are you planning on adding an image or two to your postcard? Good, you need it. Well, you don't need it, but it's highly recommended if you want to make a good impression. Adding images to your postcard, specifically ones that resonate with your company, your services, and your message gives an elevated and visualized idea behind your company and your services. It's important that any photos you include on your postcards are high in resolution (300 dpi for printing). If you don't have your own photos to add, you can easily purchase affordable, high-quality stock photos on platforms such as Getty Images or iStock.
4. Incorporate White or Negative Space
When we say white space, we don't necessarily mean having white space in your design. What this essentially means is, don't clutter every inch of your postcard with copy, images, or elements. Leave some areas of your design with just a colored background (or white). When you have negative space, your entire design will look neater and more professional.
5. Produce Short Yet Meaningful Copy
What message do you plan on giving to potential clients? Copy is one of the most important parts of a marketing postcard, as your claims and promises are what entice recipients to give any sort of attention to your postcard. We highly recommend you first brainstorm the goal of your messaging, what outcome you hope to achieve, and then share your notes with a professional copywriter who is able to bring your ideas to life. Copywriters are able to produce concise short-form copy that says all you need to say without saying much. If you need help, here's a couple of ideas to consider:
Ask a question that generates a yes or no response from the reader.
Come up with a tagline that gives the essence of what your company can do for its clients.
Share brief points of the benefits of choosing your services.
Add a testimonial if relevant.
6. Include an Incentive or Offer
If your intention for a marketing postcard is to toot your own horn, think again. The person who's in possession of your postcard is going to ask, "Why do I care about this? What's in it for me?" Providing an incentive or a special offer on a marketing postcard ensures a higher ROI than not having one. This way, you can better track how well your marketing campaign performs.
7. Distinguish a Clear Call to Action
With your offer, make sure to include a straightforward call to action so that customers will have a clear understanding of what they need to do next in order to get what they're looking for. A call to action is basically how you direct Call to action phrases are along the lines of "Call Today," "Order Now," or "Sign Up Today."
8. Leave Enough Room for Postage
USPS has specific guidelines when it comes to designing your mailers, so we can't stress the importance of this enough – make sure to look over the guidelines and let your designer know that they'll need to account for this when creating your marketing postcard.
Learn more about EDDM
Learn more about Mailing Services
9. Review and Re-review Your File
This step is crucial in designing a marketing postcard. We can't tell you how many times we've come across prints that had avoidable typos and design flaws. Frankly, a minor mistake such as this can set the tone of your company/level of professionalism, and you don't want to jeopardize your business over something that can be a quick fix in your design process. We recommend that you get a few pairs of eyes that have not already worked on the design process to proof your files – ideally, at least one person who's proficient in copywriting, and another that's a designer.
10. Add a Custom QR Code
Though this one isn't a make or break factor for your marketing postcards, adding a QR code to your postcard is an interactive way to give customers access to your resources – i.e. a website, a PDF link, your social media accounts, and much more. You have endless possibilities with a QR code. If you decide to design your postcards on our website, our online designer has a built-in QR code generator you can use! If you're designing your mailers on another platform, there are plenty of QR code generators all over the web, and they're all easy to use.
---
Marketing & design go hand in hand. As your promotional experts, we're here to help you create your marketing materials from A-Z. Check out our other blogs for more great tips.